Stevenson and Berg Lay the Smack-down in Seattle
by LeRoi Smith, photos by Janet Hill

Spanaway, WA – In this little bit of everything season, fog and comfortable temps greeted Seattle 'crossers for the final race of the series. The unfamiliar continued onto the course. Due to a snafu with a long-time venue, Sprinker Park in Spanaway was procured late in the season. The course was flatter than most around Seattle with only one real elevation feature which the course designer Dan Norton used to great effect as a ride up, run up, banked turn and run through. The signature feature was a sand pit that went up a slight rise, over a 6-foot tall hump, and chicaned up the main hill before firming up and dropping into the fastest section of the course. Most racers found this entire section unridable, creating great action for the spectators.
With double points on the line for the series final, turn out was high, making for deep fields in all classes. This was apparent in the Elite Women's field as the victors of the 6 previous races took the start. On paper this looked to be a battle between Ann Knapp (Kona) and Kristi Berg (Redline Bicycles). The course did not appear to work to either woman's main strength (long runs for Knapp and technical turns for Berg). However Berg put on a clinic on how to accelerate out of corners. Berg briefly described her race, "I was looking for something technical to help me out today; but it wasn't there. However I just felt great today." Her ability to get back to race-pace almost instantaneously proved too much for Knapp who was recovering from an injury and slid to 4th on the day. The chasing duties fell to Kari Studley (Velo Bella-Kona) and Beth Lyndon-Griffith (Hagens-Berman). They were able to keep Berg in sight but were unable to close the gap as they worked into the Master 3 Men's fields. The two fought hard, leaving less than a second between them at the finish. Studley took 2nd and Lyndon-Griffith 3rd.
As with the women, the Elite Men's field contained all the usual suspects and each took their turn animating the race. Steve Fischer (Rad Racing) led the field at the start, stringing the group out and initiating the first split that saw Ryan Iddings (Lapierre), Zach McDonald (Classic Cycles) and Russell Stevenson (Redline Bicycles) move off with Fisher. By lap two Fischer had slipped back a bit to group up with Toby Swanson (Hagens-Berman), Giancarlo Dalle-Angelini (Redline Bicycles) and Kevin Bradford-Parish (Redline Bicycles) to chase. The course proved hard on tires as Iddings flatted, falling off the lead group just as Swanson made the bridge from the chasers to the lead pack. For the next few laps, Stevenson, McDonald and Swanson took turns attacking and pushing hard enough to gain a sizable gap over the chase group with Bradford-Parish fighting hard in no man's land. Riding angry, Iddings had a great comeback in the making. However just as he made contact with the chase group, which by this point also included Nathan Bannerman (Bicycles Centers/Collision 1), he flatted again and was unable to recover a second time.
By lap 4, the lead group looked unassailable. McDonald attacked the group down the start/finish straight, opening a several second gap going into the twisty section of the course. Swanson settled into a conservative strategy as he was riding for the series title and needed only to ensure a finish for that prize. Stevenson, having missed several races due to national travels, was not in the series race so a result on the day was his goal. He reeled in McDonald over the next lap and then notched up the pressure, showing brutal acceleration out of the deceptively tricky turns until he was away from McDonald. Stevenson, McDonald and Swanson each rode the rest of the race alone, finishing in that order.
____________________
The Finale: One Rider's Perspective
by Dave Queen, , photos by Janet Hill
The Seattle Cyclocross series concluded its 2008 season under cloudy skies this past Sunday. The season championships were booted from their usual location, and for half of the brief CX season, Seattle Cyclocross was scrambling to find a suitable location for the final day of racing. It made me nervous to keep seeing "TBD" on the website.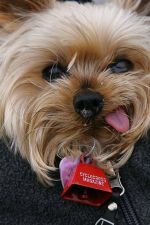 A site was located earlier in November and the venue proved to be a winner. Great racing was enjoyed at the Sprinker Recreation Center just south east of Tacoma, Washington. A thick blanket of fog burned off and the mud, grass and sand were flying. While the course was a challenge for photographers, it proved very spectator friendly. The fans turned out in all shapes and sizes and I even spotted a micro pup, belonging to master racer Cosmic Miller. The tiny dog sported a cowbell that boasted the name of his favorite magazine and website.
Although I had fun, the specifics of my race are thoroughly forgettable. The award ceremony is worth documenting. The riders who garnished the most points from the eight race series were given merchandise awards which they proudly accepted. The highlight for the rest of us was when the announcer started drawing names from the entrants list and awarding random prizes that were as good as and sometimes better than those "won" by the top racers. I thought it kind of made all that sandbagging look kind of foolish. I actually think the awards ceremony is a great metaphor for cyclocross. It's nice to win, but most of us express our love for the sport just by lining up and racing.
I have landed on a new team and they seem like a great bunch. I was so excited about riding with them that on the way home I blocked Johan Bruyneel's number on my cell phone. Sorry Levi.
There was a particularly light hearted mood in the air. And this day there was a bit of a challenge trying to find out who the real king was. I spotted a Fat Elvis riding, and we had Joe Martin crowned as Mr. Cyclocross. I concluded Joe won this title as a result of the corresponding campaign propaganda posted for all to see. Not only do I not know what being Mr. Cyclocross means, but if you look closely at Joe under his crown, I'm not convinced he even knew.
For those of you in other parts of the country, you might be interested to know that while we love our cyclocross as much as anyone, among the things that make us unique is the very strong youth cyclocross programs and the resulting quality of the youth racing in the Northwest. Some of our top young racers have competed in Europe and we have boasted many national champions from this corner of the USA. Every part of the US, and indeed the world has their own flavor of cyclocross.
This year saw the Seattle Cyclocross series grow and emerge not just as a better, bigger and more competitive series, but it also grew in its own fun and entertainment. While we all like to bump elbows and fight for the holeshot, we try not to take ourselves too seriously; and in Seattle we need that. Each race course featured signs posted that taunted fellow riders and costumed riders are becoming more commonplace. In these ways I feel like we are becoming more like the Portland 'cross scene, but in other ways we are different and proud of it. Kind of like how we eat oatmeal for breakfast just like they do in Portland, but we opt to cook it first.
Full race results: