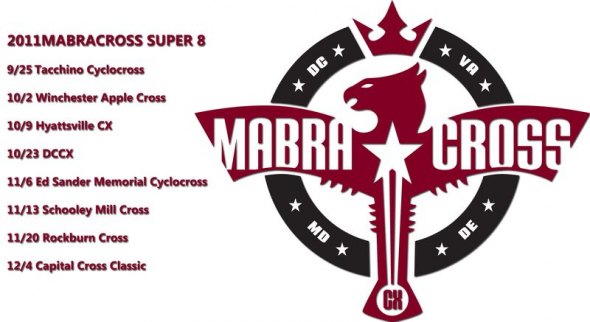 Washington D.C. — It's no secret that cyclocross' popularity in the Mid-Atlantic, and the nation, has exploded over the past decade. To meet the ever-growing need for autumnal skinny tire grass and dirt racing, MABRAcross, the Mid-Atlantic Bicycle Racing Association's cyclocross arm has created something Super.
Super cool. Super exciting. Supercalafragalisticexpialadoshus? Sure, why not. New for 2011 is the MABRAcross Super 8. An eight race series that promises to offer the Mid-Atlantic's cyclocross community top notch events from September through December. Presented by BikeReg.com, the Super 8 series is committed to offering racers, families and spectators a day filled with the best racing and amenities available on the East Coast.
The new series will be the home of the highly sought after Verge Sport Leader's Jersey, which added a whole new level of competition to the 2010 MABRAcross race calendar. Verge Sport is once again supplying its high-end cycling jerseys for 10 category leaders to show off at the front of their respective fields.
As for the calendar, every race is a must. Don't waste your time checking off individual races. Just put a big red circle around the whole shebang, add a couple stars and smiley faces, and be done with it.
Kicking off the series in 2011 is Tacchino Cyclocross, one of the perennial big hitters in the Mid-Atlantic. The series then heads west for Winchester Apple Cross, a race that has received rave reviews and a big turnout since its 2009 debut. Hyattsville CX slots in the next week with its special blend of fast and technical racing. After a short break, the series is back with a vengeance with DCCX, the Super 8 big daddy. The Ed Sander Memorial Cyclocross finds a new home in the calendar but not in your heart, with its unique course and pastoral environs. The Howard County Double Cross may no longer happen on the same weekend but Schooley Mill Cross and Rockburn Cross will always go hand-in-hand to the MABRAcross faithful. These races, now on back-to-back weekends are "go time" in the Verge Sport points chase. The Capital Cross Classic marks its return to MABRAcross by hosting the Super 8 finale at its traditional Reston, Virginia, stomping grounds.
2011 BikeReg.com MABRAcross Super 8 Series Calendar:
9-25             Tacchino Cyclocross
10-2             Winchester Apple Cross
10-9             Hyattsville CX
10-23             DCCX
11-6             Ed Sander Memorial Cyclocross
11-13             Schooley Mill Cross
11-20             Rockburn Cross
12-4             Capital Cross Classic
MABRAcross Super 8 is the Mid-Atlantic Bicycle Racing Association's premier cyclocross series, featuring eight races at venues in Maryland, Northern Virginia and Washington D.C. The complete MABRA cyclocross calendar, including the MABRAcross Super 8, can be found at MABRA.org