At the 2015 Lost and Found Race, Tobin Ortenblad, using a Specialized Crux that had been his primary bike several years ago for the cyclocross season, broke away from the other riders, including second place finisher Ben Berden, who was using a Stoemper Ronny.
However, not all riders who came out to Northern California opted for the full 100-mile race, but everyone faced plenty of challenging climbs and technical descents. One rider who elected for the shorter 60-mile ride was Dax Downey, although by judging his bike selection, it is clear he is not the kind of racer who chooses the easy way out.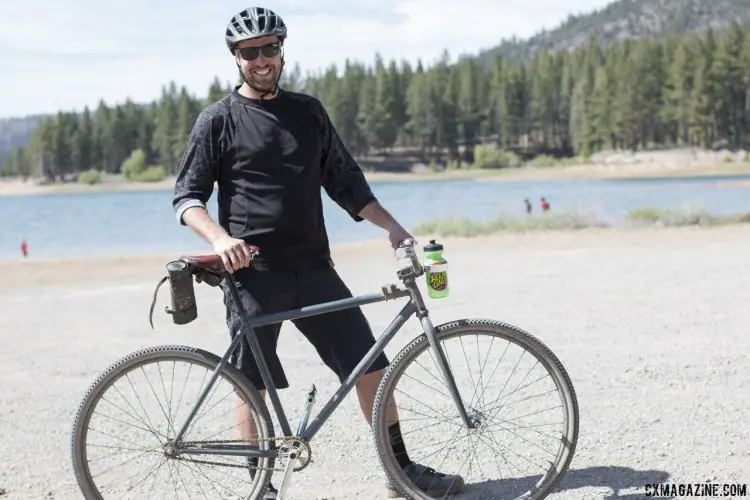 Downey is somehow all smiles after 60 miles on his singlespeed coaster brake-equipped gravel bike. © Cyclocross Magazine
Downey went with his All-City singlespeed Def Wish to tackle the Lost and Found course, although he used a Chico plate to rebrand the 4130 chromoly frame. While the Def Wish frame is often built up as a fixed gear freestyle bike, Downey wisely chose to go with a coaster brake instead for his stopping duties.
The build was ideal for a commute ride, with a 28x13 gearing that was able to get Downey up the climbs (during our interview with him, his friends were teasing that Downey lost sleep over his gear selection). The descents, however, were a different matter. Braking on the long downhills caused the rear hub to overheat, to the point that a new decal he put on his wheel charred on the hub. Grease leaked from the hub, and Downey had to contend with a chain that became a magnet for dust and debris.
At the end of the day, however, Downey was all smiles, and he said he would do this again as he liked the challenge of doing something different.
See the slider below for more shots of Downey's All-City build that finished the Lost and Found 60 mile race. More Info: allcitycycles.com.