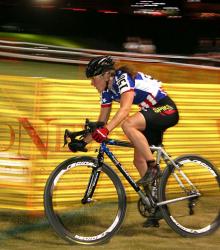 Spike Shooter's Katie Compton has a lot of fans. Now her two best fans at Cross Vegas will go home as swag-drenched "Superfans."She's rewarding the folks that keep her motivated with Superfan gift packs worth over $1,000. Get your body paint, cowbells, megaphone, and dance routine out, but Compton asks you please keep your pants on. See full details via below:
Announcing the Spike Shooter Katie Compton Super Fan competition held at upcoming Cross Vegas, September 24th
Spike Shooter and Katie Compton are looking for Katie Compton Superfans. This year at Cross Vegas we are going to reward two superfans of Spike Shooter rider Katie Compton and women's cyclocross with a Superfan gift pack.
"It's awesome to see the crowd cheering us on and really having a great time watching us put on a show," said Compton. "We want to reward our fans who get out there and really put on a show for us while I'm racing with some free swag"
Painted bodies, screaming, signs, bell clanging Katie Compton Superfans will be selected after the race with a "Katie Compton Superfan" prizepack going to one female and one male.
The winners of the Katie Compton Superfan will be awarded their prizepack on the podium after the women's Cross Vegas podium ceremony.
The winning Superfans (1 male, 1 female) will receive a Superfan prize pack valued at over $1,000 presented at Cross Vegas. Prizes include:
24cans of Spike Shootgun to each winner
1 box of Finibars
Spike Shooter hoodie and t-shirt
Photo with Katie
TRP carbon cyclocross brakes
Swiss Stop brake pads
Thomson seatpost
Jagwire housing
WTB Silverado sadde
WTB Crosswolf tires
Challenge Grifo Open Tubulars
No Tubes Tires
Rol Wheels socks
Zipp caps
Crank Bros swag
plus more to come…
See you there painted and hollering.
-Mark Legg-Compton, Spike Shooter.