This story and interview was originally published in Cyclocross Magazine's premier issue, Issue 1, in November 2007.
February, 1999. Tilton, NH. It's 26 degrees outside and snowing. Jonathan Page, one of the U.S.'s most promising cyclocross talents is starving, having just finished a three hour training ride in the miserable conditions.
"Hello, Upper Crust Pizzeria."
"Yeah, Hi. I'd like a large two topping pizza, pepperoni and sausage. And can you rush it? I'm famished."
"Sure thing, we'll be there in 30 minutes".
A rusty old Saab speeds up a snow-covered dirt-road, flying past the destination house. The road glows red from the car's brake lights, as the driver realizes his mistake. Suddenly, the car appears to spin out of control, but inside, the driver is calm and focused, pulling hard on the emergency brake just after yanking his steering wheel to the left. The car nearly completes a full 180 degree turn, but the right front fender plows into the snow bank and stalls the car.
"F#@k! Piece of S#@t Car!"
With his reverse gear broken long ago, Jonathan jumps out of the car, forced to try to push his car out of the snowbank. It doesn't budge. After a few minutes of pushing in vain, his hands and face are bright red and numb. He takes a quick glance at his watch, grabs the pizza and jogs down the street and up the driveway.
"Pizza!!!!"
"Holy crap. What happened to you? Did you run here?"
"Uh, sorta. My car got stuck up the street."
"Oh man, that sucks. Twelve bucks, right? Here's fourteen."
"Thank you very much, sir. If I give you back this tip, could you help me push my car out of the snow bank?"
Able to suffer. Independent. Performs in any condition. Doesn't give up. Does it the hard way.
These are traits that have not only made Jonathan Page America's top male cyclocrosser, but also what has made him successful in life. While many of us 'cross participants know Page the racer, few know the path that he took to get to be where he's at today. From being one of the country's top juniors, to nearly quitting cycling, and then later winning three elite national championships and finishing 2nd at last year's UCI World Championships, Jonathan's journey should make even the most cynical fans admire his determination and achievements. In September we talked with Jonathan while he was in Switzerland, at his home in Belgium, and while in Vegas. In these conversations, we learned a lot more about Jonathan the person as well as Jonathan the racer.
CXM: You've gotten 2nd at worlds, had your 2nd child and, finished 2nd at Nats…2nd isn't so bad huh?
JP: I'll take it! It's been a good year.
CXM: How's the new team?
JP: It's good. It's a really nice group of people. I came back to Belgium in July, and raced with them for the first time then. Everyone's super helpful, took care of me, welcomed me into the team just fine. I don't know the guys very well yet, but they're nice guys.
CXM: You getting all your gear, logistics, and massages handled by the team? You able to relax and focus more? It seemed you did a lot of your own wrenching before.
JP: Well, in some ways it still seems like a one-man show. I'm still getting all my bikes in order, getting things ready for America. Also, my mechanic Frankie's been gone, but eventually we'll have a little individual team within the team – Frankie Van Haesebroucke and a guy named Pascal will both still work with me. Some things aren't much different…Earlier, I was at the shop buying a Campagnolo cassette removal tool.
CXM: How much does teamwork play into 'cross at the highest level? Do you think it's held you back in terms of results over the last few years in Europe?
JP: When it comes down to it, 'cross is an individual sport, but team tactics make it a whole other event.
CXM: Well, if you and Trebon were together in the front pack late in a World Championship but surrounded by Belgians, would you work with him?
JP: The problem is the Belgians are usually ripping each others' legs off, so most of the time, we'd just be on the defensive anyway. If you don't respond to their attacks, they're gone. But it'd be fun if Trebon came over so we could race more races together.
CXM: You guys got a team camp planned? Any team building exercises like the CSC road team?
JP: Yeah, we've got a team camp, and it was postponed so I can make it because of my time in the states. It's Oct 2-5, but it's just a few meetings, riding our bikes, having the team together, getting to know each other. No boot camp – no time at this point in the season.
CXM: One big change is that you're traveling in style now?
JP: (laughs) Yup, they've provided me with an RV, which is a really nice thing, as it's a lot easier to travel, a place to hang out in bad weather, and a lot more comfortable. Being able to count on a hot shower after a race makes a lot of difference.
CXM: How'd your race in Erpe-Mere, Belgium go?
JP: Oh, it went horrible – I had a really off day, along with a combination of other things like running around getting everything together. But I'm looking forward to settling down and concentrating on my job. And I'm looking forward to the races in the states…Michigan, Las Vegas will be fun.
CXM: How's your Flemish?
JP: Well, I'm forced to learn Flemish – which has been helpful to me, but things go over my head more often than not, but they all pretty much speak some English. However, the older people don't speak English – there's this one woman on the team, and she only will speak to me if I speak Flemish with her.
CXM: What kind of funny things do the Euros do with their 'cross bikes? Any weird or exotic parts that you can't find in the states?
JP: Well, I haven't spent too much time in the states, but I think you guys now can pretty much get everything we use over here. I don't see a lot of funny things on the bikes, but there are lots of funny Belgianisms.
CXM: You're riding carbon Ridleys and Campy parts this year. How are the new bikes?
JP: They're nice…these bikes are stiff. I'm not that picky with my stuff, but this bike is cool, partly because it has a real cable stop for the rear brake, which makes a big difference. They ride really well too! For the first time, I can go from road bike to 'cross bike without noticing much of a difference. This morning I did a 'cross ride, followed by motorpacing behind a scooter in the afternoon on the road bike. It was an easy transition.
The Campy stuff is fine, great, just as good as the Shimano stuff. It's good stuff. Nice that the cable's out of the way. But I still ride Shimano pedals.
CXM: What are you riding for tires? Any favorites?
JP: Ridley gave me some tubulars, but I haven't had a chance to glue them up yet. I use clinchers for training. I've got some Michelins on right now, which are pretty much good for anything.
CXM: Even as a lowly amateur weekend warrior, I have a hard time forgetting about my near misses in bike racing, whether it's missing the grand prize in a Halloween costume race or losing a sprint for 22nd in the men's Bs. In 1998 at Fort Devens, MA, I watched you, Tim Johnson, Justin Spinelli and Damon Cluck do battle in the Espoir (under-23) National Championships. I was pretty sure that you were going to win the race until you rolled a tire on the last lap. Obviously I still think about that race, but do you spend much time thinking about these things? Try to learn from them? Or do you do so many you can't worry about an individual race?
JP: Normally I try not to focus on near misses in past races, but that's one race I'll never forget. I was going pretty well, and normally I probably should have won the race. But obviously I didn't – Tim Johnson won — and he got the automatic selection for Worlds, which means your costs are covered to go to worlds. I still had a spot on the World's team, but would have had to pay for my own way, and I didn't have the money to go, so I didn't go. Then Timmy medaled that year – and he was good – and I looked back and thought that I might have been noticed if I had gone and done well.
For a while, it was hard not to think what would have been different if I didn't roll that tire, because after that, I floated for a few years – working, riding, trying to find my way. You know, okay, you can be a great junior, but being a great elite is different. So I was a pizza delivery guy in NH, delivering pizzas in my beat up white Saab. The transmission was gone – no reverse – so I did a lot of e-brake turns. With the snow banks it was really hard – I often had to go up on snow banks, and to reverse, had to push the car. In the summertime, I was a lumberjack and would cut down trees all day and then try to ride my bike. I spent some time also as a work boy at a summer camp, digging ditches, mowing the lawn, being a general handyman.
CXM: So those upper body muscles are helpful in fighting those Belgians?
JP: (laughs). No, I'm trying to lose that!
CXM: Sounds like a pretty rough time though. We didn't see you race much for a while. I was looking for you at the New England races in the fall of '99, or at Nats in the Presidio in SF. Did you hang it up for a while?
JP: Yeah, I actually quit racing in '99 and 2000. I had enough, and was just trying to put the pieces together, did some landscaping, and lived in Boulder. But then I got the itch again, tried to make as much money as I could, and then took the $230 in my bank and drove with Cori in my Subaru Royale to California to make the early season races, trying to win enough money to make it race to race. That eventually led to a contract with Prime Alliance.
CXM: So you really struggled and certainly had your fill of days as a starving bike racer?
JP: Yeah, I think that's what's made me a good bike racer – realizing that I'm really lucky now, after having gone through all that. That's also why when I injured my shoulder last season it was a real wake-up call. I'm grateful for where I'm at now, but haven't forgotten where I came from. When you called earlier we were just hanging out at the dump after doing our recycling there. Those guys are my friends.
CXM: Bart Wellens had a bunch of smack talk after you beat him at last year's worlds. Did you say anything back to him? I heard he's dying to subscribe to our mag – here's your chance to throw down and send him a printed greeting…
JP: Well, hmm. (pause). A true champion doesn't need to talk and lets his results do the talking.
CXM: Any friends in the euro scene?
JP: Well, I don't know very many of them well, but Sven Njis is always pleasant; I'll talk to him at the races. Wellens was always pleasant, but not many real friends. It can be a little lonely. I can always pick out an American in the crowd, and friendly faces are nice.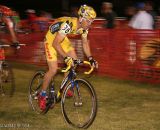 CXM: You've got great bike skills and can bunnyhop pretty well – you think Sven Njis has got anything on you?
JP: We have similar bike handling skills, and in slippery or technical situations it's pretty comparable. But he's better at hopping. But races are getting faster, not as much running, although that can change due to the weather.
CXM: Greatest U.S. 'cross racer ever – people call you that. You accept that title?
JP: Yeah, for now, but there's always someone new coming up.
CXM: Any words for the kids that might be inspired by you? Someone who wants to make a career of cross?
JP: Yeah, for the kids: Don't ever give up and have fun along the way. And remember, no matter what life throws at you, it's gonna be alright.
Notes:
Jonathan won both races at Michigan's Double Cross weekend, but crossed the line clasping hands with Michael Mueller, his training partner and best friend.
He finished 5th at Cross Vegas and said he was satisfied considering all the travel and getting sick. He's focused on being in top form in a couple months.
Jonathan's Favorite Belgianisms: Not turning the heater on in yotur car when it's freezing cold because "that's how you get sick" and only eating bread with jelly and butter or something else in the morning but never cereal because cereal "has too much fat, sugar, and calories."