Page, Elliott take opening day in Wisconsin UCI Cyclocross Weekend
by Renee Callaway
On Saturday at Jonathan Page's Planet Bike Cup the elite men's race turned into a one-man show after Todd Wells (GT) had to make two stops in the pit and chase back from deep in the field after a rolled tire. Jonathan Baker (Vitamin Cottage) was chasing Page but after slicing open his ankle he was forced out of the race. The race behind Page between Michael Mueller (Planet Bike), Bjorn Selander (Ridley) and Troy Wells (Clif Bar) was action filled as each launched attacks. In the end Mueller's attack on the last climb was decisive and he took 2nd with Selander 3rd and Troy Wells 4th . Todd Wells (GT) fought back throughout the race working his way through the large field to grab 5th place.
The women's field at Jonathan Page's Planet Bike Cup was filled with most of the Midwest's top cyclocross racers but Canadian Natasha Elliott (EMD Serono/Stevens) was carving the turns and accelerating up the climbs and rode away solo for the victory. Sarah Kerlin (HRS/Rock Lobster) finished second. Illinois'Devon Haskell (Pony Shop) was the top Midwestern finisher but 17-18 National Champion Anna Young (Planet Bike) was just seconds behind. Kathy Sherwin (Velo Bella-Kona) rounded out the top 5.
Racing continues on Sunday at Angell Park with Day Two of Jonathan Page's Planet Bike Cup, sponsored in part by Cyclocross Magazine.
Elite Women's Results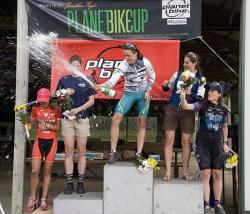 | | | | | |
| --- | --- | --- | --- | --- |
| Pos | Name | Team | Nat | Time |
| 1 | ELLIOTT Natasha | Emd Serono/Stevens | CAN | 00:37:27 |
| 2 | KERLIN Sarah | Hrs/ Rock Lobster | USA | 00:37:55 |
| 3 | HASKELL Devon | Pony Shop | USA | 00:38:11 |
| 4 | YOUNG Anna | Planet Bike | USA | 00:38:16 |
| 5 | SHERWIN Kathy | Velo Bella – Kona | USA | 00:38:35 |
| 6 | WALBERG Catherine | Trek | USA | 00:38:43 |
| 7 | BROWN Sydney | Midwest Trek/Sram (Cx) – Team Revolution (Road) | USA | 00:38:49 |
| 8 | MUCH Rebecca | Xxx Racing-Athletico | USA | 00:39:21 |
| 9 | SONE Linda | Ridley Factory Team | USA | 00:39:26 |
| 10 | WENTWORTH Kristin | Planet Bike | USA | 00:39:30 |
| 11 | STEWART Maria | Velo Bella | USA | 00:39:54 |
| 12 | WILLIAMS Robin | Mercy-Specialized | USA | 00:40:31 |
| 13 | KLUG Holly | Killjoy | USA | 00:40:49 |
| 14 | COOGAN Corey | Ridley Factory Team | USA | 00:41:14 |
| 15 | STRIGEL Abby | Team Polska | USA | 00:41:40 |
| 16 | HILDEBRAND Elicia | Gear Grinder | USA | 00:41:42 |
| 17 | UPHILL Susan |   | USA | 00:42:12 |
| 18 | PISCHKE Amanda | Capitol Velo Club | USA | 00:42:30 |
| 19 | KARLEN Monique | Team Kenda Tire | USA | 00:43:42 |
| 20 | LUKAS Sarah | Gear Grinder/ Hyundai | USA | -1 lap |
| 21 | KROLL Whitney | Cane Creek | USA | -3 laps |
| DNF | JAMES Ashley | Nova/Is Corp | USA |   |
| DNF | UPSHAW June | Verdigris Custom Homes/Psytronics | USA |   |
| DNF | ERICSSON Michele | Capitol Velo Club | USA |   |
Elite Men's Results
| | | | | |
| --- | --- | --- | --- | --- |
| Pos | Name | Team | Nat | Time |
| 1 | PAGE Jonathan | Planet Bike | USA | 00:59:26 |
| 2 | MUELLER Michael | Planet Bike | SUI | 00:59:58 |
| 3 | SELANDER Bjorn | Ridley Factory Team | USA | 01:00:05 |
| 4 | WELLS Troy | Team Clif Bar | USA | 01:00:57 |
| 5 | WELLS Todd | Gt | USA | 01:01:12 |
| 6 | LALONDE Mark | Planet Bike | USA | 01:01:33 |
| 7 | MATTER Brian | Gear Grinder | USA | 01:02:08 |
| 8 | LALONDE Jesse | Planet Bike | USA | 01:02:27 |
| 9 | CAMERON Molly | Vanilla Bicycles | USA | 01:02:36 |
| 10 | DESSIBOURG Guillame | Team Bmc-Teker | SUI | 01:02:42 |
| 11 | CORMINBOEUF Yves | Team Scott-Sram-Pro Cycles | SUI | 01:02:42 |
| 12 | TILFORD Steve | Trek Stores | USA | 01:02:49 |
| 13 | BERGMAN Adam | Texas Roadhouse | USA | 01:02:49 |
| 14 | DICKEY Duane | Flander'S Bros | USA | 01:03:25 |
| 15 | SCHOLZEN Steven | Iscorp | USA | 01:03:38 |
| 16 | EPPEN Brian | Mercy-Specialized | USA | 01:04:08 |
| 17 | BERRY Grant | Rocky Mtn Choc Factory | USA | 01:04:23 |
| 18 | HACKWORTHY David | Ridley | USA | 01:04:39 |
| 19 | POPPER Benjamin | Hrs / Rock Lobster | USA | 01:04:35 |
| 20 | JOHNSON Josh | Big Shark Racing | USA | 01:04:52 |
| 21 | LENZI Luca | Pony Shop | USA | 01:05:28 |
| 22 | ROESSINGH Jordan | Iscorp Cycling Team/Nova Cycle Sports Foundation, Inc. | USA | -1 lap |
| 23 | LEMIEUX Pat | Bianchi/Gp | USA | -2 laps |
| 24 | JACOBSON Kyle | Nova/Is Corp | USA | -2 laps |
| 25 | MCCAULEY Casey | Nova/Is Corp | USA | -2 laps |
| 26 | CONANT Brian | The Pony Shop | USA | -2 laps |
| 27 | BRANDT Matt | Mesa Cycles | USA | -3 laps |
| 28 | DOWNS Robert | Planet Bike | USA | -3 laps |
| 29 | BARTHEL Ryan | Rocky Mtn Chocolate Factory | USA | -3 laps |
| 30 | MCLAUGHLIN Scott | Sram Factory Team | USA | -3 laps |
| 31 | NEFF Isaac | Alderfer Bergen | USA | -3 laps |
| 32 | STREET Bill | Gear Grinder | USA | -3 laps |
| 33 | HAUGH Spencer | Grumpy'S/Lgr | USA | -4 laps |
| 34 | GLEMBOCKI Bret | Nova/Is Corp | USA | -4 laps |
| 35 | NILES Lance | Brones' Bike Shop/Rvcc | USA | -4 laps |
| DNF | BAKER Jonathan | Vitamin Cottage | USA |   |
| DNF | ST JOHN Derrick | Team Jet Fuel Coffee | CAN |   |
| DNF | WOODRUFF Travis | Momentumendurance.Com | USA |   |
| DNF | OGILVIE Scott | Bare Knuckle Brigade | USA |   |
| DNF | HANSON Lyle | Great Dane Velo Club | USA |   |
| DNF | OLNEY John | Mercy-Specialized | USA |   |