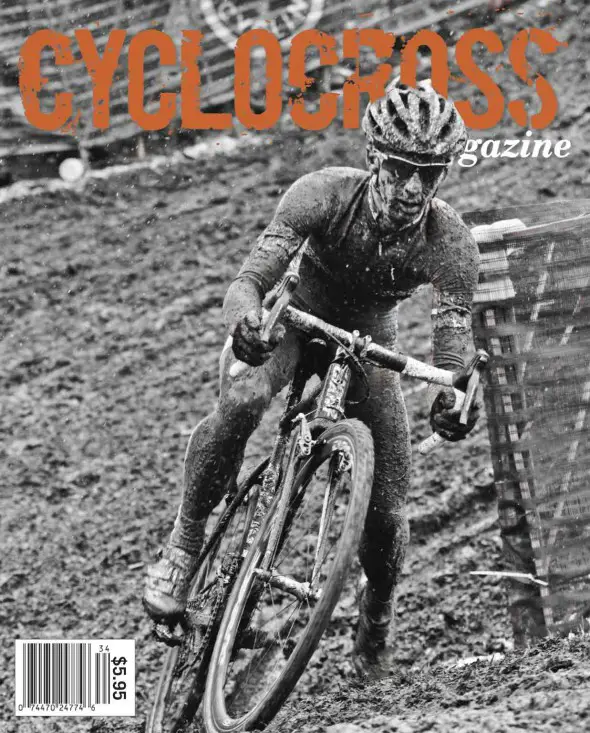 In this Issue:
[Pick up a back copy of Issue 23 here.]
Remembering Amy: Issue 23 is dedicated to the memory of Amy Dombroski, and we took time to remember some of our favorite moments with Amy and wisdom that she's shared over the years.
New Kids on the Block: We look at some of the new superstars in North America this season, from Elle Anderson to Raphael Gagne
Lars Van der Haar: The U23-turned-early-Elite superstar is leading the World Cup series this year and took bronze in Elite Worlds last January. What will he do next?
Jonathan Page: It's JP like you've never seen him before, talking about his humble beginnings, the growth of 'cross, and why he stays in Belgium.
Racing 'Cross in China: A look back in words and photos at the first UCI 'cross race to be held in China, from the view of CXM's staff and the U.S. racers who showed up
Cowboy 'Cross: With Nationals heading to Austin next year, we took a look at the state of cyclocross in Texas
Interview: UCI's newest addition, the Head of the Cyclocross Commission, Mike Plant
Reviews: Bikes: Ritchey, Norco, Foundry, Co-Motion, Specialized, Raleigh, Soma
Kid-Friendly: We look at what goes in to making a mini-bike for your toddler all the way up through your intrepid Junior racer
Understanding Geometry: In Part 1 of our series on frame geometry, Geoffrey Grosenbach looks at what makes a frame cyclocross-specific
Laundry Wars: A CXM Labs story on how to pretreat your muddy kit, and a comparison of some new sports detergents versus old staples
Small Reviews: gloves, helmets, pumps and more!
Coaching Corner: When should you be stretching? A look at how to prevent common 'cross injuries
Rider Diary: Christine Vardaros remembers Amy D.
Rider Diary: Lindine reminds us to not take anything for granted.
Missed your window to subscribe? Check out our digital options, which will give you access to back copies, or order an archived copy today! Or buy a back copy today.