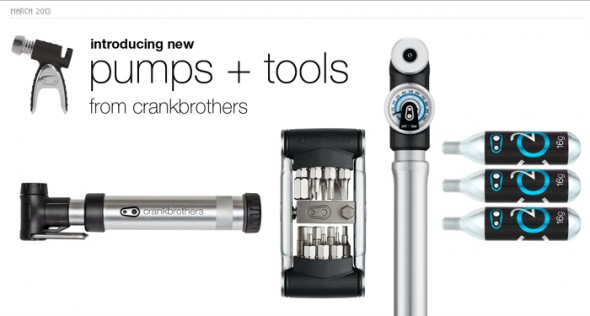 LAGUNA BEACH, CALIFORNIA – Long before pedals and other mountain bike components, crankbrothers was known for their pumps and tools. The power pumps and m-series tools were introduced in the late 90's and were among the first products created by crankbrothers. Now, crankbrothers introduces a new range of bit tools and a brand new inflation program, including both entry level and premium pump models, as well as a CO2 inflator and cartridges. Introducing Sterling pumps, Sterling CO2, Gem pumps, and B-Series tools.
Sterling Pumps
Sterling is the new premium pump collection from crankbrothers. The high polished CNC and laser etched aluminum outer body results in a stunning proprietary design. A universal head works with both Schrader or Presta valves without adapting the head. To make them even easier to use, the sterling pumps feature a high/low volume function that allows you to adjust for high volume or high pressure. To top it off, the oversized gauge results in accurate pressure control and easy readability. There are four models of sterling pumps in two lengths (short or long), either with or without a gauge.
Sterling CO2 Inflator and Cartridges
To complete the sterling premium inflation line, crankbrothers introduces a CO2 inflator and cartridge. The inflator features push spring air control and integrated frost guards that provide hand protection from cold CO2 cartridges. The inflator includes two sterling CO2 cartridges (16g threaded), which are also available individually.
Gem Pumps
With their eye catching colors and ease of use, the gem pumps are the perfect option for entry level customers. The reversible internal head easily adapts to fit Schrader or Presta valves, and the gem pumps include the same high/low volume function as the sterling pump collection. Available in two length options, the Gem S is a shorter, more compact pump, and the Gem l is longer for higher volume.
B-Series Tools
The b-series tools are the latest addition to the crankbrothers collection of multi-tools. This bit based tool system includes a magnetized bit socket that helps keep the bit firmly in place as you work. The bit holder stays closed, so you don't need to worry about bits falling out and getting lost in your pack. You can even customize your tool based on your needs by simply swapping out bits. The bits are a standard size that can be purchased at any hardware store. The B-Series collection of tools includes three models, each with a different set of tools in two size options.
With the new collection of Sterling pumps, Sterling co2, Gem pumps, and B-Series tools, crankbrothers offers a complete range of maintenance products to keep you moving no matter what issues you face on the road or trail.