At Interbike 2015, we got to see a vast array of tubeless wheels ready to take on a cyclocross course or gravel adventure. We extensively reviewed a large amount of 2015 tubeless models in our latest Issue 30. and a back order along with the digital version is coming soon.
Years ago, we were able to see Industry Nine's tubeless i25 road wheels at Sea Otter, which was designed far more for cyclocross than a criterium. Two and a half years later, Industry Nine is still making road tubeless wheels that fall specifically in the cyclocross and gravel niche.
The ULCX Disc is built from the company's 375g mountain rim, and is mated with the i25TL Disc Hub. With a 25 external width and a 21mm inner width, the ULCX Disc minimizes out on a 28mm tire, so most road tires need not apply. The wheels have a 24 front and rear spoke count, and weigh in at a total of 1350g. The base price tag is $1175, with an extra $125 for the more vibrant anodized colors.
The Rolf Prima wheels with Ballistic Armor coating at Interbike 2015. © Andrew Reimann / Cyclocross Magazine
But they are not the only wheel company to engage in the customized foray. Rolf Prima showed off the Vigor Disc with Ballistic Armor coating, which is a ceramic-based coating around the rim that allows for the the rims to be coated with a vast selection of colors paired with decals, including Red, Grey, Blue, Green, Yellow, Pink, White or Orange. The display model was the grey selection, which almost looked like they belonged paired with a modern tank.
The Vigor Disc is more road than gravel, but Rolf Prima is offering the same options for a number of its rims, most relevant to cyclocross and gravel being the VCX Disc, which comes in at $1099 for a base set along with an extra $300 for rim color customization and $150 for hub color customization. The ordering for customized wheels typically takes two to three weeks.
The rim has an internal width of 17mm and an external width of 22mm. The full weight of the VCX Disc set comes in at 1720g with 20 spokes in both the front and rear wheel.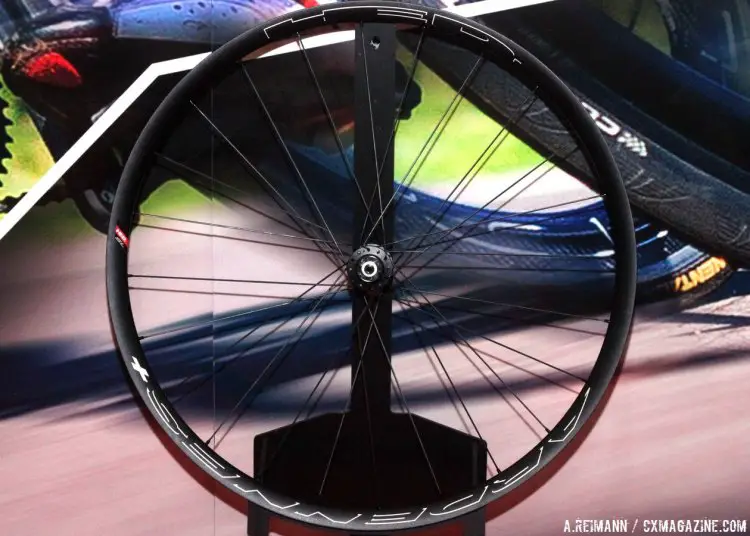 The HED Ardennes Plus SL Disc wheels at Interbike 2015. © Andrew Reimann / Cyclocross Magazine
Last year at Sea Otter, we saw HED's updated Ardennes FR disc as well as the company's jump into fat tires. This year, Tim Mulrooney walked us through some of the latest tubeless HED wheels at Interbike.
HED had the Ardennes GP Disc ($700) and the Ardennes Plus SL Tubeless Ready Disc ($1200) on display, with the Ardennes LT getting prepared to be made available on October 1.
The Ardennes Plus SL Disc wheels weigh in at 1610g and come with 24 spokes front and rear. They come with the option of QR, 15mm and 12mm thru axle versions, but changing them will require a separate axle which will retail for $100. The rim comes with a 21mm internal and 25mm external width.
Use the slider for photos of the three wheels. more info: industrynine.net, rolfprima.com, and hedcycling.com