Rock Lobster Cycles and its cyclocross racing team are bringing back a new and improved form of Jungle Cross to Santa Cruz County in late August. The unique event helps racers get a start on their season with a creative course and some special fun-oriented events. The event is a fund raiser for the cyclocross team and offers something for everyone. Full press release below.
by Drew Juiliano 
Dearest 'Crosser, Heckler, Junior, Master, A'er, B'er, C'er, Single-Speeder, Kids Racer and Lover of All Things Cycling:
Cycloross season comes early this year—like August 29th early—as the inaugural Lobster Cup heads to the hills above Santa Cruz to kick off the Nor Cal cyclocross race season. The event will take place at the Bonny Doon airport, on private land, around a newly built, permanent cyclocross course, and you're invited!
Tobin Ortenblad, the 20-year-old Cal-Giant rider with some powerful upper lip fuzz, is thrilled about his hometown event. "It's gonna be epic. I'm so stoked for it!" Ortenblad exclaims. It's on private land and you can do whatever you want."
Well, my dear young strawberry, we won't let you do whatever you want, but fear not! The King of the Crustaceans, the one-man marching band behind Rock Lobster Cycles, Mr. Paul Sadoff himself, is doing whatever he wants, and it's going to be a rip-roaring, blast off to 'cross season. It will prime everyone's legs and livers for 'cross season and make Tobin long for his 21st birthday.
Sadoff calls the track for the Lobster Cup "reminiscent of late Seventies Santa Cruz cyclocross racing but not as dangerous." The course is a purpose-built, permanent cyclocross track constructed on private land right next to the Bonny Doon Airport. The track has a sand pit, a flyover, a pump track and "some sketchy single track through the woods."
Hiding beneath those redwoods are some "non-UCI compliant" log barriers that may or may not have a "rad and fast line" over the top. Considering that the event insurance was approved earlier this week, expect some radness lurking beneath the conifers. Oh, and since the race is sanctioned by NABRA, non-USAC compliant handups are not a crime at the Lobster Cup.
Between the 12 p.m. and 1:30 p.m. races (schedule and classes listed below) riders will nuke down the Bonny Doon airstrip for the Lobster Cup Strip Drag Race. Not only will someone win bragging rights, but the victor will also hoist a coveted jug of Hennessy. The kids will be racing for free at 1 p.m., and they will all hoist the coveted boxes of grape Juicy Juice.
The inaugural Lobster Cup not only serves as a proper good time for the NorCal 'cross community, but it will also be a fundraiser for the team. Entry fees will go towards getting Lobsters to all the local classics (Surf City, BASP, CCCX, Nor Cal CX and others) as well as financing a trip to Cyclocross Nationals in Asheville, North Carolina. So participation in the Lobster Cup is the gift that gives all season, from that first hand up the high in the Santa Cruz Mountains, to that last strike at the Fourth Annual Rock Lobster Cross Nationals Bowl-o-Rama at Star Lanes in January. Congratulations, you're invited to both, so make this season a Lobster sandwich.
Cheers! Prost! L'chaim! Hodala!
-Pecker Wood
Pecker Wood is a long-term flyer of the Sea Foam flag and a celebrator of all things crustaceous. You can recognize him at the races by his unruly mane of hair, which is in the spirit of Gina Davis a la A League of Their Own.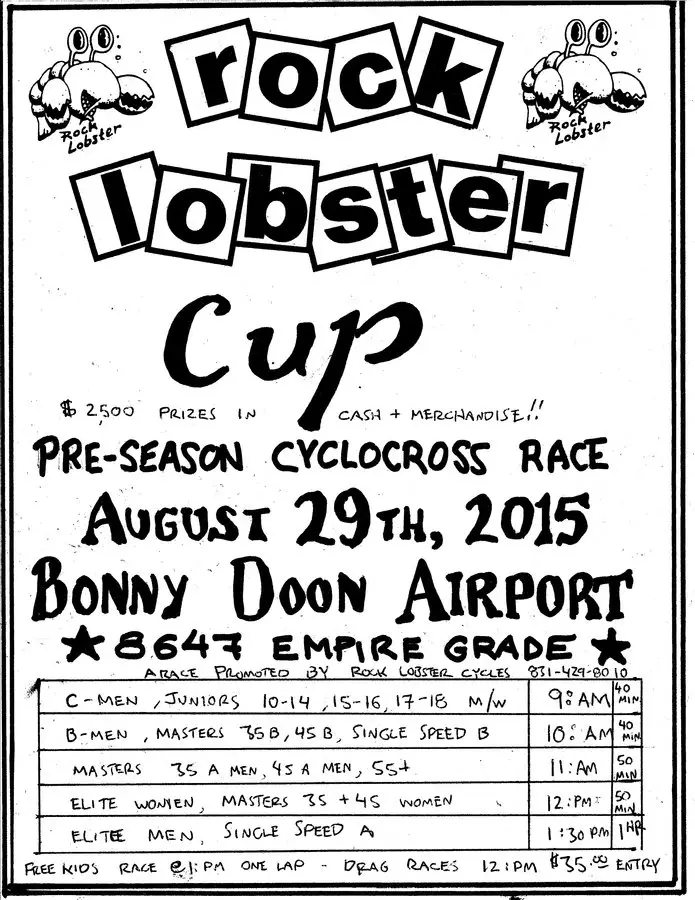 The Logistics
Despite the grassroots nature of the event, there will still be some sense of order especially when it comes to the logistics that make a race run smoothly. There will be medical personnel on site and plenty of responsible adults should any emergency arise. There will be a prize purse of $2,500 in cash and merchandise, and the Elite Men and Women will each take home a monetary congratulations of at least $100 (1st), $60 (2nd) 40 (3rd). All other classes will receive prizes. Please see below for schedule and address.
Race Location:
Bonny Doon Airport
8647 Empire Grade
Santa Cruz, CA 95060
Price of Admission
$35 All Classes (Except Kids Race)
Race Day Schedule
9 a.m. (40-Minute Races)
C Men Open (Cat 4/5)
C Men Master 35+
C Men Master 45+
Junior Men 10-14
Junior Men 15-18
Junior Women
10 a.m. (40-Minute Races)
B Men Open (Cat 2/3/4/5)
B Men Master 35+ and 45+
Single Speed B
11 a.m. (50-Minute Races)
A Men Master 35+
A Men Master 45+
Master Men 55+ and 65+
12 p.m. (50-Minute Races)
Elite Women (Cat 1/2/3/4/5)
B Women (Cat 2/3/4/5)
C Women (Cat 4/5)
Master Women 35+
Master Women 45+
Master Women 55+
Master Women 65+
1:00 p.m. DRAG RACING AND KIDS RACES
1:30 p.m. (60-Minute Races)
Elite Men (Cat 1/2/3/4/5)
Single Speed A
Contact
 Paul Sadoff at Rock Lobster Cycles
(831) 429-8010