Have you read our Technique Tuesday about how to correctly carry your bike? Looking for a new challenge? Want to impress your friends, spectators and potentially save some time on the race course?
In Issue 29, we talked with bunny hopping jedi Alex Ryan of Mock Orange Bikes Pro CX to get his tips on how to bunny hop your cyclocross bike. Keep in mind this is an advanced skill, and it's only best in the race if you can nail it 10 out of 10 times. With that said—read on for his tips on how to hop.
by Alex Ryan
Bunny hopping barriers can be crowd pleasing and much faster than dismounting; however, the barriers can also be completely devastating if done wrong. Having plenty of practice, commitment and momentum when arriving at the barrier is essential in the execution of a clean barrier hop. After attempting to hop almost every barrier on the USA Cycling Pro CX calendar, one piece of advice I can give is to have a "can-do" attitude!
Use pre-race time wisely: evaluate your barriers as well as your potential to hop them. Make several test approaches, and try to gauge how much speed you will need before attempting your first hop. One way to achieve this is the tried-and-true tire-tap technique. Approach the barriers, lift the front wheel on the first barrier, tap the tire on the wooden barricade and pull up the rear wheel. This allows the tire to tap the barrier. After a few trial runs with this, you should have a sense of the barrier's height and the physical exertion you predict it will take to propel you over. Now you can speed that tap up into a hop!
Bunny Hopping in Five Steps
Shift your weight to the rear of your bike immediately before pulling up on your handlebars.
Don't just lift the front wheel You should feel like you are pulling your handlebars backward as your weight moves back.
When the front wheel clears the obstacle, lift your heels up and move your weight back to the front of the bike.
Push downward against both the handlebars and pedals, which counterintuitively lifts up the rear Realize how hard this is to do on the first try, and practice with nonsolid barriers!
Realize how hard this is to do on the first try, and practice with nonsolid barriers!
Your success will also largely rely on how you approach the barriers, in addition to the ample practice and dedication mentioned earlier. Having adequate speed when you near the first barrier plays a huge role in performing your hop.
Achieving the appropriate speed allows you to maintain momentum, which you'll need to glide up and over to the next barrier. Just remember that practice is the key to developing any skill, so set up some barriers in your yard, or head over to the mountain bike trails and find a nice log to practice your hopping technique.
A few recommendations and warnings to remember as you're practicing for the season ahead: One way to ruin a race is by smashing head-first into barriers. This is achieved by approaching the barriers with too much speed and pulling up the front wheel too late. This results in a face full of barrier—or two broken wrists.
While it may seem counterintuitive to start practicing hopping barriers on a slight uphill because it feels more difficult, those conditions are more likely to limit a rider to a more proper speed for approaching barriers.
Lifting the rear wheel by using clipless pedals will work best for newbie barrier hoppers, rather than attempting the BMX approach by using large platform pedals and pressing back while pulling up. The former technique allows the rider to control the rear wheel better. If you smash the rear wheel into the first barrier, you can most likely roll off the barrier without a catastrophic crash.
It is worth restating that using your cyclocross pre-rides to your advantage is crucial. Each course can have a unique barrier setup. One of the most difficult barriers to hop were those at the Baystate Cyclocross Weekend last year. They were located after a short, steep hill, which made for a slow approach. Days before the race, the course received several inches of snow, and come race day, the snow started to melt on course. The mud and wet slop created a tricky, awkward bunny hop maneuver. After an hour of racing and no brakes, my barrier hopping turned into barrier running.
Want more tips and training advice for cyclocross techinque? Be sure to check out our Technique Tuesday archives!
---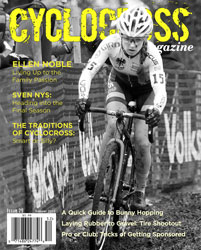 Our how to bunny hop feature appeared in Cyclocross Magazine Issue 29, which also featured a showcase on Ellen Noble, an interview with Sven Nys' on his last season and much, much more.
Want more in-depth cyclocross technique and training articles??
Be sure to subscribe to Cyclocross Magazine. We offer quarterly print subscriptions and a digital all-access subscription that gives you 24/7 access to Cyclocross Magazine's current issue and our library of back copies.