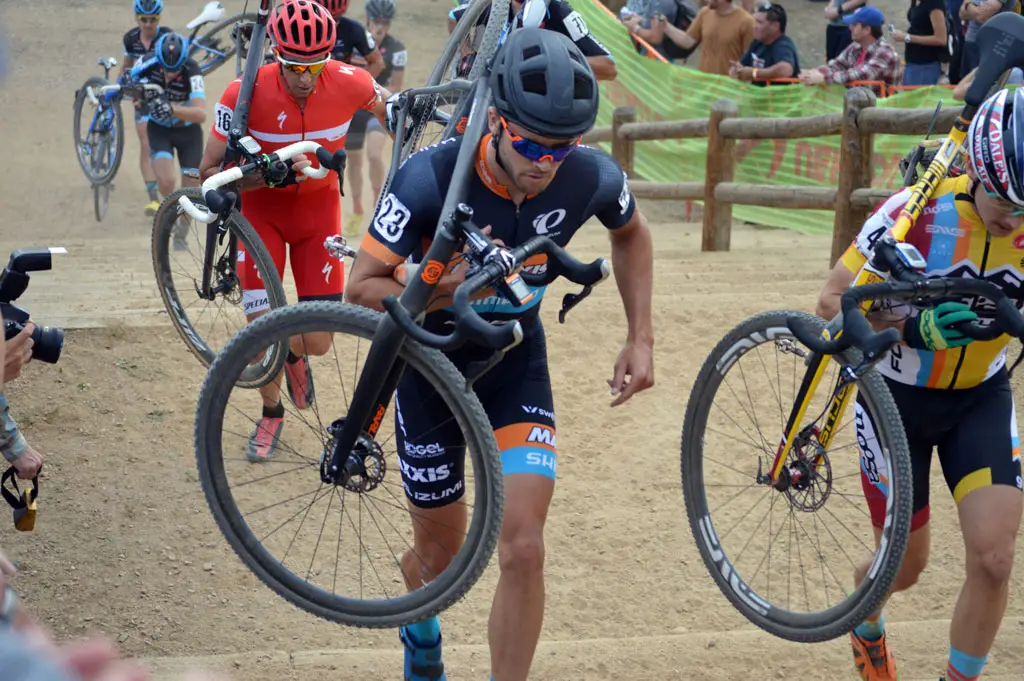 Danny Summerhill (Maxxis-Shimano) took top honors at day two of the US Open of Cyclocross. © Ali Whittier
BOULDER, Colorado — Danny Summerhill (Maxxis-Shimano) and Georgia Gould (Luna Pro Team) took home victories on day two of the US Open of Cyclocross, improving on their second place finishes from day one.
Elite Women: Gould Wins Big
In the Elite Women's race, Gould was able to win in commanding fashion, with a margin of 1:11, to day one's winner, Caroline Mani (Raleigh-Clement). Gould and Mani stayed neck-and-neck the first two laps of the race, but on the third Gould opened a gap of ten seconds, and built on that as the race progressed.
Meredith Miller (Noosa Pro Cycloross), rounded out at the podium after leading the chase a majority of the race, coming in at 1:45 behind Gould.
Elite Men: Summerhill Outkicks Raleigh-Clement Duo
Summerhill piloted his Parlee Z-Zero XD to the win in the Elite Men's race over day one's winner Jamey Driscoll (Raleigh-Clement). The two had a hard-fought race, with Summerhill having the advantage at the start, and Driscoll making up ground in the middle laps to get up to Summerhill. When all was said and done, Summerhill had a bit more kick, finishing with a one-second lead over Driscoll.
Raleigh-Clement rounded out the podium with a fresh face to the US Pro cross scene. Known for his mountain bike skills, but obviously no slouch on the 'cross bike, Hector Fernando Riveros Paez (Raleigh-Clement) rolled in 19 seconds behind Summerhill.
US Open of Cyclocross Day Two Photo Gallery and Results
Want more in-depth tech news, bike reviews, racer profiles and cyclocross feature stories?
Subscribe to Cyclocross Magazine today! From our quarterly print magazine in your mailbox, to our digital edition available instantly on your iPad or tablet, we've got you covered with all the Cyclocross content you can ask for.