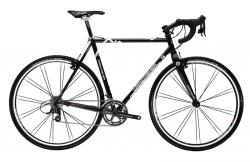 Earlier this summer Trek Bicycles ended its relationship with Greg Lemond and stopped its Lemond brand of bicycles. But with the Lemond Poprad being such a popular 'cross bike, in part due to its steel frame, Trek has kept the OEM steel 'cross bike alive with a new Gary Fisher Presidio model. Friends of Cyclocross Magazine spotted this bike at Trek World this week as one of a handful of new Gary Fisher road bikes. That's right, Gary Fisher road bikes.
Why is the 'cross bike called the Presidio? In 1998, the Cyclocross National Championships and Saturn Super Cup Finals were held in the historic Presidio Park in San Francisco. Tim Johnson, a die-hard New Englander, said that about those races: "Ask anyone that saw the races in the Presidio. They'll tell you that those two days had some of the best bike racing ever. I'm not talking just cross races, but ANY bike racing."
Trek sent us specs on the new model, and the new bike's biggest difference from the Lemond Poprad is its new '09 SRAM Rival drivetrain with carbon levers. The frame, fork, and wheels remain the same, but the price jumps more than $300 (in part due to the weak dollar) to $1979.
We're not sure if Gary Fisher himself has ridden the bike or approved its current design, but the man is very familiar with 'cross, having finished with three top tens at 'cross nats in 1975-77. And in 2007, he was back at it again, racing several Norcal races on his 29er.