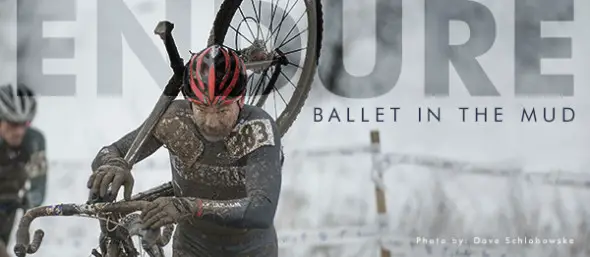 Endure: Ballet in the Mud, features selected photos from a new book to be published in November 2013 by Wisconsin Bike Fed. The book features more than 300 photographs taken by four Wisconsin-based photographers — Peter DiAntoni, Darren Hauck, Jeffrey Phelps and Dave Schlabowske – at the 2013 USA Cycling Cyclo-cross National Championships held in January in Verona, Wis. Nationally-known cycling writer and Green Bay native, Gary Boulanger, served as the book's author.
"The cycling industry has been a huge part of our work for more than two decades," said Ken Hanson, CEO and founder of Hanson Dodge Creative. "Showcasing this stunning photography is a great way to bring the cycling and creative communities together. The show celebrates our ongoing commitment to the cycling industry and supports the efforts of Wisconsin Bike Fed."
Hanson Dodge Creative is pleased to present a new photography exhibition – opening Nov. 7 – showcasing the mud, frozen sweat and sheer intensity of cyclo-cross racing.
Endure: Ballet in the Mud will run from Nov. 7, 2013 through Feb. 28, 2014 at Hanson Dodge Creative, 220 E. Buffalo St., in Milwaukee's Historic Third Ward. An invitation-only opening reception will be held from 5 – 8 p.m. on Thursday, Nov. 7. The exhibition is free and open to the public beginning Nov. 8.
Note: A portion of book sale proceeds will benefit Wisconsin Bike Fed, the nation's largest, statewide bicycle organization that strives to make bicycling convenient, safe, accessible and fun. Endure photographers will be on hand to autograph copies of the book at the Nov. 7 opening reception. The book will go on sale at selected outlets starting in November. Check the Wisconsin Bike Fed website for book sale updates.