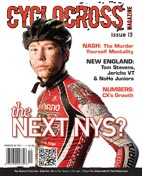 If you subscribe to Cyclocross Magazine, keep an eye on that mailbox now, because Issue 13 is making its way across the country.
Already some lucky subscribers are excitedly tweeting as the issue arrives, with comments like, "My latest Cyclocross Magazine arrived today and the wonder Joe Holmes calls 'White Bread' is on the cover! Wow!"
As you can guess by the cover, this is a mud-splattered issue. In Issue 13, we take a look at some "Mud Myths" that, as racers, you've surely heard from coaches, old racers, mechanics and spectators. In particular, myths exist about deep section rims and their effectiveness when the terrain gets muddy.
As a follow-up to Issue 7's first-ever test to examine a widely-touted belief that deep section rims are faster through sand, we took advantage of Northern California's record wet winter to test different rim profiles in mud. Mud is far more commonplace than sand in cyclocross, and many racers, pro and amateur alike, opt for the deeper carbon rims not only for the material's weight savings and added stiffness, but also for the alleged better performance of the taller rim profiles in the mud. Reported benefits (or myths?) for deep section wheels include:
Cut through mud better, since a taller rim keeps spokes and nipples from having to churn through mud
Shed mud better, since there's not a flat surface to collect mud
Track better in the mud, possibly because of #1 and #2
We wanted answers, so we took some time in the "CXM Lab" (read: muddy course) with these myths and some serious gear in mind, all for science's sake.
To test the three widely-held beliefs of deep section rims' advantages in mud, we incorporated three tests:
Time trials through mud – to test "cuts through mud better"
Bike weight, before and after mud riding – to test "sheds mud better"
Perceived tracking – to test "tracks better in mud"
If all three of these beliefs are true, we should find faster time trial times, a lighter bike and better perceived tracking for the deep carbon rim.
Our results? You'll have to check them out in our content-packed Issue 13, but they were quite surprising. For less than a single race entry fee, you can get your cyclocross fix year 'round with a subscription to our print or digital magazine.
Live overseas or want more Cyclocross Magazine on your computer or iPad? Consider our new Digital Subscription, which, for only $15 gets you instant access to archives of Issues 8-12 (a $40 value) PLUS all future issues for the next 12 months, including Issue 13 soon. As one fan said, that's merely the cost of glue for your tubulars.