With all of the changing personnel within the big-name cyclocross teams this year, it could be easy to overlook up-and-coming teams, which could be a mistake when you consider the serious season goals of Mock Orange Bikes (MOB CX). For this week's developing elite team, we look toward North Carolina, home of some solid cyclocross riders and future host of the 2016 Cyclocross National Championships.
MOB's plans are lofty and their training is unorthodox, but that's usually the story of the modest teams that make the biggest splashes.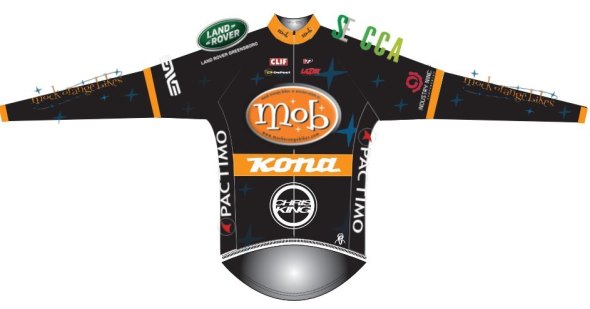 Zach Lail started the MOB cyclocross team in 2010 when a young but experienced mountain biker named Travis Livermon was looking to concentrate on the cyclocross season and needed a dedicated  bike. That season was dramatically shortened when Livermon broke his collarbone and cracked his vertebrae in a sprint to a top-15 finish at CrossVegas, but both Lail and Livermon were already hooked on this sport at the high level.
Over the last four years, the team's riders and sponsors have changed although the shop, Mock Orange Bikes, has always been the driving sponsor, and Livermon has rejoined for the upcoming season. Between their three elite riders, the team is looking to get first in several UCI Elite category races, win the NC CX series, and take a podium finish at the US National Championships in Austin, TX.
Their secret training plan? Ignore Strava and power-meters and stick with doughnut carbo-loading. Home for the MOB CX team is Winston-Salem, known for being the center of Krispy Kreme. A dozen glazed doughnuts per rider and hitting the single-track is good enough for these guys.
When I asked them what they thought about the stiff competition for the UCI fields in CrossVegas and Nittany Lion, two races they plan on competing in during the early season, Lail answered that a talented field forces the team to bring their A-Game. All three MOB riders have UCI points, and know how to battle with the toughest racers in the United States.
Lail will also be acting as the team mechanic, but at the major races he expects every rider to have their own pit mechanic (he also mentioned he is hiring for the season). He is never caught without rain boots, baby wipes and, of course, doughnuts. He puts together a small bag that he carries to the pits that has a spare derailleur and hanger, shifters and chain, the appropriate tools and an inflator, plenty of rags and some brushes and lots of lube. He also recommends windshield deicer for the sub-freezing wet races, as it keeps the mud and water from freezing on the bikes.
In the end, he realizes the MOB CX team is akin to a launching pad to bigger teams. He knows North Carolina is filled with talent, and wants to showcase their names as best as he can. Last year, Kerry Werner had a phenomenal season with MOB, and has been picked up by Optum Pro Cycling for the upcoming season.
Travis Livermon, former Single-Speed Mountain Bike National Champion, knows all about competing at big levels. He won the UCI race in Kingsport, TN, twice (the first time being months after he broke his collarbone at CrossVegas), and has had a top ten finish at Cyclocross Nationals. He will be joined by two teammates this year: Alex Ryan and Tristan Cowie. Cowie, a cycling coach, is the newest edition to the team, with last year being his first attempt at cyclocross. An eighth place finish at the UCI race in Kingsport is not a bad way to enter the sport. Ryan has set his sights on lots of traveling, and is looking to hit all the major domestic UCI races this season. He also has a top-ten UCI under his belt, and matched Cody Kaiser's stair-hopping escapades at the 2014 Cyclocross National Championship:
Official Press Release as follows:
Three top US Professionals highlight Mock Orange Bikes sponsored PRO Cyclocross Team
Fall brings vibrant leaves, cooler weather and…mud. Mock Orange Bikes (MOB) is celebrating autumn with the launch of its fifth year professional cyclocross (CX) team. And with an all-star lineup that includes returning team alum Travis Livermon, and mountain bike pros Tristan Cowie and Alex Ryan, this season is sure to be the most successful yet.
"North Carolina is a hotbed of cycling talent," Team Director and Mechanic Zach Lail said. "Our goal [with this team] is to support the development of these young riders while promoting the unique sport that is cyclocross."
Travis Livermon was with the team since its inception in 2010 through 2012 until moving to the professional road team that he races for during the summer. This year the cyclocross star returns to his roots to headline what is the teams most talented roster to date. Livermon joins mountain bike pros, Tristan Cowie and Alex Ryan. Cowie fresh off a 13th place finish at MTB Nationals is sure to add depth to the roster while Ryan, in his third year with the team will continue to wow crowds with what many say are the best bike handling skills in the pro fields.
The Winston-Salem, North Carolina based bicycle retailer MOB, located across from Hanes Park in the city's West End neighborhood, is a fixture in the North Carolina CX scene. In addition to sponsoring its namesake team, the shop hosts several races, including four at the Southeastern Center for Contemporary Art (SECCA).
The first SECCA race will be held Thursday, Sept. 11th at 6 p.m. Racers can register online at http://prereg.com or in person at the event. Donations for youth cycling development are also being accepted.
The MOB CX team plans to compete in NC events as well as the larger UCI races across the country. The teams 2014 campaign officially begins with the first race of the USA Pro CX Series in Breniningsville, PA on September 6th followed by the annual "CrossVegas" race, the largest cyclocross race in America held in Las Vegas, NV.
Season goals for the team include winning several UCI Elite category races, the NC CX series and a podium finish at the US National Championships in Austin, TX. In addition to title sponsor Mock Orange Bikes, the team is supported by the following companies:
Kona Bikes (frames)
ENVE (rims)
Industry Nine (hubs)
Lazer (helmets)
Pactimo (clothing)
Chris King (headsets and bottom brackets)
Other sponsors include Land Rover of Greensboro and SECCA (The South East Center for Contemporary Art). For more information about the Mock Orange Bikes Professional CycloCross Team or Mock Orange Bikes, please visit their websites at http://mockorangecross.com and http://mockorangebikes.com.