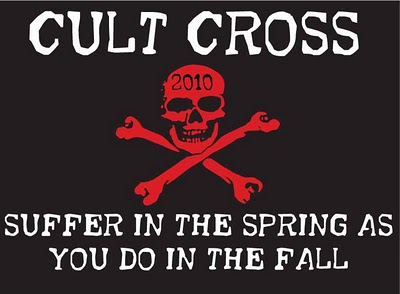 The Cult Cross 2010 flyer's headline says it all: "Suffer in the Spring As You Do in the Fall." Maybe you've built up some early season road/mtb fitness, but you yearn to be back where you belong, on the 'cross course? The Eagle, Colorado venue will host six "flights" of races tomorrow (April 3, 2010), with Juniors kicking things off at 9am, Elite Women at 12:20 and Elite Men at 1:15. The race, appropriately enough based on the event's design scheme, is unsanctioned – which means you won't need an ACA or USCF license, just 20 bones. And kids and juniors race free!
Taking a dig at Colorado's oft-canceled Koppenberg Road Race, Cult Cross promoters promise that their event will run, "no matter what the conditions." Cult Cross is going into its third season. Formerly a multi-race series, for 2010 it will be a one-day, winner take all event.
Larry Grossman, the promoter, talking about how Cult Cross got started a couple of years ago, along with some 2008 race highlights:

Read more on the Cult Cross website.