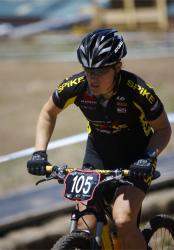 The other day we highlighted some of the recent road racing exploits of Euro 'cross specialists as they get ready for the season that's still three and a half months away. Sven Nys further added to his "off-season" results with an impressive 6th in the Saturday's cross-country UCI World Cup in Fort William Scottland. But it's not just the Euros who are ramping up for 'cross through serious racing; our domestic 'cross pros are doing the same.
Need some motivation to start getting the fitness up? Let's look at how our country's best are ramping up:
On Saturday, Ryan Trebon (Kona Factory Team) and Katie Compton (Spike Shooter / Primus Mootry) dominated the Teva Mountain Games in Vail, Colorado, taking early leads and turning them into more than five minute gaps by the end of each of their 2+ hour races.
Having only decided to attend the event two weeks ago, Trebon was unsure of his form, but found out early, taking the lead on the first hill and never looking back, finishing over 6 minutes on Jay Henry.
Compton rode a similar race, extending a fast start into a 5 minute lead over Heather Holmes. Compton continued her success in the hill climb on Sunday, with the self-proclaimed non-climber winning by 16 seconds over Pua Sawiki.
Compton has had a full schedule of mountain bike races this spring, including participating in the New Zealand Singespeed National Championships and winning the Mountain States Cup Race #3. She and husband Mark Legg will compete in the multi-day endurance BC Mountain Bike Race later this summer.
Jonathan Baker, based in Belgium last fall for an injury-shortened 'cross campaign, also had great results from the weekend, finishing Sunday's hill climb in third behind Benjamin Day and Chris Baldwin.
Jonathan Page has been busy as well, logging in the miles through road racing here in the U.S. Racing for the domestic team Battley Harley-Davidson/Sonoma. Over the Memorial Day weekend, he showed off his pack sprinting skills and notched a stellar third place in the Tour of Somerville (proclaimed to be "The Fastest Race in America").
Christine Vardaros has been getting into the action as well, racing men's and women's criteriums in Europe in her build up to another 'cross campaign overseas.
Feel like you're a little behind in your 'cross prep? You're not the only one. As John D. writes us, "I am riding my bike back and forth to work, logging about 5 miles a day. I should be ready for the season – of 2012!"