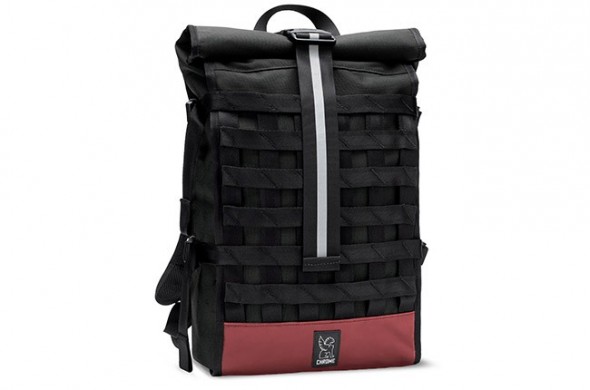 18 years of messenger bag knowledge and experience. One bombproof rolltop backpack.
Chrome Industries today announced the new Barrage Cargo Rolltop Backpack, the result of 18 years of messenger bag making experience. The new Barrage is made with Chrome's proven WW2 Technology—it's 100% Welded-Waterproof, built twice—the only way to make a waterproof bag that withstands the abuse of the city. The Barrage Cargo is made in the USA, and guaranteed for life.
The Barrage embodies three fundamental ingredients of Chrome's commitment to urban utility – adaptability, mobility and durability. Chrome knew the only way to build the ultimate rolltop backpack was to deliver on every step of the design process that included construction of bombproof materials, advanced technology and a well thought out design.
The end result is a product that is functional and utilitarian in which cyclists living and riding in the city depend on.
Built for riding in the city, the bag features low profile and side compression straps for load stabilization and increased visibility. The Barrage Cargo's main compartment expands from 22L to 34L, and includes an expandable utility cargo net with compression straps so that riders can secure all types of cargo shapes and sizes.  The inside floating liner is made with welded seams to eliminate the risk of water penetration. It can literally be filled with water and will not leak. The outer shell is made with military grade abrasion resistant 1000 denier Cordura®.  This progressive design ensures cargo remains dry even in the harshest conditions day after day and year after year.
According to Steve McCallion, Chrome's President, "The Barrage was built from the ground up, based on over 18 years experience making messenger bags for professional messengers around the world. Everything we've learned making messenger bags is in the Barrage. It's built twice to survive the abuse of the city. It features our Welded-Waterproof technology to keep contents dry. It seamlessly adapts to different load sizes and to life on and off the bike. It's made in America. And, it's guaranteed for life. We believe it will be our next franchise bag."
Barrage Cargo Features
Adjustable external 5-Point cargo net system for storing/transporting helmet, wet race gear, or shoes
Waterproof rolltop closure accommodates a range of load sizes
Dual compartments separate wet/dry cargo
Industrial strength Velcro accessory shoulder mounting straps
Easy access side U-Lock/water bottle pockets
Interior sleeve pocket fits Macbook Pro 15 ̋ (padded sleeve recommended)
Ergonomic shoulder strap design with EVA foam back panel for comfort and breathability
Sternum strap with iconic mini-seatbelt buckle for load distribution
Industrial metal cam lock under arm compression buckles
Abrasion resistant Weatherproof 1,000 denier Cordura® grade nylon outer shell
Welded-Waterproof 600 denier military grade truck tarpaulin liner
MSRP: $160
More info: Chrome Industries