Thanks to many technological advances, tubeless tires and wheels have become a viable option for all levels of cyclists, from elite 'cross pros to back-road ramblers.
While the benefits are numerous, there's always been a proverbial thorn in the side of the tubeless system — finding a compressor to seat tricky tires.
To allay this issue, pump manufacturers have started to produce chamber-style floor pumps, where an air canister is pressurized and released rapidly to seat a tricky tubeless tire. A chamber-style floor pump opens a whole new world of tubeless versatility; trail-side changes are possible and those with space constraints don't have to run to their local bike shop or a gas station to access a compressor.
Blackburn Designs brings their offering to the market with their aptly-named Chamber Tubeless Floor Pump, and we at CXM Labs got our hands on one.
[caption id="attachment_112150" align="aligncenter" width="750"]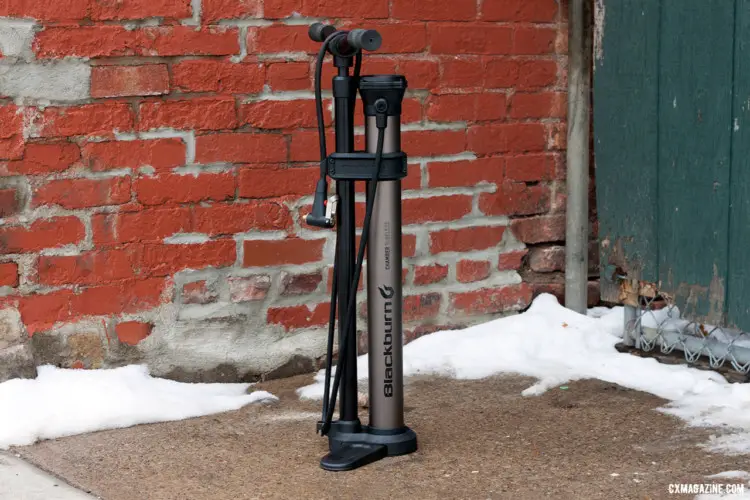 The Blackburn Chamber Tubeless Floor Pump retails at $149 and is at your local shop now. © Cyclocross Magazine[/caption]
The Chamber Tubeless Floor Pump features a sturdy construction with an alloy pump barrel and a stamped steel base. Blackburn chose to make as many items on the pump alloy instead of plastic, to both increase durability and add some polish to the $149-MSRP pump.
The Chamber Tubeless' Anyvalve pump head handles Schrader, Presta and Dunlop valves and is built with an alloy pump head lever and cap and a air bleed button to dial your pressure in. A four-foot hose ties the head to the pump and offers two advantages over its shorter competitors: anyone who has blown a tubeless tire off a rim knows that being farther away from the wheel is a wise idea and the long hose has the added advantage of being able to reach a bike that's in a repair stand or on a car rack.
Of course, the downside is that a longer hose constrains flow rate if we remember our fluid dynamics. Can't get that tire seated? Take out the valve core or cut the hose.
[caption id="attachment_112154" align="aligncenter" width="750"]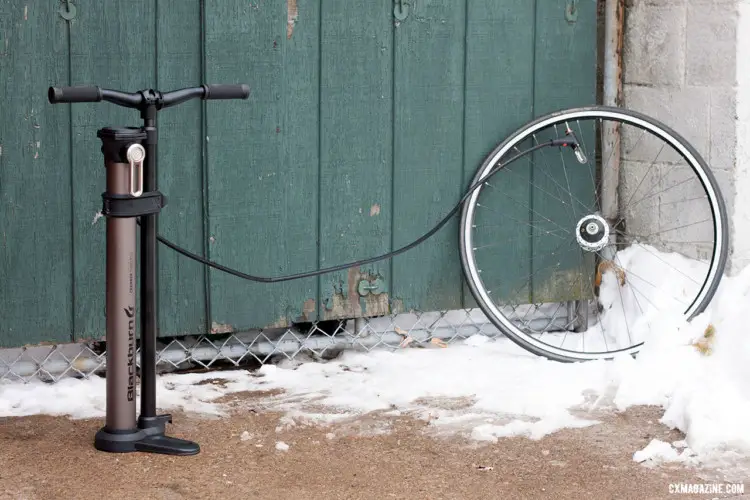 The Blackburn Chamber Tubeless Floor Pump's four-foot-long hose keeps keeps your wheel far away as you attempt to seat your tubeless tire. It also can reach a bike on a car rack or in a repair stand. © Cyclocross Magazine[/caption]
The 2.75-inch pressure gauge reads in 5 psi increments and is brought up near the Chamber Tubeless' handle for better readability. The Chamber's charge switch is also alloy. To use the charge function, you flip the switch to charge and pump until the gauge's needle reaches the green charge zone. After the Chamber is charged, you flip the charge switch to inflate, and the Chamber rapidly inflates your tire.
Charging the Chamber Tubeless is a straightforward affair. It took me 40 pumps to get it into the 140 psi "charged" zone. Once charged, the Chamber Tubeless set up our 33mm Donnelly PDX tires easily with ample pressure to spare in the air canister. For all but the most tricky tubeless setups, I'd be confident making trail-side or race-day tire changes using nothing but the Chamber Tubeless.
[caption id="attachment_112151" align="aligncenter" width="750"]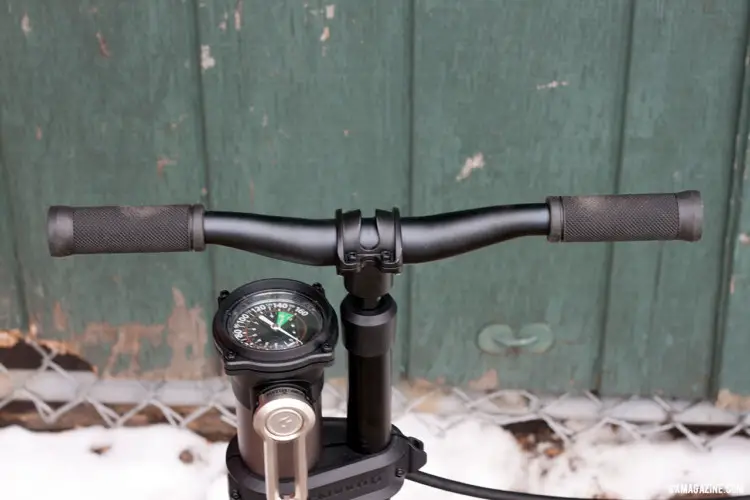 The Blackburn Chamber Tubeless Floor Pump's handle is clamped by a 31.8mm stem, allowing you to put your handlebar of choice in its place. © Cyclocross Magazine[/caption]
A 16.25-inch-wide set of riser bars serve as the handle for the Chamber Tubeless and are held on with a 31.8mm stem clamp. This common clamp interface means that you can customize your pump with any 31.8mm bars. The stock handle setup is easy on the wrists and wider than your average pump handle, which makes charging the Chamber Tubeless or pumping up a high-volume tire a comfortable affair.
While your mileage may vary, we found the knurling on the stock grips to be a little aggressive, especially for a pump. Those with soft hands may need to take some sandpaper to the grips or plan on a little bit of a break-in period for maximum comfort. It sounds a bit absurd to do to a pump out-of the-box, but we plan to switch the stock grips to something a bit more hand-friendly or use gloves. Those with hand issues could clamp on a set of aerobars and use their forearms and body weight. If you do this, please send us a picture.
The Chamber Tubeless Floor pump is available now at your local Blackburn dealer or through the company's website.
Stay tuned for our tubeless pump shootout.
Blackburn Chamber Tubeless Floor Pump Info:
MSRP: $149
Charger functionality offers a pressurized chamber to seat a tubeless tire.
Four-foot hose
Alloy construction: pump head cap and lever, pump barrel
16.25-inch-wide riser bars serve as pump handle, clamped with 31.8mm stem interface, customization to any 31.8mm bars
160 psi maximum pressure
2.75-inch top-mounted gauge,  reads in 5 PSI increments
More info: blackburndesign.com
Blackburn Chamber Tubeless Floor Pump Photo Gallery: