We're taking a look here at the saddle round-up we brought you in Issue 30. While saddles aren't always the most exciting piece of equipment to look at, they have a very definite impact on your riding enjoyment and are key to your comfort. See some of the latest saddles here and maybe you'll find your next seat.
---
by The CXM Test Crew
Saddles, like helmets, have gone through a number of  technology and construction changes recently. Even if you think you found the right shape for you a long time ago and have been loyal ever since, it's worth a look and test ride of the latest generation of saddles to see if there's a more comfortable ride.
Until recently, shopping for saddles has been mostly about finding the right shape, and then perhaps deciding how much padding you wanted. Maybe you also decided whether you wanted to save some grams through tubular rails or exotic materials. More recently, cyclists and cyclocrossers could opt for a cut-out for potential pressure relief or water cooling during a wet race.
Now, construction techniques, shock absorbing materials, width options and even new rail designs are all being touted as the secret to a more comfortable ride, especially when the terrain is not smooth asphalt. And for those of you with new bike lust, but a new chain budget, a new saddle, paired with some cushy new bar take, can be the ultimate trick to feeling like you got a new ride.
We put seven of the latest saddle designs to the test in Issue 30 to see which ones are deserving of your upgrade dollars. Saddle up!
Koobi PRS Alpha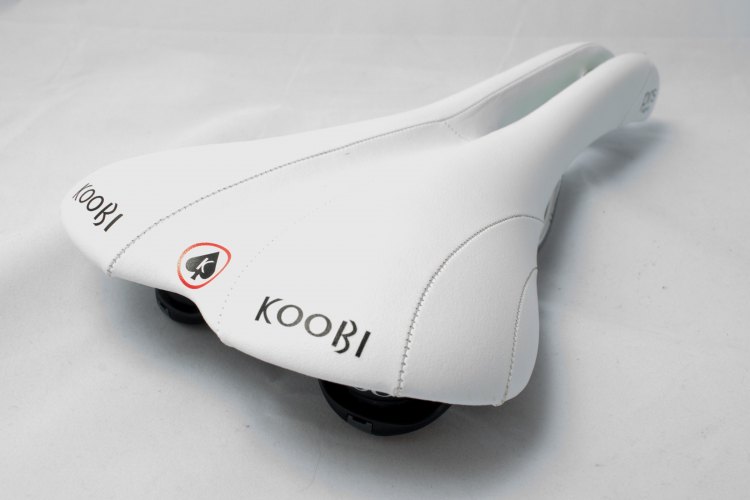 Koobi adopted a tunable shock absorption saddle when designing their unique, elastomer-suspended rail design. Choose the appropriate bumper for your weight and riding style, and seek out your local Koppenbergcross to really experience its benefits. Thankfully, you don't need Belgian cobbles to tap the rewards of this smooth ride. Gravel riders and 'crossers who find themselves racing on hardpack dirt will appreciate the plush ride. Isolating the rider from vibrations via rail cushioning instead of saddle cushioning makes a lot of sense, and allows you to move around with terrain and avoid the stuck-in-the-couch feel. The downside? It's not light, and you'll feel it when picking up the bike. At least your sit bones won't feel so bare.
Price: $139 USD
Weight: 315 grams
Options: black or white
More info: koobi.com