Perhaps your cyclist needs a clean bike over a clean lid? Here are a few great products to clean up a ride: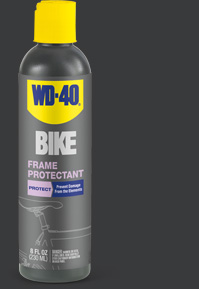 WD40 Frame Protectant
You might get slapped if this is all you get for your significant other, but we think it's a pretty great little stocking stuffer—especially if there's a new frame to match! The WD40 Frame Protectant is designed to "prevent the build-up of dirt, dust and grime." It also claims that it has the ability to "Restores scratched areas and the luster of clear coats, carbon or other finishes." Since our bikes spend a whole lot of time covered in mud or being treated cruelly by pressure washers post-race, it's nice to add a little bit of love to the frame after it's all cleaned up. After using it, we noticed that an aluminum Raleigh (painted black and blue) definitely looked shiny and less like we'd been tossing it in the back of a truck while still muddy for the drive home.
MSRP: $14.99
Website:  www.wd40bike.com
Pro Gold Helmet Cleaner and Deodorizer
Sure, it's chilly and you're less inclined to sweat into your helmet in December, but remember those gnarly days of summer and the early 'cross season when you finished a race and caught a whiff of the helmet you chucked in the backseat for the drive home? We thought so. You probably need this, but think your riding buddies need it even more. Giving this gift could be a nice, subtle hint to start deodorizing before before he loses some friends or carpool buddies.
MSRP: $9.99
Website: bikes.progoldmfr.com
Brush-X Cyclocross Brush
With the mud and muck found at many races, cyclocross has unique cleaning needs. Three California guys who support Sacramento cyclocross thought that there's a better way to clean bikes after a cyclocross race, and hit the drawing board. After many hours of cleaning and product testing, their creation is the Brush-X.
The soft bristled brush connects to a garden hose, allowing you to scrub and wash away muck at the same time, while saving your bike's finish. We think it's the perfect device to clean cassettes, disc brakes and rotors, pedals, chains, chainrings and shoes, after the obligatory spray down with the hose to quickly remove the heavy stuff. $24.99 MSRP, and shipping now.
More info: brush-x.com