THOMPSON, CT – Regina Legge (Salem, N.H./Trek Cyclocross Collective) powered away from a group of three to win the Elite Women's UCI C2 cyclocross race at the 2018 KMC Crossfest, Sunday, Sept. 30.
Legge broke off from the pack early with Natalie Tapias (Easthampton, Mass./ JAM / NCC) and Kathryn Cumming (Bloomfield, N.J./Jalapeno Cycling).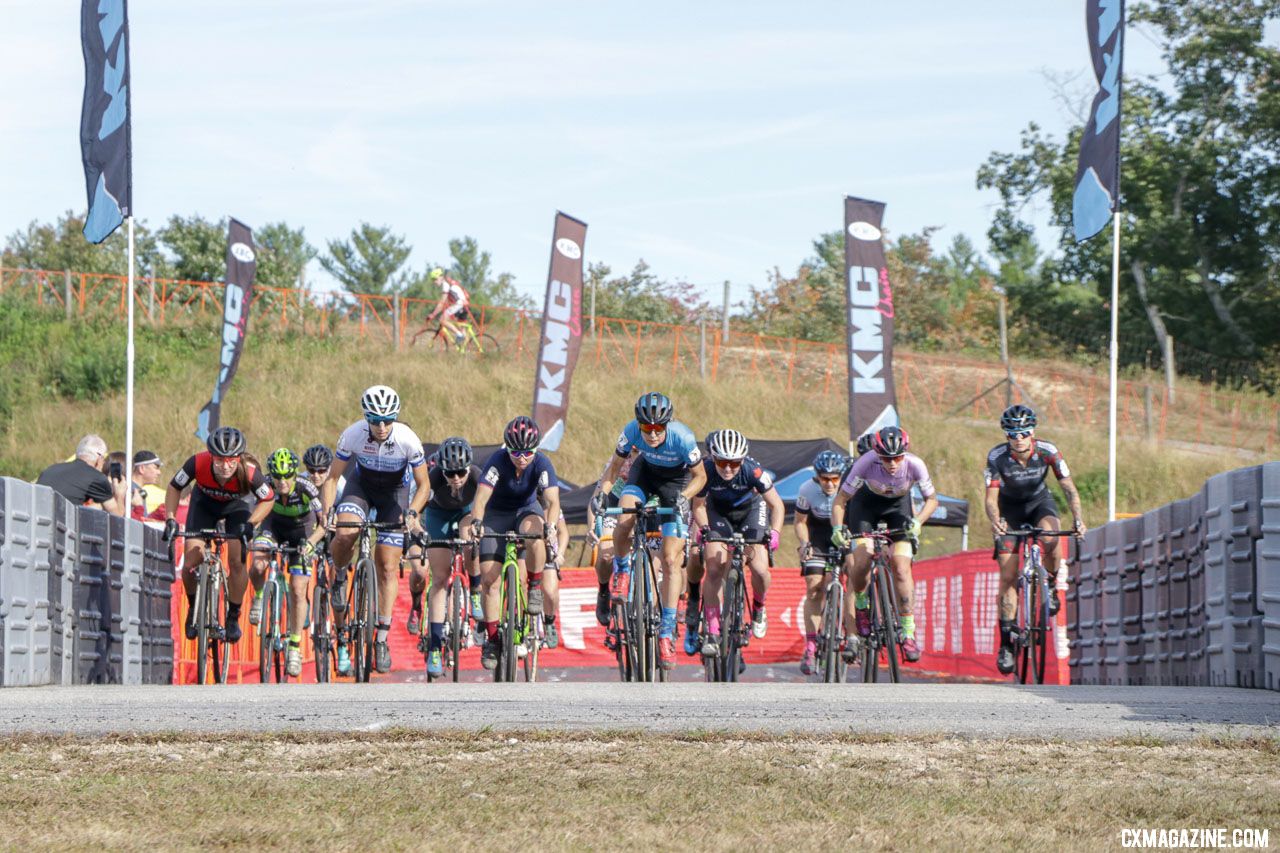 The three led the field for most of the race, before Legge beat the other two to the critical off-camber, re-mounted and powered up to the finish line.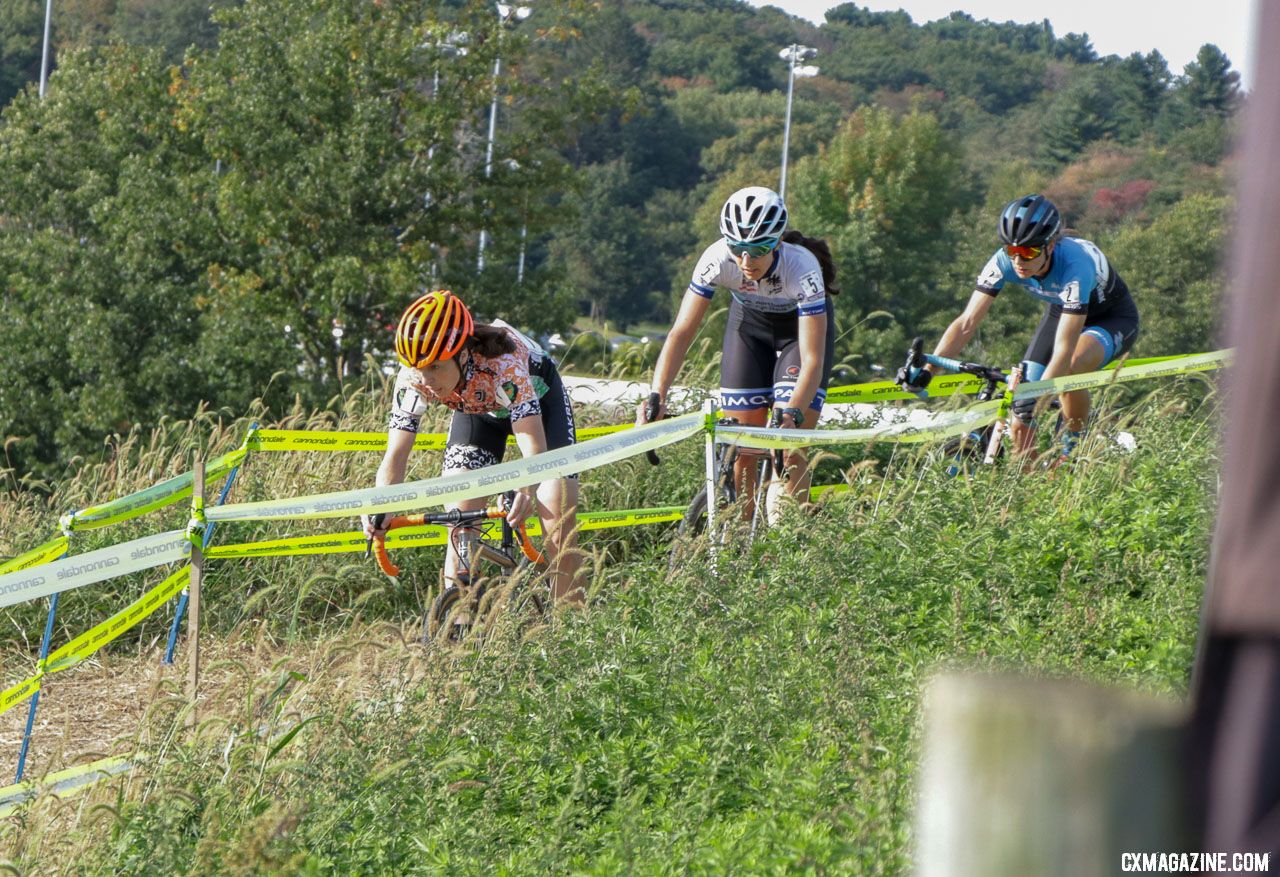 Cumming takes charge. 2018 KMC CrossFest. photo: Eddie Medina
Canadian Erica Leonard (Highgate Racing) led the group midway through the race and had built a significant lead before she double flatted. Cumming drove the group of three past her, and Leonard eventually dropped out of the race.
"It was fast—it was a lot of pedaling [and] there was a headwind," Legge said. "It was dry. It keeps you on your toes, because it gets a little slick in the corners. But I had a lot of fun."
Two U23 racers stood on the podium twice after the Elite Men's race at the 2018 KMC Crossfest on Sunday. Lane Maher (Harwinton, Conn./Cannondale p/b Cyclocrossworld) won the men's elite UCI C2 race, and the young rider also took the top step in among the U23 men at the 10th edition of the cyclocross race at Thompson Speedway Motorsports Park in Thompson, Conn.
Maher, just 18 years old, was part of a large group that formed early, but finally splintered in the final few laps.
"I had to be very aggressive at the start of the race, but it paid off," said Maher. "I was able to slide into fourth or fifth wheel after the first few turns, but I had to do a big effort to get from the back to the front."
Twenty-one-year-old Nick Lando (Ringwood, N.J./Bear Pro Team p/b Trek) took third in the men's race, and second in the U23 category. Dirt League racer Scott Smith, winner of Saturday's elite field, finished second in the men's C2.
Full results below.
2018 KMC CrossFest UCI C2 Results: Elite Women
| Overall | Bib | Name | Team | Time | Gap |
| --- | --- | --- | --- | --- | --- |
| 1. | 2 | Regina LEGGE | Trek Cyclocross Collective | 47:24 | -- |
| 2. | 5 | Natalie TAPIAS | JAM / NCC | 47:26 | +02 |
| 3. | 1 | Kathryn CUMMING | Jalapeno Cycling | 47:47 | +23 |
| 4. | 6 | Brittlee BOWMAN | RSCX - House Ind - DWR - HM | 48:33 | +1:09 |
| 5. | 7 | Taylor KUYK-WHITE | Philly Bike Expo | 48:35 | +1:11 |
| 6. | 3 | Erin FACCONE | Velocio NECX | 48:50 | +1:26 |
| 7. | 16 | Katherine NORTHCOTT | | s.t. | -- |
| 8. | 18 | Christin REUTER | Mad Alchemy| Zanconato | s.t. | -- |
| 9. | 13 | Leslie LUPIEN | Velocio NECX | 48:56 | +1:32 |
| 10. | 19 | Jane ROSSI | Rhode Island School of Design | 49:00 | +1:36 |
| 11. | 21 | Roni VETTER | Mad Alchemy | Zanconato | 49:37 | +2:13 |
| 12. | 10 | Clio DINAN | | 50:20 | +2:56 |
| 13. | 11 | Valerie HOPKINS | Riverside Racing | 50:37 | +3:13 |
| 14. | 17 | Meghan OWENS | Hands-On Cycling p/b Guerciotti | 50:45 | +3:21 |
| 15. | 8 | Kayla BRANNEN | Cowbell Racing p/b World Bicycle Relief | 52:01 | +4:37 |
| 16. | 14 | Rhys NIESEN | RMJ Cycling | 52:25 | +5:01 |
| 17. | 15 | Alixanna NORRIS | Cowbell Racing p/b World Bicycling Relief | 53:05 | +5:41 |
| 18. | 20 | Anna SAVAGE | JAM Fund / NCC | 54:01 | +6:37 |
| * | 4 | Erica LEONARD | Highgate Racing | DNF | |
| * | 12 | Lindsey BAUER | | DNF | |
2018 KMC CrossFest UCI C2 Results: Elite Men
| Overall | Bib | Name | Team | Time | GapTop |
| --- | --- | --- | --- | --- | --- |
| 1. | 27 | Lane MAHER | Cannondale p/b Cyclocrossworld | 1:02:20 | -- |
| 2. | 1 | Scott SMITH | Dirt League | 1:02:26 | +06 |
| 3. | 13 | Nick LANDO | Bear Pro Team p/b Trek | 1:02:47 | +27 |
| 4. | 37 | Alec PASQUALINA | SET Coaching/Arlberg Sports/Pivot Cycles | 1:02:57 | +37 |
| 5. | 12 | Andy SCOTT | Riverside Racing | 1:03:10 | +50 |
| 6. | 10 | Trent BLACKBURN | JAM / NCC | 1:03:20 | +1:00 |
| 7. | 6 | Adam MYERSON | Cycle-Smart | 1:03:43 | +1:23 |
| 8. | 4 | Alex RYAN | Pactimo/Mock Orange CX Team | 1:03:47 | +1:27 |
| 9. | 24 | Michael LANDRY | Voler/Clif/HRS/Rock Lobster | s.t. | +1:28 |
| 10. | 11 | Alec DONAHUE | JAM / NCC | s.t. | -- |
| 11. | 5 | Ian GIELAR | JAM / NCC | 1:03:51 | +1:31 |
| 12. | 19 | Greg GUNSALUS | RSCX - House Ind - DWR - HM | 1:03:55 | +1:35 |
| 13. | 7 | Patrick COLLINS | kb PHOTO cx / A-D Bikes | 1:03:57 | +1:37 |
| 14. | 3 | Michael OWENS | RSCX - House Ind - DWR - HM | 1:04:02 | +1:42 |
| 15. | 2 | Merwin DAVIS | Cycle-Smart Inc. | 1:04:08 | +1:48 |
| 16. | 16 | Andrew BORDEN | Your Name Here | 1:04:11 | +1:51 |
| 17. | 46 | Travis WOLD | Spin Arts Cycling | 1:04:22 | +2:02 |
| 18. | 14 | Zachary CURTIS | BMB Racing | 1:04:25 | +2:05 |
| 19. | 22 | Samuel KIEFFER | Red Kite Fund | s.t. | +2:06 |
| 20. | 43 | Christian SUNDQUIST | Twin Six Metal | s.t. | -- |
| 21. | 8 | Kale WENCZEL | JAM / NCC | 1:05:09 | +2:49 |
| 22. | 9 | Andrew FRANK | Montana Velo | 1:05:12 | +2:52 |
| 23. | 17 | Niles GAGNON | Grey Ghost Bicycles | 1:05:25 | +3:05 |
| 24. | 25 | Jacob LEBLANC | Comp Edge Racing | s.t. | -- |
| 25. | 32 | Sam NOEL | Cannondale p/b Cyclocrossworld Devo Team | 1:05:50 | +3:30 |
| 26. | 35 | Finnegan O'CONNOR | Competitive Edge Ski & Bike | 1:06:14 | +3:54 |
| 27. | 20 | David HILDEBRAND | Trek Cyclocross Collective | 1:06:23 | +4:03 |
| 28. | 39 | Jacob ROBERTSON | Createx/Benidorm | 1:06:25 | +4:05 |
| 29. | 30 | Andrew NICHOLAS | | 1:07:06 | +4:46 |
| 30. | 44 | Dan VAUGHN | JAM / NCC | 1:07:13 | +4:53 |
| 31. | 42 | Camden BROOKS | Hands-On Cycling p/b Guerciotti | 1:07:24 | +5:04 |
| 32. | 36 | Matthew OWENS | Hands-On Cycling p/b Giant | s.t. | -- |
| 33. | 41 | Ben RYAN | New England Devo p/b Cadence Wealth Managment | 1:07:42 | +5:22 |
| 34. | 33 | James NORRIS | Cowbell Racing p/b World Bicycle Relief | 1:08:20 | +6:00 |
| 35. | 18 | Kevin GOGUEN | Race CF | 1:08:43 | +6:23 |
| 36. | 21 | Spencer JOHNSTON | Pactimo / Mockorange bikes | s.t. | +6:24 |
| 37. | 45 | Erik CARLSON | Hyperthreads/Apex | 1:09:39 | +7:19 |
| 38. | 31 | Chris NIESEN | JAM / NCC | 45:45 | |
| 39. | 38 | Colin REUTER | crossresults.com | 46:08 | |
| * | 29 | Addison MINOTT | Daedalus & Allstonvelo | DNF | |
| * | 34 | Christian NORVOLD | JAM / NCC | DNF | |