by Hannah Caproon
Considering the upcoming UCI World Cup race in Namur (won by Mathieu van der Poel last year), it was uncertain who would attend today's Scheldecross, but the cream of the crop showed up to play in the Antwerp sand today.
The 2016 Scheldecross course was an even mix of flat power-straights, well worn in from previous races, deep sand pits, which required riders to complete tight 180-degree turns or complete long run sections, and steep climbs and descents linked together by tight turns. Each feature type was grouped together, resulting in a relentless track, allowing riders almost no recovery time.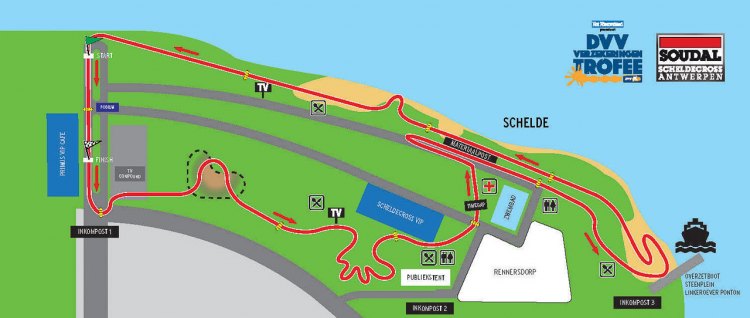 The Elite men's race was all business, as Wout van Aert (Crelan-Vastgoedservice) calmly cruised around the first corner, only for Kevin Pauwels (Marlux-Napoleon Games) to take lead position onto the dirt. From then on, it was a cutthroat battle.
While the Elite Women chose to dismount around the deep sandy corners, for the first few laps, the Elite Men muscled through, often getting stuck at a standstill, and causing long back-ups. In the process, it only took three laps for clear leaders to emerge. Mathieu van der Poel (Beobank-Corendon) turned a small mix-up in the sand pits into a six-second gap, which he proceeded to lose and regain several times over the next few laps.
Wout van Aert, last year's Scheldecross winner, was quick on Van der Poel's heels, driving the pace and consistently dropping his group to catch back onto Van der Poel's wheel. Through the barriers, Van der Poel threw in some flair, kicking out a crowd-pleasing whip mid-bunny hop.
The grey clouded sky opened up, and a light drizzle put a bit of a damper on the men's playtime in the sandbox, and an orchestra of trumpeting wet brakes came to life.
Van der Poel consistently pulled away on the steeps, showing amazing power and cornering skills coming into the fast post-descent turns. He also accelerated through bunny-hopping barriers, though his gap in front of Van Aert and Pauwels was no more than a few grains of sand.
The nature of the Scheldecross sand pits, with long backtracking sections, made them incredibly deceptive, as chase groups often looked to be so close to the leaders, despite the fact that they were at least 10 seconds behind. The always-in-sight nature seemed to give Laurens Sweeck (ERA-Circus) the drive to bridge his chase group up to the leading three with a little over one lap to go, in a race that had otherwise been dominated by Van der Poel, Van Aert, and part-time rapper Pauwels.
With a little over one lap to go, as the chase group bridged up to the lead three, Van Aert put on the afterburners in the second sand pit. This immediately put a five second gap in front of Pauwels and Van der Poel. Van Aert put his head down, determined to drop his companions for good and avoid any chances for a final lap mishap or sprint against Van er Poel.
The crowd however was hungry for yet another last lap "beautiful duel," and its cheers drowned out the announcers and Mother Nature's drizzle as Van der Poel and Pauwels caught onto Van Aert's wheel exiting the steep up and downs. The duel was on, or if Pauwels had his way, a truel.
Van Aert, who had appeared fatigued, had one last gasp. The World Champ sprinted of the saddle coming into the long straightaway, turning the screws on Van der Poel and Pauwels before the first sand section.
Finally, it was Van der Poel's turn. With a wild, foot-out line into the second deep sandy stretch, the Dutchman slid by his rival, throwing sand in his face and leaving him to look around for help. See that highlight below:
Van Aert cracked, and soft pedaled in for a safe second place ahead of Pauwels, who rolled as best of the rest yet again for third.
See the Elite Women's race report from Scheldecross here. Check back tomorrow for full coverage of the UCI Cyclocross World Cup in Namur.
2016 Scheldecross Video Highlights:
2016 Soudal Scheldecross Results - Elite Men
| Rank | Name | Nat. | Age* | Result | Pts |
| --- | --- | --- | --- | --- | --- |
| 1 | Mathieu VAN DER POEL | NED | 22 | 1:05:31 | 80 |
| 2 | Wout VAN AERT | BEL | 23 | 1:05:35 | 60 |
| 3 | Kevin PAUWELS | BEL | 33 | 1:05:37 | 40 |
| 4 | Laurens SWEECK | BEL | 24 | 1:05:40 | 30 |
| 5 | Jens ADAMS | BEL | 25 | 1:05:41 | 25 |
| 6 | Michael VANTHOURENHOUT | BEL | 24 | 1:05:43 | 20 |
| 7 | Toon AERTS | BEL | 24 | 1:05:47 | 17 |
| 8 | Corne VAN KESSEL | NED | 26 | 1:06:23 | 15 |
| 9 | Tim MERLIER | BEL | 25 | 1:06:38 | 12 |
| 10 | Vincent BAESTAENS | BEL | 28 | 1:07:23 | 10 |
| 11 | Gianni VERMEERSCH | BEL | 25 | 1:07:37 | 8 |
| 12 | Dieter VANTHOURENHOUT | BEL | 32 | 1:07:39 | 6 |
| 13 | Tom MEEUSEN | BEL | 29 | 1:08:03 | 4 |
| 14 | David VAN DER POEL | NED | 25 | 1:09:14 | 2 |
| 15 | Philipp WALSLEBEN | GER | 30 | 1:09:18 | 1 |
| 16 | Clement VENTURINI | FRA | 24 | 1:09:48 | |
| 17 | Joeri ADAMS | BEL | 28 | 1:09:54 | |
| 18 | Enrico FRANZOI | ITA | 35 | 1:09:59 | |
| 19 | Ingmar UYTDEWILLIGEN | BEL | 26 | 1:10:05 | |
| 20 | Michael BOROS | CZE | 25 | 1:10:07 | |
| 21 | Jens VANDEKINDEREN | BEL | 24 | 1:10:16 | |
| 22 | Braam MERLIER | BEL | 23 | 1:10:25 | |
| 23 | Kevin CANT | BEL | 29 | | |
| 24 | Dave DE CLEYN | BEL | 29 | | |
| 25 | Dario TIELEN | BEL | 23 | | |
| 26 | Eric THOMPSON | USA | 28 | | |
| 27 | Jens GYS | BEL | 28 | | |
| 28 | Hendrik SWEECK | BEL | 25 | | |
| 29 | Wouter GOOSEN | BEL | 31 | | |
| 30 | Mark MCCONNELL | CAN | 29 | | |