It's been a while since we've heard from Cyclocross Magazine contributor Lee Waldman. Today, on Father's Day, Waldman takes us to Scottsbluff, Nebraska for the first-annual Roubidoux Quick and Dirty gravel race, and some timeless reminders to be grateful and enjoy our time on the bike. Read why Waldman plans on going back next year and why you should put this event on your calendar.
---
by Lee Waldman
The older I get the more it makes sense to me to live in the moment.
If this seems like a weird way to begin a race review, perhaps it is. But, there's one thing that became apparent to me while racing the inaugural Roubidoux Quick and Dirty last month; gravel racing is seriously demanding, exhausting and it requires an extraordinary amount of patience. So, as long as you're aware that it's going to be a long day in the saddle, make the most of it. Be present, be mindful and enjoy the experience.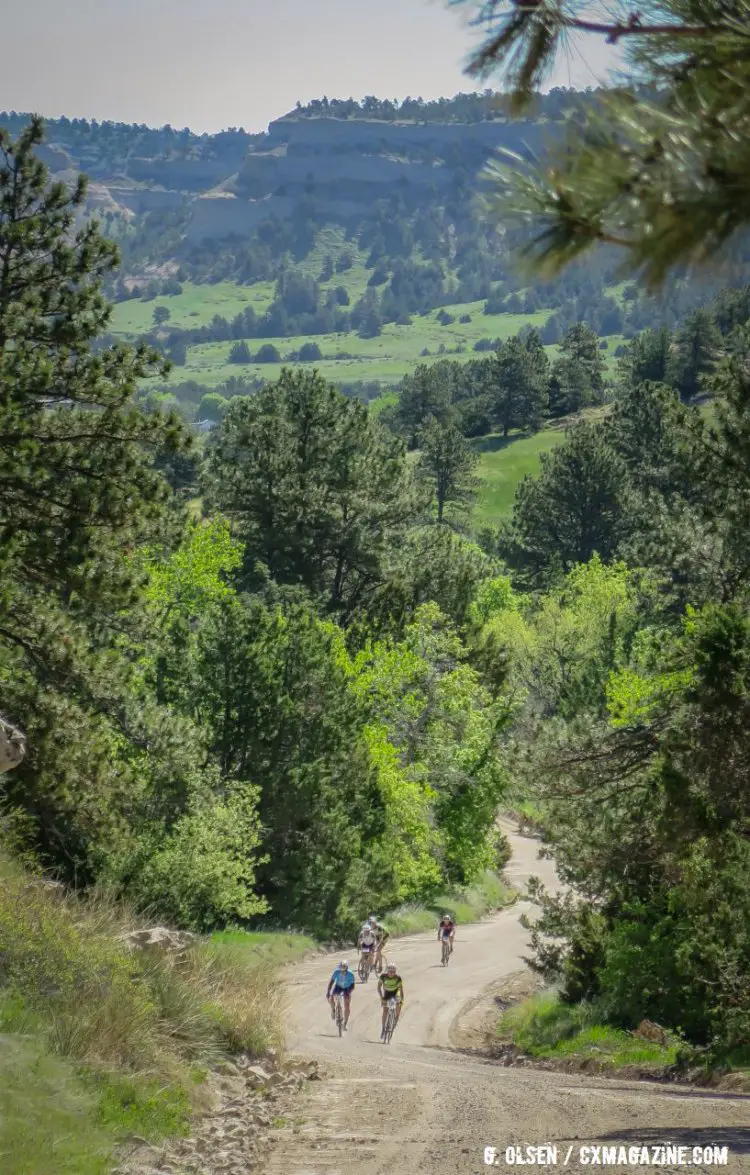 It's ironic that when Matt Hutt, the race director, and I met at race registration he described the 75-mile jaunt as a "sprint" and worried that in the context of other races such as Dirty Kanza, his event might seem a bit too easy. After struggling to finish in less than five and half hours let me assure you, it was not easy and not a short day. The winners all finished in four hours and change. I was 21st out of 83 starters (60 finishers) and my time was 5:19. At 66 years old, I was happy with that. But I know that I'm starting to wander here so let's talk about the race itself and why you should put it on your calendar for next May.
I've lived in Colorado my entire life and only twice before have I had the experience of driving through Nebraska. What stood out for me after those two trips was seemingly endless flat roads, prairie and farmland on both sides and absolutely nothing to break the monotony. Nebraska, in my opinion, went on forever. I expected Scottsbluff to be the same and to be honest, if I had just been driving though on my way somewhere else, it might have been. Yes, there's plenty of farmland and prairie. But there are also endless miles of untraveled gravel roads, some very stiff climbs, changes in ecology and wind, lots of wind. Did I mention the all directions wind? This all added up to a truly enjoyable day in the saddle. Yes, even the wind.
Racing of every kind in my home state has evolved from the family atmosphere that I experienced as a new rider over 30 years ago. Now it seems to be all about points, places, call-ups and winning. It was refreshing to attend an event that was focused on fun. There was a pre-race barbecue with live music that every rider raved about the next morning. Even the usual pre-race jitters with furtive sideways glances at the "competition" were tempered by lots of friendly banter. Looking around before the neutral roll out, it was easy to spot the riders who were going to take this seriously, but even they were open, welcoming and smiling, nothing like what I've experienced in Colorado. I left the road racing scene years ago because I missed that sense of community. I've found it in cyclocross, mountain bike racing and now in gravel events. Thank goodness!
That doesn't mean it wasn't competitive. The first 10 miles had my power and heart rate showing numbers that I rarely see. I found myself hoping that I could hang on for just a little longer. I didn't know it was even possible to ride close to 25 mph on gravel roads but it turns out that it is.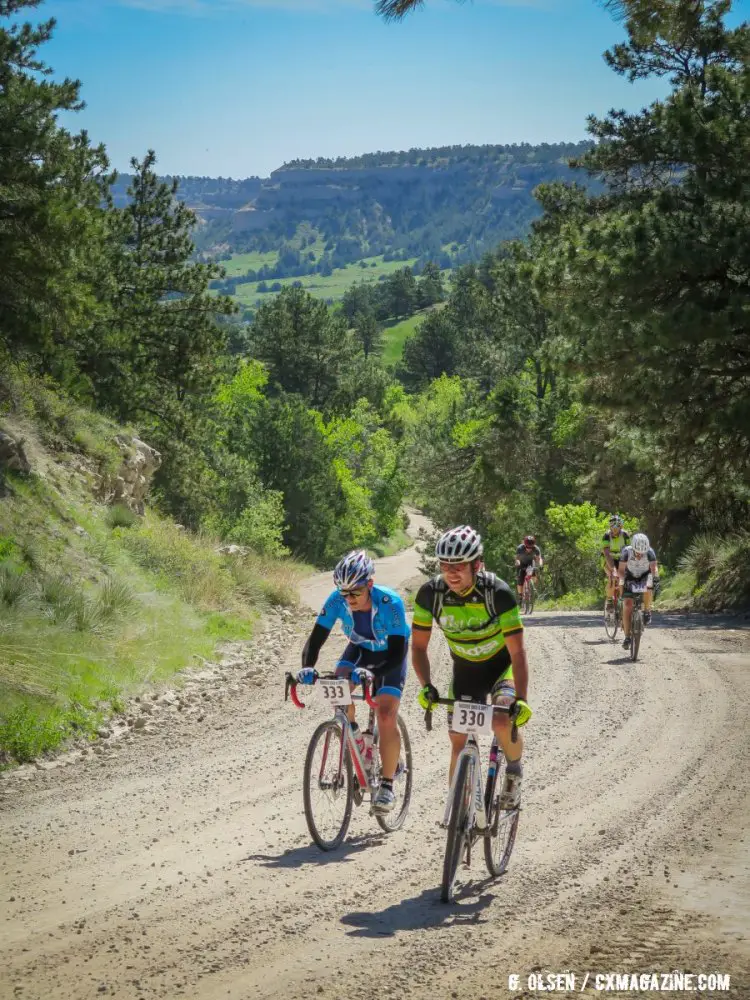 The course for the Quick and Dirty is anything but flat. That simple fact quickly dispelled any of my previously held misconceptions about Nebraska. There were few flat sections on this ride and strangely it seemed as if the climbs were much longer than the descents. As soon as I felt a bit recovered from one uphill, the next was on me. My "favorite" was a little gem called "Roubidoux Pass" which found me wishing I'd put on my 34 chainring. If it wasn't 12% at the steepest point, I'd be surprised. The saving grace was the aid station at the top; oh yeah, and the really fun descent that came about a mile after that.
Road conditions varied from sections of soft, dust-like dirt that forced many off their bikes, to loose gravel, to firm and fast. Enough variations to keep the mind occupied and to have riders continually looking for the best lines. Traffic was never an issue. I think I might have seen eight cars all day, four of which were race vehicles.
Possibly my favorite part, and this goes back again to family atmosphere, was the fact that every time I was passed, or passed someone else, there was always a smile. We were racing, yes. But we were supporting fellow cyclists at the same time.
I've finished plenty of races in my 35 years knowing that it was hard, feeling that sense of accomplishment, but not in a hurry to return. I will be back to Scottsbluff next year, no doubt, because this is a special event.