by Lauren LeClaire
GLOUCESTER, Mass.—The CRAFT Sportswear Gran Prix of Gloucester Presented by Ipswich Ale Brewing, now in its 18th year, was the kick off weekend of competition of the Vittoria Northeast Cyclocross Series presented by Cycle-Smart. Gloucester, known as "New England Worlds," is the first of four race weekends that comprise the Vittoria Series, the only current UCI series in the U.S. and a part of the USA Cycling Professional Cyclo-cross Calendar (Pro CX).
Gloucester Nobility for Noble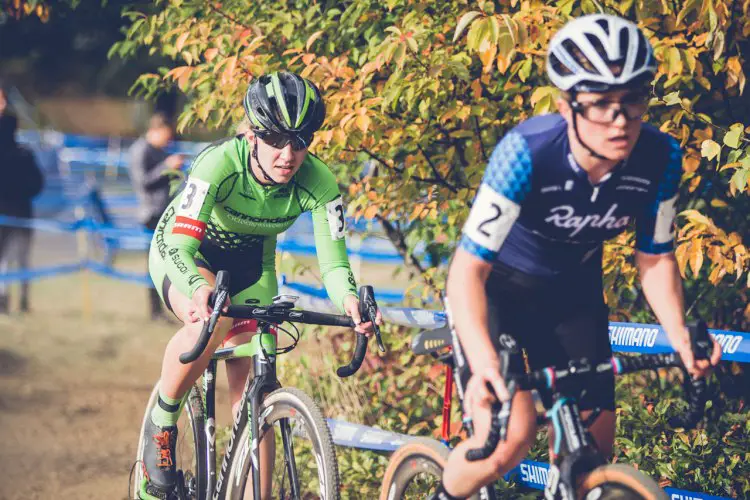 White focused on staying on Noble's wheel. 2016 GP of Gloucester Day 1. photo: Angelica Dixon
Ellen Noble (Aspire Racing) took a commanding win in the Elite Women's Category 2 (C2) race over second place Helen Wyman (Kona Factory Racing).
Noble, claiming her first Pro CX win of the year in a time of 44 minutes and 51 seconds, has had high finishes each week since early September and is currently the U23 World Cup leader and sits third overall on the Pro CX individual points standings.
Early in the race, a group of three separated, including Noble, Wyman, and Emma White (Cannondale p/b CyclocrossWorld). Noble attacked with three laps to go, a decisive move which brought her to the line 24 seconds over second place Wyman. White would finish third, 47 seconds off the pace.
Noble was thrilled to take the victory at what is essentially a hometown race for the Kennebunkport, Maine native. "I won this as an amateur. So to be able to do this as a pro is pretty cool. It feels amazing."
Noble spoke to how the race unfolded. "Emma (White), Helen (Wyman) and I were all together for a lot of laps today. So we were together for a while and Helen was just attacking off the front like every turn, and she put in some really big ones. So I knew something would have to happen soon, because we weren't going to be able to stay with her much longer. Eventually, we got up (in front of Emma) after one of Helen's attacks, and I felt like that was my best chance to go, and it lined up perfectly. It was right before those tight turns before the finish. So I made a pass there, and really tried to drill it right through those. I got a small gap. You just have to go all in at that point and maintain it."
Noble confirmed she will not race on Day Two of the weekend's racing.
White Continues Day 1's Youth Movement
In the Men's C2 race, Curtis White (Cannondale p/b CyclocrossWorld) followed Noble's lead, continuing the youth movement of the day by sweeping both the U23 and Elite Men's top honors in the men's race.
With the win, White took his second Pro CX win of the year following his C2 win at KMC Cross Fest, held in Thompson, Conn.
Group tactics ruled the day with a large group of riders staying together for the first several laps. But it would be White who would dictate the pace early and repeatedly attack to shrink down the group. White made a move with six laps to go. "I was feeling good," White recalled. "I think a lot of guys were looking back for Powers to see when he was coming up. But the race was happening there and I decided to hit one section with a big group behind me, and I punch it again. It was a risk to go that early, but I am sure it paid off. Tactics did come into play. Once the gap grew past a certain point, I had to put in TT mode."
A chasing group of five riders would decide the remaining podium spots in a bunch sprint. Daniel Summerhill (Maxxis-Shimano Pro Cyclocross) won the group sprint for second place, just beating out Jeremy Durrin (Neon Velo Cycling) for third. They finished 32 seconds behind White.
Fans were surprised to not see either Stephen Hyde or Jeremy Powers at the front of the race, as both racers have typically been top contenders at the ProCX races. Hyde skipped the race to rest, stating:
Sorry y'all. I won't be racing @gpgloucester this weekend. I need some time off for my tired… https://t.co/BauEYqfe0G

— Stephen T. Hyde (@stephenthyde) October 15, 2016
Four-time National Champion Powers had a slow start before jumping into the top ten. He would finish 13th.
Watch the races unfold on day two at Gloucester in person or by following tweets at @VittoriaSeries. For more information visit http://www.necyclocross.com.
Full photo gallery below the results.
2016 Gran Prix of Gloucester UCI C2 Day 1 Results - Elite Women
| Place | Bib | Last | First | Team | Time | Gap |
| --- | --- | --- | --- | --- | --- | --- |
| 1 | 2 | NOBLE | Ellen | Aspire Racing | 44:51 | |
| 2 | 1 | WYMAN | Helen | Kona Factory Racing | 45:15 | 24 |
| 3 | 3 | WHITE | Emma | Cannondale Cyclocrossworld | 45:38 | 47 |
| 4 | 10 | ROCHETTE | Maghalie | Luna Pro Team | 45:58 | 1:07 |
| 5 | 4 | ANTHONY | Crystal | Maxxis-Shimano Pro Cyclocross | 46:25 | 1:34 |
| 6 | 8 | WEST | Ruby | Cannondale Cyclocrossworld.Com | 46:35 | 1:44 |
| 7 | 11 | FERRIER-BRUNEAU | Christel | Sas-Macogep-Acquisio | 46:51 | 2:00 |
| 8 | 6 | GREASER | Jena | """" | 47:03 | 2:12 |
| 9 | 5 | CUMMING | Kathryn | Jalapeno Cycling | 47:27 | 2:36 |
| 10 | 7 | MELLOR | Amira | Next Wyman Kona | 47:39 | 2:48 |
| 11 | 16 | WRIGHT | Julie | Team Averica | 47:43 | 2:52 |
| 12 | 22 | LEGGE | Regina | Green Line Velo Driven By Zipca | 47:45 | 2:54 |
| 13 | 13 | ELLIOTT | Natasha | Garneau - Easton Cycling | 47:55 | 3:04 |
| 14 | 9 | LYSAKOWSKI | Kathleen | Joe'S Garage Cx Bikereg | 48:04 | 3:13 |
| 15 | 41 | GORDON | Serena | Liv | Giant Co-Factory | 48:31 | 3:40 |
| 16 | 14 | BOWMAN | Brittlee | House Indwithingssimplehuman | 49:12 | 4:21 |
| 17 | 20 | VETTER | Jauron | State 9 Racing Pb Vittoria | 49:17 | 4:26 |
| 18 | 15 | GROSS | Rebecca | Khs Bicycles | 49:37 | 4:46 |
| 19 | 30 | WHITE | Elizabeth | House Indwithingssimplehuman | 49:40 | 4:49 |
| 20 | 27 | LEWANDOWSKI | Rebecca | Rare Disease Cycling Keswick | 49:42 | 4:51 |
| 21 | 42 | DINAN | Clio | Kudu Collective Cx | 50:01 | 5:10 |
| 22 | 33 | RAMSAY | Turner | Kms Cycling - Killington Mounta | 50:19 | 5:28 |
| 23 | 36 | TRACY | Julie | Imshi Cycles | 50:20 | s.t. |
| 24 | 31 | GROGAN | Joanne | Next-Bmb | 50:20 | s.t. |
| 25 | 26 | TAPIAS | Natalie | Jam Ncc | 50:21 | s.t. |
| 26 | 40 | MOLDEN | Emily | Nantucket Velo | 50:22 | 5:31 |
| 27 | 46 | VANDERHOOP | Julie | Green Line Velo Driven By Zipca | 50:31 | 5:40 |
| 28 | 29 | ROBINSON | Leslie | Sunapeecontinental Pavingbuchik | 50:31 | s.t. |
| 29 | 38 | FACCONE | Erin | Team Averica | 50:36 | 5:45 |
| 30 | 45 | COX | Andrea | Riverside Racing | 50:37 | s.t. |
| 31 | 32 | REUTER | Christin | Aetna-Expo Wheelmen | 50:37 | s.t. |
| 32 | 23 | WILLIAMS | Paige | Ladies First | 50:54 | 6:03 |
| 33 | 44 | MAY | Rhys | Jam Ncc | 51:15 | 6:24 |
| 34 | 24 | SMITH | Michele M | Hup United | 51:38 | 6:47 |
| 35 | 47 | LUPIEN | Leslie | Green Line Velo Driven By Zipca | 51:42 | 6:51 |
| 36 | 48 | HAUSLE | Lydia | Team Averica | 52:00 | 7:09 |
| 37 | 28 | MORRISON | Frances | Bikereg | 52:13 | 7:22 |
| 38 | 35 | SNYDER | Jessica | """" | 35:25 | @1Lap |
| 39 | 43 | MAKOUJY | Stephanie | Tall Sock Racing | 36:04 | @2Laps |
| 40 | 21 | JAMISON | Marian | Ladiesfirst Racing | 36:05 | @2Laps |
| 41 | 34 | BAUER | Lindsey | Trt Bicycles | 36:10 | @2Laps |
| 42 | 39 | MELIKIAN | Sara | Pedalpowertraining.Com | 36:48 | @2Laps |
| DNS | 12 | KELLY | Siobhan | To Wheels Epic Sports | | |
| DNS | 37 | MONAHAN | Vickie | Aetna-Expo Wheelmen | | |
| DNS | 25 | SEIB | Melissa | Uvm Cycling | | |
2016 Gran Prix of Gloucester UCI C2 Day 1 Results - Elite Men
| Place | Bib | Last | First | Team | Time | Gap |
| --- | --- | --- | --- | --- | --- | --- |
| 1 | 2 | WHITE | Curtis | Cannondale Pb Cyclocrossworld.C | 1:01:02 | |
| 2 | 4 | SUMMERHILL | Daniel | Maxxis-Shimano | 1:01:34 | 32 |
| 3 | 5 | DURRIN | Jeremy | Neon Velo Cycling Team | 1:01:34 | s.t. |
| 4 | 11 | WILLSEY | Cooper | Cannondale Pb Cyclocrossworld D | 1:01:35 | s.t. |
| 5 | 6 | VAN DEN HAM | Michael | Garneau - Easton Cycling | 1:01:35 | s.t. |
| 6 | 12 | CRAIG | Adam | Giant Factory Off-Road Team | 1:01:38 | 36 |
| 7 | 9 | KISSEBERTH | Jack | Jam Ncc | 1:02:18 | 1:16 |
| 8 | 10 | MARECAILLE | Antonin | Avc Aix En Provence | 1:02:23 | 1:21 |
| 9 | 3 | LIVERMON | Travis | Maxxis-Shimano Pro Cyclocross | 1:02:29 | 1:27 |
| 10 | 17 | DECKER | Carl | Giant Factory Off-Road Team | 1:02:30 | 1:28 |
| 11 | 72 | GOGUEN | Peter | Race C.F. | 1:02:46 | 1:44 |
| 12 | 42 | MCCORMACK | Brendan | Ccb Racing | 1:02:59 | 1:57 |
| 13 | 1 | POWERS | Jeremy | Aspire Racing | 1:03:11 | 2:09 |
| 14 | 7 | SMITH | Scott | Jam Ncc | 1:03:36 | 2:34 |
| 15 | 15 | CHABANOV | Daniel | House Indwithingssimplehuman | 1:03:51 | 2:49 |
| 16 | 13 | O'KEEFE | Samuel | House Indwithingssimplehuman | 1:04:10 | 3:08 |
| 17 | 14 | ST JOHN | Derrick | Van Dessel Pb Hyperthreads | 1:04:31 | 3:29 |
| 18 | 66 | ANTHONY | Jesse | Rally Cycling | 1:04:58 | 3:56 |
| 19 | 16 | MYERSON | Adam | Cycle-Smart | 1:05:01 | 3:59 |
| 20 | 47 | SCOTT | Andy | Riverside Racing | 1:05:02 | 4:00 |
| 21 | 76 | DAIGLE | Marc-Andre | Garneau Easton Cycling | 1:05:19 | 4:17 |
| 22 | 74 | OWENS | Michael | Hands On Cycling | 1:05:26 | 4:24 |
| 23 | 54 | MURPHY | Evan | Hudsonludwig & Larsen Racing | 1:05:27 | s.t. |
| 24 | 78 | GOGUELY | Jules | Unemployed | 1:05:46 | 4:44 |
| 25 | 31 | BLACKBURN | Trent | Ncc Jam Fund | 1:05:49 | 4:47 |
| 26 | 73 | FREYRE | Eneas | Ttendurance | 1:05:55 | 4:53 |
| 27 | 49 | LANDO | Nicholas | Uvm Cycling | 1:06:04 | 5:02 |
| 28 | 18 | ST. GERMAIN | Adam | Apex Nbx Trek | 1:06:32 | 5:30 |
| 29 | 29 | MORSE | Nathaniel | Bikereg.Com | 1:06:39 | 5:37 |
| 30 | 50 | BORDEN | Andrew | Squadra Flying Tigers | 1:06:43 | 5:41 |
| 31 | 36 | BERHTRAM | Charles | B2C2 Boloco | 1:06:53 | 5:51 |
| 32 | 55 | HUFF | Evan | Bikereg | 1:07:05 | 6:03 |
| 33 | 70 | GRENIER | Benjamin | Rancourt & Co. Cycling | 1:07:08 | 6:06 |
| 34 | 48 | ADASAVAGE | Gerald | Hudsonludwig & Larsen Racing | 1:07:11 | 6:09 |
| 35 | 51 | JEAN | Sylvain | Mad Alchemy | 1:07:14 | 6:12 |
| 36 | 38 | SMITH | Bradford | The Drifters | 1:07:19 | 6:17 |
| 37 | 71 | MURPHY | Kyle | Hudsonludwig & Larsen Racing | 1:07:21 | 6:19 |
| 38 | 57 | FIELD | Chris | Essex County Velo | 1:07:24 | 6:22 |
| 39 | 46 | BUEHRER | Preston | B2C2 Pb Boloco | 1:07:25 | s.t. |
| 40 | 43 | PERREAULT | Matt | Colonial Bicycle Company | 1:07:28 | 6:26 |
| 41 | 32 | WISSELL | Michael | B2C2Boloco | 1:07:50 | 6:48 |
| 42 | 34 | MALTAIS | David | Garneau-Quebec | 1:07:59 | 6:57 |
| 43 | 33 | REUTER | Colin | B2C2 Pb Boloco | 1:08:12 | 7:10 |
| 44 | 27 | CURTIS | Zachary | Next-Bmb | 1:08:36 | 7:34 |
| 45 | 44 | TYLER | Matthew | Kudu Collective Cx | 1:08:57 | 7:55 |
| 46 | 52 | FITZGIBBONS | Daniel | Green Line Velo Driven By Zipca | 53:03 | @2Laps |
| 47 | 79 | ECKERT | John | """" | 53:03 | @2Laps |
| 48 | 53 | SOUSA | Matthew | B2C2Boloco | 53:11 | @2Laps |
| 49 | 69 | WILLIS | Tim | King Kog | 53:13 | @2Laps |
| 50 | 58 | THIBAULT-ROBERGE | Jean-Philippe | Trek Cyclocross Collective | 53:15 | @2Laps |
| 51 | 60 | OWENS | Matthew | Uvm Cycling | 53:22 | @2Laps |
| 52 | 62 | JOHNSON | William | No. 22 | 53:22 | @2Laps |
| 53 | 63 | MOLLO | Matthew | Selectionaturel Pb Jamis | 53:23 | @2Laps |
| 54 | 67 | LINTS | Andrew | Bicycle Express Racing | 53:33 | @2Laps |
| 55 | 41 | ERCHULL | Matthew | Kudu Collective Cx | 53:54 | @2Laps |
| 56 | 39 | BARROW | Noah | Hands-On Racing Pb Giant | 54:03 | @2Laps |
| 57 | 65 | SCHON | Ian | B2C2Boloco | 46:37 | @3Laps |
| 58 | 40 | THORP | Doug | Colonial Bicycle Company #Showu | 46:43 | @3Laps |
| 59 | 75 | DRIES | Samuel | No. 22 Cx Team | 46:45 | @3Laps |
| 60 | 30 | BRADSHAW | Peter | Crossresults.Com | 46:45 | @3Laps |
| 61 | 68 | GRIFFO | Gregg | Park Ave Bike Shop | 46:55 | @3Laps |
| 62 | 37 | LOAIZA | Andrew | Cyclepath Pdx | 47:01 | @3Laps |
| 63 | 56 | GARRISON | Keith | King Kog | 47:22 | @3Laps |
| 64 | 8 | MCNICHOLAS | Dylan | Polartec | 39:55 | @4Laps |
| 65 | 45 | CARLSON | Eric | Team Edge | 32:45 | @5Laps |
| 66 | 35 | REIMANN | Andrew | Jalapeno Cycling | 25:15 | @6Laps |
| DNF | 25 | BUTLER | Case | Jamnccvittoria | | |
| DNF | 59 | COLLINS | Patrick | Minuteman Road Club | | |
| DNS | 77 | TANNER | Colin | | | |
| DNS | 26 | LANDRY | Michael | | | |
| DNS | 28 | CATLIN | Nicolas | | | |
| DNS | 61 | CLARKE | Ian | | | |
| DNS | 64 | SMALL | Cory | | | |
2016 Gran Prix of Gloucester Day 1 Photo Gallery: