If you missed the first SSCXWC, you missed out. If you missed SSCXWC #2, you really missed out. Now the unofficial but universally accepted one gear cyclocross champs is returning to Portland for one more party. Who will take the Golden Speedo? What city will bring home the rights to host the race in 2010? What will Yakima build this year? What is Raleigh cooking up for the event?  There's just one way to find out. Be there (just in case the next year's promoter messes the whole thing up).
Official press release below.

2009 SSCXWC Portland OR – The last race before the single speed cyclocross apocalypse
Here's the truth of it all: Cyclocrossing leads to single speeding, and single speeding leads to racing.  And that was damn near the start of it all.  Look at us now, busted up and everyone talking about hard times.  But we've learned from the mud of it all.  SSCXWC has learned.  Portland's learned.  Now when men get to racing it happens here…and it finishes here.  Hundreds of men enter, one man leaves.  And right now, we've got hundreds of men!  Hundreds of men with guts full of fear.  Ladies and gentlemen, boys and girls…racing time is here."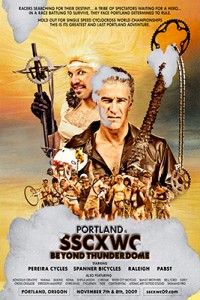 Welcome to another edition of Thunder Dome!
2009 marks the final season of Portland's post-nuclear fallout grip over single speed cyclocross.  It's time for a new utopia to emerge, a new 'CrossTown.'  In an effort to out perform previous years, the final Portland chapter redefines 'championships.'  Using a similar format to 2008, racers will qualify for the main event following a time trial.  Men's and Women's categories will be separated.  In the end, hundreds enter, one leaves.  Additionally, and perhaps most importantly, a race within the race shall decide who hosts the 2010 SSCXWC.  This race will be less the traditional test of speed, endurance and technical prowess and more Thunder Dome.  Two teams enter, one team leaves.  A battle worthy of a song, nay an anthem, powerful enough to revive Tina Turner's career, convince Mel Gibson to remake the Mad Max episodes, and ultimately propel single speed cyclocross through the apocalypse and into the other side.  Ladies and gentlemen, boys and girls… racing time is here.
When: November 7th and 8th
Where: Portland, Oregon
Registration Opens September 10th at www.bikereg.com
For more information and updates: www.sscxwc09.com