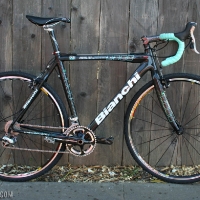 Cyclocross Magazine is honored to be the very first online or print publication to get an early look at the full-carbon 2009 Bianchi D2 Cross Concept Race. Like Lapierre, Bianchi is eschewing scandium for carbon this year for its top dog 'cross bike, the D2 Cross Concept. The bike is spec'd with Ultegra shifters, a Dura-Ace rear derailleur, an FSA SLK carbon crank, Mavic Ksyrium Equipe wheels, Avid cantilevers, Deda Elementi cockpit, and Vittoria XG Pro tires. Our pre-production bike's specs are expected to be very similar if not the same as the production models. As equipped, our bike weighs a very light 18 pounds without pedals. Racers with lightweight race wheels could easily shed another pound. MSRP has not been set yet.
Fans of older Cross Concepts will appreciate the fact that Bianchi appears to have kept the same geometry as their Scandium model, with a relatively low bottom bracket (6.8 cm drop), moderate top tube (55 cm on a 55 cm model), and shorter wheelbase (101.5 cm). Initial rides have indicated an agile, race-ready bike. Stay tuned for more on the carbon D2 Cross Concept Race in Issue 4 of Cyclocross Magazine.
Note: CXM erroneously reported that the bike comes with Mavic Aksium Race wheels, as our pre-production model came with the Aksium Race model. However, the production model will come with Mavic Ksyrium Equipe wheels.