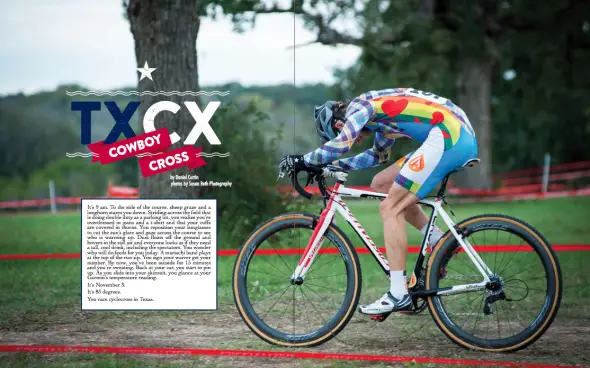 This article originally appeared in Issue 23 of Cyclocross Magazine and looks at the Texas 'cross scene—improtant reading for anyone thinking about Nationals in Austin next season. To read the full story, make sure you get an archived copy or an All-Access Digital Subscription by visiting our subscription site.
by Daniel Curtin

It's 9 am. To the side of the course, sheep graze and a longhorn stares you down. Striding across the field that is doing double duty as a parking lot, you realize you're overdressed in jeans and a t-shirt and that your cuffs are covered in thorns. You reposition your sunglasses to cut the sun's glare and gaze across the course to see who is warming up. Dust floats off the ground and hovers in the still air and everyone looks as if they need a tall, cool drink, including the spectators. You wonder who will do feeds for you today. A mariachi band plays at the top of the run-up. You sign your waiver get your number. By now, you've been outside for 15 minutes and you're sweating. Back at your car, you start to pin up. As you slide into your skinsuit, you glance at your Garmin's temperature reading.
It's November 3.
It's 85 degrees.
You race cyclocross in Texas.
Texas. It's not the first place most people think of when they think of cyclocross. But with Austin being awarded the 2015 National Championships, more folks have been wondering, "'Cross? In Texas?" Rest assured, 2015 won't be Texas' first cyclocross rodeo. Texas 'cross has a rich history, including hosting the National Championships way back in 1978, long before many other states had even heard of the sport.
The Lone Rangers
Enter college student and cycling bum Brook Watts. If the name sounds familiar, it should. Watts is the man behind CrossVegas, the race that many consider the cyclocross season opener. While now in Longmont, Colorado, just outside of Boulder—home to the 2014 National Championships—Watts is a University of Texas graduate who lived in Austin off and on for upwards of 25 years, during the start of Texas 'cross. As Watts tells it, it was around 1976 while he was at UT that the Texas 'cross scene took off. Back then, plenty of folks came to Austin from colder climates during the Winter to train. In addition to Watts, there were guys like Richard Zelade, who teamed up with Watts to form Yellow Rose Velo-Sport as a race team and event promotion endeavor, John Howard—the three-time Olympian, Kona Ironman winner, and former holder of the land speed record for a bicycle at 152.2 mph, who at the time was with Campagnolo down in Houston, and John Bartle, who still lives in Austin and races for Violet Crown, who all had a hand in shaping Texas 'cross.