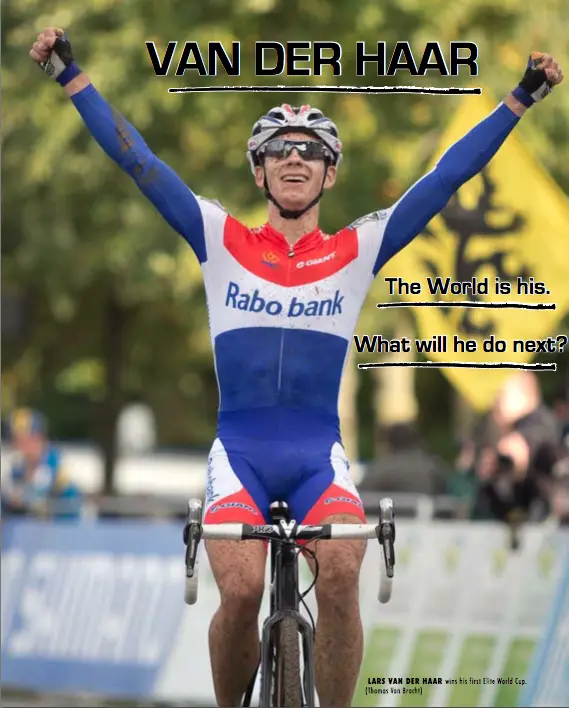 This article originally appeared in Issue 23 of Cyclocross Magazine and looks at the young Lars Van der Haar and how he made a meteoric rise to cyclocross fame—and a World Cup overall win—despite barely being of age to race the Elites. To read the full story, make sure you get an archived copy or an All-Access Digital Subscription by visiting our subscription site.
by Christine Vardaros
The first time I met Lars van der Haar was during the course inspection at Tabor World Cup last year. Shortly after he passed me, I watched him take a slippery tight turn with such speed and grace that I couldn't help but to blurt out exactly what I thought of his mad skills. Immediately, he stopped in his tracks and I almost froze. As I approached him, I prepared myself for the worst. Had I blown his concentration and now he's pissed? I was pleasantly surprised when he began to give me blow-by-blow instructions on how to take that turn like he did. What I later discovered is that this interaction pretty much sums up Van der Haar's personality—easy, approachable and modest.
I would imagine that his competitors would describe him differently, considering he's already made a sizeable dent in Belgium's cozy cyclocross scene. And he is barely of legal age to ride with the Elites—he left the U23 category a year early, forcing the UCI to create a rule allowing him to do so, but even then had already amassed a powerful race resume with two U23 World Champion and three Dutch National Champion titles to his name. In only his first year with the Elites, he already scored a podium spot at the 2013 UCI Cyclocross World Championships and claimed the Elite Dutch Championship title, displacing Lars Boom for the win. And now, he has two World Cup wins on his race resume.
I sat down with him to discuss these topics as well as how he sees himself fitting into the Elite Men's world of cyclocross.
Did you ever think you'd be sitting here so early in the season with results like this? To do well in the World Cups was a target but these two were marked on my calendar as ones I wanted to do really well in… Not to win, of course, because that is something you need a good day for and you don't know in advance if you're gonna get those.
At the Valkenburg World Cup, you told me to meet you after the race at your mobile home and that the only thing you had to do right away was a 10 minute spin on the road. Did it ever occur to you that you'd actually win the race?
"No! I hoped, of course, to do well there but I knew it was such a hard course so I didn't think I was good enough to do that yet."
You made a pretty significant jump from last year to this year. "Yeah, I trained a little bit more for endurance. It's not like I did 10 hours per week more—of course not. But here or there, I did an hour more. Where I normally would have done a training for four hours, I did five. When I went into the mountains, I did the uphills a bit harder just to get a bit stronger. I had good weeks of training and good weeks of rest. I also had some harder road races than the year before. The plan was to do these to compete against better opponents and to gain some strength and some condition."