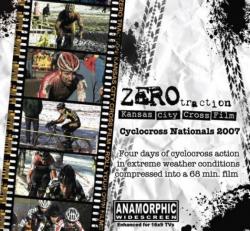 Lawrence, Kan. — Members of the local cycling community gathered at Liberty Hall in downtown Lawrence, Kan. Wednesday night to watch the premier of Zero Traction, a documentary film chronicling all four days of last year's Cyclocross Nationals in Kansas City, Kansas.
Zero Traction was shot entirely in high definition and includes interviews with master's champions Steve Tilford and Ned Overend, and elite men's champion Tim Johnson. Interviews with many lesser known, but no less intrepid, racers are also included.
Producer Keith Walberg was drawn to film Cyclocross Nationals because of its dynamic nature. "I think the sport itself, especially when the conditions are bad, is compelling to watch. The interesting thing about nationals is that you have 12-year-old kids and 60 and 70 year old men and women, and everyone in between, giving it their best shot," said Walberg.
If you endured the ice and mud that was last year's nationals, this film is worth checking out. Who knows, you may have a cameo!
Rabid 'cross fans have two opportunities to watch Zero Traction on the big screen:
Following the first day of Jingle Cross, Saturday November 29, the film will be shown at the Coralville, Iowa Marriott at 6:30 p.m.
Those attending Cyclocross Nationals this year can watch the film at the Mud and Blood Ball, Thursday December 11, at the Mission Theatre in Mission Kan. The party starts at 7:00 p.m.
More details here: www.mudbloodball.com
To purchase tickets to the Mud and Blood Ball visit: http://www.brownpapertickets.com/event/47004
To learn more about the movie visit http://www.zerotractionfilm.com/