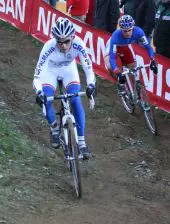 by Bart Hazen of The Daily Peloton
German Philipp Walsleben continued his dominant year by winning the third race of the U23 World Cup in Zolder on the day after Christmas (December 26). The German was the best in a six-man sprint ahead of the surprising Italian Champion Cristian Cominelli and France's Aurelien Duval. Kenneth van Compernolle, Arnaud Jouffroy and Ondrej Bambula were the others in the break.
The course on the circuit of Zolder was hilly and very fast due to the frozen underground. From the start the French riders Aurelien Duval and Arnaud Jouffroy took the lead with World Cup leader Walsleben in third place.
Walsleben decided to attack after a few laps and lap by lap his rivals dropped except of Aurelien Duval. The two stayed in front until the final lap when a chasing group with Cristian Cominelli, Kenneth Van Compernolle, Arnaud Jouffroy and Ondrej Bambula bridged up to the front. A second chasing group featured riders Christoph Pfingsten, Boy Van Poppel and Micki Van Empel was not far behind either but failed to close the gap.
In the sprint the German was the best and secured his lead in the World Cup. With the win Walsleben wraps up the World Cup competition as he has 180 points which is 61 points (the winner of a World Cup gains 60 point) more than France's Aurelien Duval. Kenneth van Compernolle is third with 109 points.
The best American rider of five starters was Daniel Summerhill at 15th, a mere 46 seconds down on Walsleben. The others were Bjorn Selander (21st), William Dugan (40th), Jeremy Ferguson (43rd) and David Hackworthy (46th). Canada had two starters with Andrew Thomas and Brian Robinson but both riders were lapped. Photos and Full results below.
Photo Gallery:
Full Results:
| | | | | | |
| --- | --- | --- | --- | --- | --- |
| Place | Bib | Rider | Country | Time | Points |
| 1 | 25 | WALSLEBEN Philipp | GER | 0:50:39 | 60 |
| 2 | 13 | COMINELLI Cristian | ITA | +00:00 | 50 |
| 3 | 10 | DUVAL Aurelien | FRA | +00:00 | 45 |
| 4 | 2 | VAN COMPERNOLLE Kenneth | BEL | +00:01 | 40 |
| 5 | 11 | JOUFFROY Arnaud | FRA | +00:01 | 35 |
| 6 | 33 | BAMBULA Ondrej | CZE | +00:02 | 30 |
| 7 | 22 | VAN POPPEL Boy | NED | +00:19 | 28 |
| 8 | 26 | PFINGSTEN Christoph | GER | +00:19 | 26 |
| 9 | 21 | VAN EMPEL Micki | NED | +00:21 | 24 |
| 10 | 28 | MEISEN Marcel | GER | +00:25 | 22 |
| 11 | 7 | BERTHOLET Quentin | BEL | +00:25 | 20 |
| 12 | 18 | SINKELDAM Ramon | NED | +00:38 | 19 |
| 13 | 4 | BAESTAENS Vincent | BEL | +00:45 | 18 |
| 14 | 74 | BENEY Romain | SUI | +00:46 | 17 |
| 15 | 47 | SUMMERHILL Daniel | USA | +00:46 | 16 |
| 16 | 9 | EECKHOUT Kevin | BEL | +00:46 | 15 |
| 17 | 6 | AERNOUTS Jim | BEL | +00:47 | 14 |
| 18 | 29 | WEBER Sascha | GER | +01:08 | 13 |
| 19 | 32 | KLOUCEK Lukas | CZE | +01:12 | 12 |
| 20 | 5 | ADAMS Joeri | BEL | +01:29 | 11 |
| 21 | 45 | SELANDER Bjorn | USA | +01:38 | 10 |
| 22 | 41 | TARAMARCAZ Julien | SUI | +01:40 | 9 |
| 23 | 15 | SILVESTRI Elia | ITA | +01:41 | 8 |
| 24 | 8 | VAN DAEL Jan | BEL | +01:46 | 7 |
| 25 | 17 | HUENDERS Mitchell | NED | +01:57 | 6 |
| 26 | 66 | BODEN Stef | BEL | +02:10 | 5 |
| 27 | 20 | HARTOGS Ivar | NED | +02:13 | 4 |
| 28 | 56 | FLETCHER David | GBR | +02:14 | 3 |
| 29 | 34 | PETRUS Lubomir | CZE | +02:17 | 2 |
| 30 | 68 | DENOLF Gianni | BEL | +02:24 | 1 |
| 31 | 67 | CANT Kevin | BEL | +02:49 | |
| 32 | 39 | SCHERZ Valentin | SUI | +02:56 | |
| 33 | 27 | WALSLEBEN Max | GER | +02:58 | |
| 34 | 16 | CALDERAN Alessandro | ITA | +02:59 | |
| 35 | 14 | PONTA Marco | ITA | +03:09 | |
| 36 | 30 | QUAST Ole | GER | +03:11 | |
| 37 | 55 | MCEVOY Jonathan | GBR | +03:23 | |
| 38 | 61 | DIAS DOS SANTOS Vincent | LUX | +03:32 | |
| 39 | 57 | THWAITES Scott | GBR | +03:50 | |
| 40 | 48 | DUGAN William | USA | +03:55 | |
| 41 | 58 | THWAITES Mark | GBR | +04:35 | |
| 42 | 62 | SCHLECHTER Pit | LUX | +05:03 | |
| 43 | 50 | FERGUSON Jeremy | USA | +05:14 | |
| 44 | 53 | THOMAS Andrew | CAN | -1LAP | |
| 45 | 73 | KOSAKA Hikaru | JPN | -1LAP | |
| 46 | 49 | HACKWORTHY David | USA | -1LAP | |
| 47 | 54 | ROBINSON Brian | CAN | -2LAP | |
| | 65 | DENUWELAERE Jan | BEL | DNF7 | |
| | 46 | WEIGHALL Nicholas | USA | DNF5 | |
| | 19 | VAN DEN BRAND Twan | NED | DNF4 | |
| | 12 | LEJEUNE Romain | FRA | DNF4 | |
| | 60 | BACHRATY Robert | SVK | DNF3 | |
| | 70 | BEELEN Sven | BEL | DNF1 | |