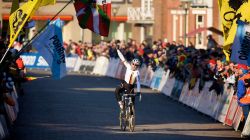 by Dan Seaton. Photos by Joe Sales. Also see our live updates archive here.
The Germans took a cue from their Dutch neighbors in the juniors race, finishing 1-2 in the 2009 Espoir World Championships in Hoogerheide today. Although the temperature warmed slightly from this morning's junior race, the wind and a setting sun kept conditions chilly. The course, perhaps softening slightly from the morning's frozen condition, was tacky, rough, and very fast.
The race started with a group of nearly 30 riders all together in the lead. Though there were several attacks, spearheaded by the French riders Jouffroy and Duval, none stuck until German Philipp Walsleben got himself a gap of about 20 m in the middle of the fourth lap. Although there was a moment where he appeared to contemplate the possibility he had gone too early, slowing slightly and allowing the gap to shrink a bit, he shook off any doubt and went to work, eventually opening up a nearly 30 second lead over the rest of the field.
Meanwhile, a group of about 15 riders took up the chase, including France's Arnaud Jouffroy, Aurelien Duval, and Guillaume Perrot, Poland's Pawel Szczepaniak, German Christoph Pfingsten, Belgian Qunetin Bertholet, and Italian Cristian Cominelli. Several groups attempted to mount an effort to bring back Walsleben, but nothing stuck for more than a few moments until the sixth lap when Cominelli and Bertholet separated themselves from the rest of chase group. The two riders, essentially racing for second, traded pulls and opened a gap of several seconds before the effort faltered with just a few hundred meters of the last lap to go. The pair were swallowed up, and the race for second place came down to a sprint, with Christoph Pfingsten completing the German sweep of the top two places. Polish racer Pawel Szczepaniak finished third.
America's search for spots on the podium continued to falter. Bjorn Selander, the top US finisher in 27th, charged back from an early crash only to encounter problems with his derailleur a few laps later. "Everything that could have gone wrong went wrong," he told Cyclocross Magazine. "The start was where I really had trouble, but I stayed positive, then a guy crashed right by the pit and I went down too. Maybe I went a little too hard right there, kind of panicking, but I got back into it and started feeling a lot better." Selander discovered his front derailleur was broken a few laps later and had to pit, before launching a last ditch attack. "I was pretty happy with how I rode; I felt strong," he explained, adding, "Maybe the result didn't show it."
Danny Summerhill, who finished 32nd, started well, leading a chase group that also contained Selander for several laps before fading in the later laps. National U23 Champion Nick Weighall, who has been racing in Europe since December 15th, described the race as brutal. "I was literally the last guy at the start, but that's not what held me back. It's been a long season. I had a good domestic season, now I'm just trying to finish it up and catch some air off the flyover." Despite a disappointing 49th place finish, he described the season as a success. "It went well," he said. "I'd give it a 9 [out of ten]. I won nationals, you can't beat that."
Americans Nick Keough and Will Dugan spent much of the race close together, finishing 39th and 42nd, respectively.
Also see our live updates archive here.
Racing in Hoogerheide continues tomorrow with the elite women's and men's races. Live coverage on Cyclocross Magazine right here, starting at 5:15 EST.
Photo Gallery:
Full Results:
| | | | | |
| --- | --- | --- | --- | --- |
| Place | Bib | Rider | Country | Time |
| 1 | 22 | WALSLEBEN Philipp | GER | 0:52:48 |
| 2 | 25 | PFINGSTEN Christoph | GER | +00:21 |
| 3 | 34 | SZCZEPANIAK Pawel | POL | +00:21 |
| 4 | 12 | COMINELLI Cristian | ITA | +00:21 |
| 5 | 24 | WEBER Sascha | GER | +00:24 |
| 6 | 6 | BERTHOLET Quentin | BEL | +00:25 |
| 7 | 10 | PERROT Guillaume | FRA | +00:29 |
| 8 | 18 | SINKELDAM Ramon | NED | +00:30 |
| 9 | 11 | BOURGOIN Clément | FRA | +00:30 |
| 10 | 33 | KONWA Marek | POL | +00:33 |
| 11 | 7 | DUVAL Aurelien | FRA | +00:34 |
| 12 | 14 | TRENTIN Matteo | ITA | +00:41 |
| 13 | 9 | BOULO Matthieu | FRA | +00:42 |
| 14 | 3 | BAESTAENS Vincent | BEL | +00:43 |
| 15 | 8 | JOUFFROY Arnaud | FRA | +00:44 |
| 16 | 2 | VAN COMPERNOLLE Kenneth | BEL | +00:45 |
| 17 | 48 | FLETCHER David | GBR | +00:59 |
| 18 | 23 | MEISEN Marcel | GER | +01:09 |
| 19 | 17 | HUENDERS Mitchell | NED | +01:11 |
| 20 | 50 | GAVENDA Robert | SVK | +01:20 |
| 21 | 28 | POLNICKY Jiri | CZE | +01:20 |
| 22 | 21 | VAN DEN BRAND Twan | NED | +01:25 |
| 23 | 26 | QUAST Ole | GER | +01:29 |
| 24 | 20 | VAN EMPEL Micki | NED | +01:33 |
| 25 | 32 | GRAND Arnaud | SUI | +01:33 |
| 26 | 37 | JANISZEWSKI Sylwester | POL | +01:35 |
| 27 | 41 | SELANDER Bjorn | USA | +01:36 |
| 28 | 13 | PONTA Marco | ITA | +01:41 |
| 29 | 4 | MEEUSEN Tom | BEL | +01:43 |
| 30 | 19 | VAN POPPEL Boy | NED | +01:44 |
| 31 | 5 | AERNOUTS Jim | BEL | +02:01 |
| 32 | 40 | SUMMERHILL Daniel | USA | +02:09 |
| 33 | 55 | NILSSON Mattias | SWE | +02:10 |
| 34 | 16 | CALDERAN Alessandro | ITA | +02:21 |
| 35 | 49 | MCEVOY Jonathan | GBR | +02:26 |
| 36 | 52 | TAKENOUCHI Yu | JPN | +02:42 |
| 37 | 27 | BAMBULA Ondrej | CZE | +02:54 |
| 38 | 30 | TARAMARCAZ Julien | SUI | +03:04 |
| 39 | 43 | KEOUGH Nicholas | USA | +03:09 |
| 40 | 35 | SZCZEPANIAK Kacper | POL | +03:12 |
| 41 | 54 | SCHLECHTER Pit | LUX | +03:26 |
| 42 | 44 | DUGAN William | USA | +03:41 |
| 43 | 53 | KOSAKA Hikaru | JPN | +03:42 |
| 44 | 29 | PRIHODA Lukas | CZE | +03:55 |
| 45 | 15 | SILVESTRI Elia | ITA | +04: |
| 46 | 36 | REPINSKI Tomasz | POL | +04: |
| 47 | 46 | THOMAS Andrew | CAN | +04: |
| 48 | 39 | GONZALEZ FONTAN Mauro | ESP | +04: |
| 49 | 42 | WEIGHALL Nicholas | USA | +05: |
| 50 | 31 | BENEY Romain | SUI | +05: |
| 51 | 56 | LOGIGAN Lucian | ROU | +05: |
| 52 | 51 | BACHRATY Robert | SVK | +05: |
| 53 | 45 | ROBINSON Brian | CAN | -1LAP |
| 54 | 57 | IVANOV Timofey | RUS | -2LAP |
| 55 | 47 | FRY Kyle | CAN | -2LAP |