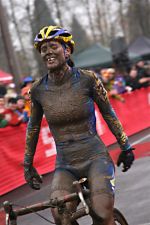 Photos by Joe Sales and Janet Hill
Saturday's women's race demonstrated the importance of team tactics in cyclocross, as Rachel Lloyd (Cal Giant / Specialized) suffered from the 1-2 punch of the Luna teammates Katerina Nash and series leader Georgia Gould. On Sunday, the Luna racers put on another demonstration, only this time they showed that when a prestigious title is on the line, team tactics fly out the window and even teammates will throw down all the way to the end. Entering Sunday, either Gould or Nash would take the USGP title and jersey with a win, and so the gloves were off for the typically-collaborative Luna riders.
Entering Sunday, Sue Butler (MonavieCannondale.com) has had a season to remember and she hoped to add to the memories with a strong performance in front of her hometown crowd. She opened up her breakthrough season with a big UCI win at Star Crossed, and looked to tune her form and boost her confidence with nationals just a week away.
In the last year, Lloyd has had a lot of near-misses recently in 'cross. At last year's national championships, she rode to a strong second place behind Katie Compton, and took three second places this season at the Derby Cup and at both days in Boulder. After falling short again behind the Luna teammates on Saturday, Lloyd had extra motivation to get the big win that's eluded her.
All four women knew a lot was riding on Sunday's race. Little did each know that the first few hundred meters of the race would be key in achieving their goals.
To make things even more interesting, just an hour before their start the skies opened up, and the heavy rain would continue for most of the women's race, turning the course into a greasy, treacherous adventure, not conducive to the pack riding that was prominent the day before.
Just after the gun sounded, Wendy Simms (Kona) grabbed the holeshot but Nash quickly took to the front, wanting to control her own race as the course dumped the riders into the slow, technical muddy motocross track just after the first run-up. She hit the turbo, with Wendy Simms (Kona) and Butler in tow. Behind, Gould had a slow start and got stuck behind traffic as the selection was being made at the front. And Lloyd, normally a fast starter, slipped a pedal at the gun, putting her behind a bunch of typically slower riders. Gould would quickly make her way through the pack and up to fourth within half a lap, but Lloyd would need the entire race to make it up to the same position.
Just one lap in, Nash was off the front alone, and Gould was head-down, driving the chase down the long pavement stretch of her teammate. It didn't matter that Butler and Simms were riding her draft – a prestigious title was on the line.
Gould shelled Simms, and then Butler, and was off in a three-lap solo pursuit of Nash. Nash would take some risks to stay ahead, and hit the deck twice. Flashbacks of her late-race collapse at the Mercer Cup day 1 race haunted her, but with each crash, she remounted quickly and kept her lead. Gould would never be able to close the gap created by her slow start.
Behind the two Luna riders, Butler kept up her inspired race, and turned her fast start into a crowd-pleasing and crowd-fueled ride that even surprised herself. "I knew I could get into the top 5, but anything can happen in cyclocross…I really wanted to podium in front of the home crowd," she revealed. "So I put my head down and thought just give it. And when I saw Rachel wasn't with us in the beginning, I thought, huh, that's weird. And then it was just Wendy and I [behind Nash] and then I got in front of Wendy, and looked back and kept seeing her a little ways back, and I thought…huh? I knew I just better keep it smooth!" The Portland resident said it was "so much fun" racing to all the cheers, and hopes that she can have a good showing in Kansas City to qualify for and race the world championships again.
Despite her slow start, Lloyd didn't give up either, and knows every race matters in her own quest to make the worlds team. Her twin sister in attendance, from Olympia, Washington cheering her on, and one by one, the Cal Giant rider picked off racers, catching Simms on the last lap and accelerating all the way to the finish, two minutes down on Nash but enough to grab third in the overall standings.
See also Men's Report | Live Race Coverage Archive | Day 2 Early Report and Photos | Day 1 Report
Photo Gallery by Joe Sales:
Photo Gallery by Janet Hill:
Full Results:
| | | | | | | |
| --- | --- | --- | --- | --- | --- | --- |
| Pos | Bib | U23 | Name | Team | Nat | Time |
| 1 | 2 | | NASH Katerina | Luna Women'S Mtb Team | CZE | 00:43:50 |
| 2 | 4 | | GOULD Georgia | Luna | USA | 00:43:58 |
| 3 | 3 | | BUTLER Susan | Monaviecannondale.Com | USA | 00:45:08 |
| 4 | 6 | | LLOYD Rachel | California Giant Berry Farms | USA | 00:45:56 |
| 5 | 1 | | SIMMS Wendy | Kona | CAN | 00:46:12 |
| 6 | 12 | | EMMETT Kelli | Giant Bicycles | USA | 00:46:50 |
| 7 | 5 | | BRUNO ROY Maureen | Mm Racing P/B Seven Cycles | USA | 00:46:58 |
| 8 | 7 | * | DOMBROSKI Amy | Webcor/Alto Velo | USA | 00:47:32 |
| 9 | 20 | | MILLER Meredith | California Giant Berry Farms | USA | 00:48:10 |
| 10 | 8 | | JACQUES-MAYNES Josie | California Giant Berry Farms/Specialized | USA | 00:48:40 |
| 11 | 16 | | WILLIAMS Wendy | River City Bicycle Team | USA | 00:48:54 |
| 12 | 19 | | VAN METER Emily | River City Bicycle Team | USA | 00:49:08 |
| 13 | 10 | | HARLTON Pepper | Juventus Cycling Club | CAN | 00:49:11 |
| 14 | 18 | | MAZZA Rhonda | Team S&M/Sellwood Cycle Repair | USA | 00:49:47 |
| 15 | 13 | | HOWE Barbara | Velo Bella | USA | 00:50:51 |
| 16 | 21 | | BERG Kristi | Redline Bicycles | USA | 00:51:23 |
| 17 | 17 | * | RIVERA Coryn | Kahala Lagrange | USA | 00:51:25 |
| 18 | 26 | | RILEY Jadine | Team Group Health | GBR | 00:52:06 |
| 19 | 24 | | GUYNUP Joele | Island Racing Club P/B Robert Cameron Law | USA | 00:52:35 |
| 20 | 15 | | STUDLEY Kari | Velo Bella – Kona | USA | 00:54:00 |
| 21 | 22 | | GIBSON Shannon | Velo Bella – Kona | USA | 00:54:19 |
| 22 | 23 | | STEWART Maria | Velo Bella – Kona | USA | 00:55:46 |
| 23 | 14 | | SMILEY Marne | | USA | -1 Lap |
| 24 | 32 | | HOLDEN Shannon | Velo Bello | USA | -1 Lap |
| 25 | 28 | | MENSHER Joanna | Gentle Lovers | USA | -1 Lap |
| 26 | 30 | | MILLER Lianna | Spike | USA | -2 Laps |
| 27 | 27 | | MYSLIWIEC Angela | Avanti/Ti Cycles Racing Team | USA | -2 Laps |
| DNF | 31 | | PENNINGTON Alice | | USA | DNF |
| DNS | 9 | | ANDERSON Dawn | Oak Bay Bikes/Everti | CAN | DNS |
| DNS | 11 | | KERLIN Sarah | Velo Bella – Kona | USA | DNS |
| DNS | 25 | | GAERTNER Jennifer | Team Bobs-Bicycles.Com | USA | DNS |
| DNS | 29 | | GUNDERSEN Heather | Veloshop | USA | DNS |