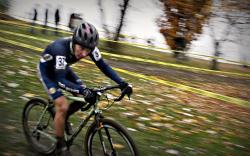 Columnist Ben Popper took his quest for one UCI point north of the border. This is his report from the Toronto International Cyclocross race, Day 1.
What happens when for weeks you tell yourself "this is the weekend it's going to happen," then you drive through the night, sleep 3 hours, show up to the line underdressed for the weather, and get called up to the second-to-the-last row? Yeah, I'll give you a hint. It didn't involve an hour-long parade off the front with Tim Johnson asking himself "who's this new kid and where did he come from?" It was sorta more like an hour long slip n' slide with a dash of humility and a pound of mud.
I couldn't shake the voice in my head telling myself that this was as good as it was going to get. A C1, points 15 deep, and only a few big names. But there's where I went wrong. There were big names, they were just big Canadian names, ones that I didn't know because I live south of the Poutine Curtain, because I spell Centre with an e-r and my distances are in miles not km.
The weather was what you'd expect from the Great North in November. As we waited around to be called into the coral, it started to rain. They called more and more riders in by name and it left me standing there waiting with fewer and fewer riders. I wasn't in the last row, but there was only one other guy behind me, and I had a great view of everyone's muddy backside. I had a pretty decent start which brought me up into the twenties, but it was harder than I thought to attack my muddy buddies and where I climbed to in the start ended up just about where I stayed.
Normally, we will do ten to eleven laps, but thanks to the slow sloppy Ontario mud, this race was 7. In the first corner off the leadout, a rider slid out and caused the field to splinter. The next five or six corners were no better and by the midpoint of the lap the leaders already probably had more than thirty seconds on me. The rest of the race really is a blur of trying to stay upright and fighting my freezing hands and feet.
I would spend a long time trying to catch a rider, catch them, and then fall, loosing all the ground I made up. With every lap, sections of the course became more and more difficult to ride. The good news is that for the most part I felt strong. In the few sections that were not so dangerous, I could stand up and go fast. The problem was there were not many parts of the course that were like that. The race was slow and there was quite a bit of running. In my day's brush with fame, Powers lapped me just before I hit the bell lap and that was the end.
27th. When you're shooting for 15th, that's a huge disappointment. What went wrong? I should have been way more aggressive on the start and through the first lap, gotten in the next group and then created distance on the guys behind me. In reality, during the race, with people falling all over (myself included) and starting so far back, it is much easier said than done. And a little more sleep would have helped. But I'd like to give a hearty "thank you, eh!" to the promoters for choosing a host hotel with a hot tub and a serious "sorry 'bout that" to the hotel cleaning staff… I tried to clean up after my intimate encounter with Ontario's lush soil as best as I could.
CXM Columnist Ben Popper is on a mission to achieve one goal – earning just one UCI point. Follow Ben on this journey this season through his regular journal. You can find his other columns here.
photo by Mike Clark