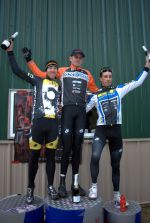 by Jacob Sisson, Photos by Michael Franken
Ryan Trebon (Kona) had two aims when he rolled into Southampton on Saturday morning. His first, and most pressing goal, was to bring home a win at a race he has always done well at. His second, more long term goal, was to seal the deal on the first NACT Elite Men's title. In accomplishing the former, Trebon would accomplish the latter. His cause was aided along by the absence of Tim Johnson (Cannondale/Cyclocrossworld.com), who had hurt his knee at last weekend's Mercer Cup, and was not feeling good enough to race. That meant that Trebon had a legitimate shot and making the NACT a done deal on Saturday rather than waiting until Sunday.
In cold, blustery conditions, Trebon wasted little time in setting to work, accelerating on the first lap of the race, with only Andy Jacques-Maynes (Specialized/kmc Pb Cal Giant) willing and able to follow. Trebon and Jacques-Maynes spent the next half of a lap a couple seconds ahead of Jeremy Powers (Cannondale/Cyclocrossworld.com) and Troy Wells (Clif Bar), but by the time the four crossed the finish line, things had come back together at the front. Behind them, Todd Wells (GT Bicycles), Jesse Anthony (Jamis) and Jamey Driscoll (Cannondale/Cyclocrossworld.com) were fighting to get back on terms with the leaders. As the lead four crossed the finish line for the first time, the foot was off the gas, and Wells, Anthony and Driscoll were making up time.
Todd Wells and Anthony eventually managed to sneak away from Driscoll, who would spend the rest of his day in no man's land, eventually finishing up 7th. Their accelerations, paired with slow speeds at the front of the race would see them bridge up to the group ahead of them. By that time, however, Trebon had decided to take the fight to the rest of the field and power away. Little by little, Trebon's accelerations shed the members of the group, with Wells the first to go, followed by Jacques-Maynes then finally Powers. With the wind as strong as it was, Powers, Jacques-Maynes and Wells eventually reformed as a chase group, hoping to work together to get back on terms with Trebon. It didn't work. Trebon was opening up big gaps on the early laps, and quickly had his lead to over 30 seconds.
Anthony had a go from the chase group as things slowed, but it didn't last long, and Troy Wells and Jeremy Powers gave it their shot but couldn't escape. Todd Wells then went to the front, and with a determined chase, thinned the group to just Powers and Jacques-Maynes. The Specialized rider later bobbled but with a major effort, rejoined the other two. Meanwhile, Trebon had extended his lead to 55 seconds with three laps to go.
Trebon, who had pretty much sealed the series title just by starting, cruised in for the win. Powers attacked on the last lap, dropping Jacques-Maynes and leaving just Todd Wells to battle in the sprint. Wells jumped first, but Powers kept Wells behind and took the sprint for second with Jacques-Maynes in fourth. The younger Wells brother, Troy, finished in fifth, with Anthony and Driscoll finishing sixth and seventh.
Congrats to Ryan Trebon on his victory and for winning the NACT Title with one race to go. Full results and photos below. Check back on Sunday for more live race updates and reports.
Photo Gallery:
Elite Men Full Results:
 
Pos
Bib
Name
Firstname
Team
Points
Time
 
.
1
3
TREBON
Ryan
KONA/FSA
35
1:00:36
 
 
.
2
1
POWERS
Jeremy
CANNONDALE/CYCLOCROSSWORLD.COM
30
0:49
 
 
.
3
6
WELLS
Todd
TEAM GT
27
0:53
 
 
.
4
5
JACQUES-MAYNES
Andy
SPECIALIZED/KMC PB CAL GIANT
24
1:00
 
 
.
5
8
WELLS
Troy
TIAA-CREF/CLIF BAR
22
2:04
 
 
.
6
10
ANTHONY
Jesse
TEAM JAMIS
20
2:14
 
 
.
7
4
DRISCOLL
Jamey
CANNONDALE/CYCLOCROSSWORLD.COM
19
3:33
 
 
.
8
7
WHITE
Matt
BIKEREG.COM / JOE'S GARAGE
18
3:51
 
 
.
9
12
TONKIN
Erik
KONA
17
3:53
 
 
.
10
9
ST. JOHN
Derrick
STEVENS CYCLOCROSS
16
4:26
 
 
.
11
14
SPINELLI
Justin
RGM WATCHES – RICHARD SACHS – BOATHOUSE INC
15
4:54
 
 
.
12
11
MATTER
Brian
GEAR GRINDER
14
5:10
 
 
.
13
37
BABCOCK
Sean
TEAM S&M
13
5:14
 
 
 
 
 
 
 
 
 
 
 
 
.
14
15
MYERSON
Adam
CYCLE-SMART/VAN-DESSEL
12
5:22
 
 
.
15
30
WARD
Nathaniel
BIKEREG.COM / JOE'S GARAGE
11
5:28
 
 
.
16
18
WULFKUHLE
Andrew
C3-SOLLAY.COM
10
5:41
 
 
.
17
17
KRAUS
Matt
RGM WATCHES – RICHARD SACHS – BOATHOUSE INC
9
5:55
 
 
.
18
16
KEOUGH
Nicholas
SONIC/ LOUIS GARNEAU
8
-1 LAP
 
 
.
19
19
IDDINGS
Ryan
LAPIERRE USA
7
-1 LAP
 
 
.
20
25
NELESSEN
Guillaume
VAN DESSEL FACTORY TEAM
6
-1 LAP
 
 
.
21
20
TISZA
Zoltan
PNIVO-BETONEXPRESSZ 2000
5
-2 LAPS
 
 
.
22
32
BRADSHAW
Peter
EMBROCATION/IGLEHEART/CAMBRIDGE/MAD ALCHEMY
4
-2 LAPS
 
 
.
23
36
DALLE ANGELINI
Giancarlo
TEAM REDLINE
3
-2 LAPS
 
 
.
24
24
CONSORTO
Christopher
HENRYS BIKES
2
-3 LAPS
 
 
.
25
23
SHAFFER
Nicholas
HUMAN ZOOM/ PABST BLUE RIBBON
1
-3 LAPS
 
 
.
26
22
BRADLEY
Patrick
RUTGERS UNIVERSITY CYCLING TEAM
 
-3 LAPS
 
 
.
27
29
VISINSKI
Rickey
EXODUS ROAD RACING
 
-3 LAPS
 
 
.
DNF
13
FRATTINI
Davide
COLAVITA SUTTER HOME P/B COOKING LIGHT
 
 
 
 
.
DNF
21
BREWER
John
HAYMARKET BICYCLES P/B FUNCTION DRINKS
 
 
 
 
.
DNF
26
DUGAN
William
RGM WATCHES – RICHARD SACHS – BOATHOUSE INC
 
 
 
 
.
DNF
39
PARTLAND
J.P.
KISSENA CYCLING CLUB
 
 
All Results: