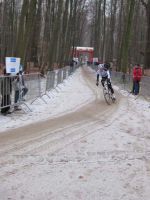 On Sunday, several American women battled the cold and tough course at the UCI C2 Vlaamse Witloof Veldrit race in Tervuren, Belgium and they walked away with a podium. Sue Butler and Rachel Lloyd sent us their reports from the race below. We also have some course photos from Sue. Enjoy!
Where's the Mud? A Tervuren Report by Sue Butler
It was a typical winter day in Belgium. Gray skies, cold temps and thousands of fans heading to the frozen dirt crit in Tervuren. I thought Cyclocross was a muddy sport? So far this Christmas season, it has been frozen ground, below freezing temperatures and fast courses. One slight change for this race is that the sun did not want to shine, thus making the 0 degree Celsius temperature feel even colder. Some say it was one or even two degrees, but whatever it was, it was not warm and the wind of the frozen body of water adjacent to the course made it feel colder than it has yet. 35 degrees is NOT warm! But I have learned to dress for it, my Gore gloves rock and I use toe warmers in my shoes.
Tervuren was a rather small race, with only 32 people at the start. It still did not merit me a front row start, so back in the 2nd row I lined up, hoping the person in front of me would be a good starter. NO SUCH LUCK!!! In fact, she held up everyone and I finally got around and made my way forward. It was a long pavement start with a sharp right turn up a rough grass section that had just enough incline to separate the group. Everyone, of course, wanted the one little line that was smoother, but I just went around left and tried working my way forward. It didn't take long for the front group to deposit me in what would sort of be a chase group. But really, the line was long for a while, and everyone was together for at least half a lap. Or perhaps it was the sand. Only hours after the race, and I really can not remember. One person can ruin it for everyone. At least I was not that person, but I did get caught behind "the dismounter."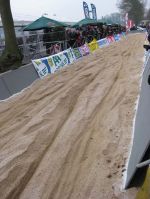 Back on the bike, the chase was on. The front was gone after the technical sections and I was pretty much riding this race by myself again. I could see Saskia not too far up the road, but there was no closing it down. Although I probably wear way more clothes than most, this cold really seems to affect me. I was born in Minnesota, for crying out loud! I should thrive in this! But, I was freezing and it was hard to breathe. The course was so fast, the wind chill factor had to be in the teens. I actually looked forward to the sand, because it would warm me up. But the cruel thing about this course was when you were spent from the sand, you had a steep climb following it and then not to long afterwards, the steepest, yet short popper that could throw you off. It was brutal. But fun! When it was all said and done, I allowed myself to get caught by one of the danglers I kept trying to drop for good. She was not giving up and she made an aggressive pass and I let her do it. Brain + cold = not thinking correctly. Oh well. I finished 8th.
Rachel Lloyd had a great race, finishing in 2nd (read her report below). Simms had some bad luck with her chain dropping, forcing her off the bike and off the lead group early on, but she chased back for 10th.
And that concludes the racing for the next couple of weeks. Whatever will we do? I don't think drinking beer and eating chocolate are on my program, so I guess I will just go ride my bike, try to stay warm and be grateful I am not in Portland trying to train with the flooding and endless rain.
Check out another more reports from this race at my team's site at www.monavie-cannondale.com, and see what you are missing by not being in Belgium!
-Sue
My First Belgian Podium, A Tervuren Report by Rachel Lloyd

Franky Van Haesebroucke, my host for the next few weeks and I packed the car up and headed for Tervuren this grey, cold Sunday morning in Belgium. We arrived in town and headed for the centrum, looking for the signs to tell us where inschriven (registration) could be found. We ended up parking in the dirt parking lot of a nearby pub, so that our getaway would be easier. Then I set off by bike to find the place where I would pick up my numbers. It took a while, but eventually I found the British School and the hidden room where numbers were being given out. I thought I had registered online, but my name was not on the list. It didn't seem to matter, they wrote my name down, I signed, paid the three euro fee and got my numbers. Then I rode back to the car where Franky was waiting for me. I quickly dressed and got on the race course to ride three laps. The course was pretty cool. Set in the English-style grounds (gardens) of some kind of huge museum, it had fast, flat sections, steep technical uphills, frozen ruts, a sand pit, and lots of tricky turns in the woods. I liked the look of it!
I finally got a front row start spot and it sure paid off. With tiny snow flakes falling lightly, we started fast and furious on the green start light. Off the line it was Saskia Ellmans first with everyone else battling to be the first to the turn. I came around on the inside of the first turn onto the slight up hill grassy slope. Helen Wyman soon came around me and rode on the front with Ellmans in second and I in third. We all lined up through the woods then came out onto the grassy headwind before the sand pit. Daphny attacked and got to the front before the sand pit and I jumped on her wheel. I guess we gapped the rest of the girls through the sand, because it was just Daphny and myself. I rode with Daphny for the rest of the lap, and she gave me the elbow wag to pull through and I figured I would rather work with her and keep our distance from the rest of the field. There are frozen ruts that are better taken solo, and I just prefer racing a few girls rather than a whole pack. Sanne Cant crashed pretty hard early in the race in the frozen ruts and abandoned (apparently) they also showed this on the brief TV summary.
So Daphny and I rode together, then on the second lap she waves me through on the headwind grass before the sand so I go around and in the sand she crashed! She had to run it while I rode away. It seemed like I got a pretty good gap, but I didn't really want to ride the whole race solo. Well, I didn't have to. I think I might have done one lap solo. Then with three to go I went through a left hand turn soon after the gradual uphill after the finish and I took the turn too fast and slid out, I crashed and lost my rhythm and Daphny soon caught me.
I stayed with her for a bit but she put a small gap on me on the steep hills directly after the deep sand and she just kept extending her gap. I rode the last two laps solo and I guess Daphny had 20-30 seconds on me and I had 35-40 seconds on the chase group that had Helen Wyman, who got third ahead of Pavla Havlikova and Nikki Harris from Great Britain. I think Sue Butler from the US got 8th.
It was a good race, and a great first time on a podium in Belgium! I got kissed on the cheek (three times by each person) a whole bunch, a beautiful bouquet of flowers and a hand made glass blown vase/trophy!
Now I will have a weekend off from racing while the European countries have their Nationals and I'll be training hard. Then it will be Roubaix, Milan, and World's and that will me my season!! Hard to believe it, it has gone by pretty quickly! Thanks for reading and sending me such supportive emails.
-Rachel
Photo Gallery by Sue Butler: