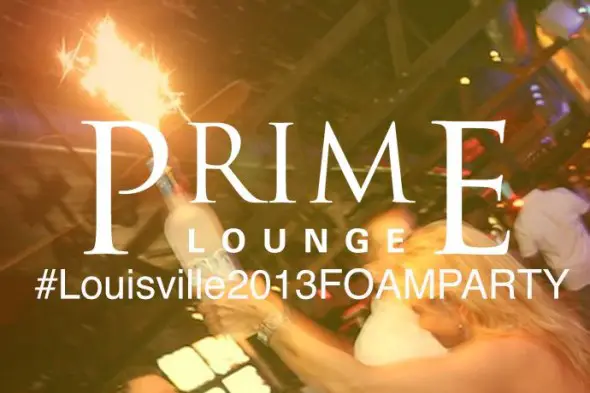 The Internet has been ablaze for the past week with talk of the #Louisville2013FoamParty. And while it started as a joke, the party transformed into something very real, and we called up one of the promoters to figure out how this hashtag turned into an actual party, to be held Sunday night at Prime in Louisville.
Cyclocross Magazine: So… how?
Spencer Haugh: I don't know. I wish I could tell you. It was literally the power of the Internet.
CXM: Walk me through: who is involved in running this?
SH: There are three main people, myself and Tim Hayes (FLCX.org) and Brandon Gavic, our Flemish speaker and former road pro from Atlanta. But there are a couple of other who have access to the Facebook page and Twitter.
CXM: How did it get started, exactly?
SH: Foam Party as a thing that relates to cyclocross was definitely a Florida CX thing. They were driving to a race in Miami and found a flyer for a foam party and connected the two since they were going to a race, and started making jokes about it and would put race blurbs on Twitter and hashtag #foamparty after it. That's where it started, they've been doing it for a year or so. So Gavic and I picked up on it and were randomly hashtagging #foamparty on things.
CXM: And somehow…
SH: Yeah. I was going to Louisville and hadn't made a hotel reservation yet and made some joke about "I'm not worried about it, I'll just foam party." Then it became a rolling joke from there, and then a hashtag, and someone made a website. We didn't even know who made the website at first. It was a completely grassroots party.
CXM: Seriously? Who made the site?
SH: A DJ in New York. He got in touch with us and we said if he gave us access to the website, he could DJ the party. Everything happened really organically through the power of social media and everybody's desire to party. It's got the curiosity factor behind it now. People want to know, 'Is the party happening?' and what it'll be like, and if all the people who say that they're going to be there are ring to be there, and is there going to be foam?
CXM: So is there really going to be foam?
SH: You're going to have to show up to find out.
CXM: Are there any other details about this shindig that people should know about?
SH: Well, we're still trying to raise money through donations on the website. When it came into being five days ago, we figured we could tell people a bar to go to and it would be like a Tweet-Up but it spiraled quickly from there and we started looking around for real clubs. But all the clubs we called said they were busy from the SuperBowl so we thought we were screwed. But everyone recommended Prime, which apparently was an awesome club, but closed on Sundays. So we just gave them a call, and the owner answered and it turned out he was going to be open that Sunday because of a basketball game, and he had no problem staying open later if we could bring people. So it was … I don't know. It was a sign that it was meant to happen.
CXM: Divine intervention?
SH: Something along those lines.
CXM: So how are donations going?
SH: A lot of people donated right away. We're doing good but we still need to raise money, and any profit made just goes toward funding junior cyclocross development. We're going to have some silent auction or raffle stuff, HED is giving us a wheel set, other people are donating some stuff.
CXM: So, anything else about this party we should know about?
SH: I think the funniest thing is how so many people don't know what to wear to the party. I've never heard bike racers freak out about what to wear to a party!
Don't miss our LIVE STREAMING VIDEO of the 2013 Cyclocross World Championships. And for all the latest news, results, photos and videos from the 2013 Cyclocross World Championships and Masters World Championships in Louisville, KY, keep checking our 2013 Cyclocross World Championships page.