by Molly Hurford
We caught up with race promoter Dan Millstead to ask about his Florida race, which will take place (in pretty warm conditions!) the same day as Elite Nationals in the negative temps of Madison, Wisconsin. This reporter is a teensy bit jealous of the racers who picked the Everglades as their winter cyclocross destination.
Cyclocross Magazine: Tell me a bit about the race- basic who what when where.
Dan Millstead: It's the 2011/12 Florida State Cyclocross Championships, on January 8th in Dade City, Florida. For more info, visit littleevergladesranchcx.com or visit our Facebook page.
CXM: Is this the first race, or is there a history?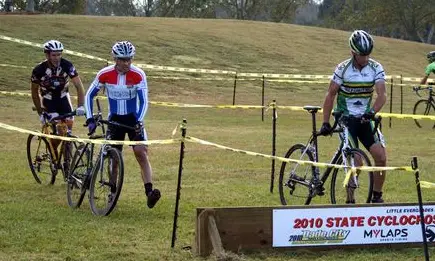 DM: This is our fourth year hosting a race and second having the state championship.
CXM: How did you come up with the race?
DM: I started working out at the ranch in 2007 as the horse track manager and thought the ranch would be perfect for a 'cross race.
CXM: CX in Florida- how is it different, how is it the same compared to racing in wet, cold places like New England?
DM: Cyclocross in Florida is growing really fast,we have a great race series down here. We might not have the cold,wet weather. On the other hand, one week you can race right next to the ocean and the next rolling hills in the country.
CXM: Any local legends?
DM: Josh Thornton and Darren Dowling are locals that will be very strong to beat.
CXM: Any cool features of the course?
DM: A cool feature of our course is going through the middle of the race horse barn and going on part of the horse track. Also, there is quite a bit of elevation changes on the course.
CXM: What's the weather going to be like?
DM: The weather can be anywhere from 18 degrees to 80 degrees in January!
CXM: Have you had experience racing cyclocross anywhere other than Florida?
DM: No, but I have studied a lot of different venues and found we have a gem here at the Little Everglades Ranch. Our goal is to host a national event.
CXM: Why should people come to your race?
DM: A good reason to come down here for the race is you can make it a family vacation. Busch Gardens, Disney World and the beaches are very close by. Just think of riding and training for a week then doing the race. It beats sitting on a trainer in a dark, cold basement!
CXM: Biggest challenge of putting the race on?
DM: The biggest challenge of putting a cyclocross on is getting our northern friends to come down and race with us, Florida style!
CXM: Best part about putting the race on?
DM: The best part of putting the race on is seeing people having a good time out at the ranch.
CXM: Anything people should know about the race that's interesting/different?
DM: One thing that is different about our race is we are on a private 2300 acre ranch.
If you're not heading to Madison, consider making a trip down to Florida this January!