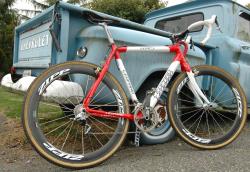 Joachim Parbo, two-time Danish National Cyclocross Champion, has spent the early months of his last several 'cross seasons here in the U.S., racing the country's UCI races. This year he's returned to U.S. again to start his season, and will race in Seattle, Vegas and then Ohio as he hopes to accumulate UCI points and enjoy what he calls "very educated and enthusiastic" 'cross fans here.
He will again race for the Italian CCV Team, but adds California-based Leopard Cycles as his bike sponsor. Leopard has been working on a 'cross bike for a while, and Parbo is piloting an early model this season. His 58 cm frame weighs a reported 1180 grams, and is paired with a painted Ritchey WCS carbon fork, SRAM Red Components, Zipp Wheels, and TRP Magnesium Eurox brakes.
Parbo has not only been busy training for this season's cyclocross season, but told Cyclocross Magazine that he's been slaving away trying to finish his political science thesis. We'll know shortly how much that has impacted his training and fitness.