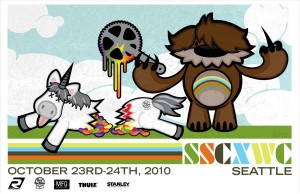 It's a busy weekend for 'cross, and fans at home can also partake with live video feeds of the SSCXWC and the Derby City Cup USGP. Info from the promoters of SSCXWC 2010:
People are flying into town, couches are being surfed, and preparations are being made for Sunday's MFG #4 race, which concludes with the Singlespeed Cyclocross World Championships at 3:30 pm.  Please note the MFG race schedule has been altered slightly for this race only, so the MFG singlespeed race is not back-to-back with the WC race.
We are happy to announce our continued partnership with PGP Motorsports Park with LIVE video coverage of the entire day of racing. Starting at 9:30, each race will be covered on live video, from three different camera angles at PGP Motorsports Park.  Each start time will be set up on the PGP website as a chapter, and you will be able to watch the race live, or return back to the event and watch a race on-demand. We are certain this is the first time the SSCXWC event has been broadcast live.
You can still register for MFG #4 races and the SSCXWC races on Bikereg.com
ALL MFG Races:  On-site reg possible; online reg closes 8 pm Pacific on Friday, 10/22
SSCXWC Race:  PRE-REG only.