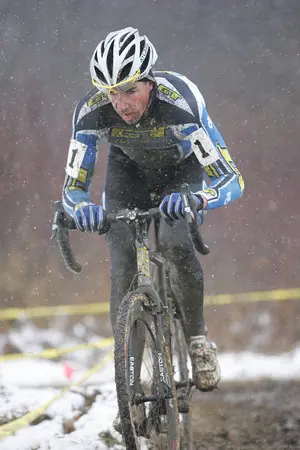 by John Meehan, photos by Steve Fry
Elite Men
Overnight snow on day two of the 2008 UCI Carousel Volkswagen Jingle Cross Rock turned the previous day's fast descent down the steep slopes of Mt. Krumpit into a muddy bog that resembled a bobsled run.
Andy Jacques-Maynes took the lead on the treacherous off camber Mt. Krumpit hillside and pulled away from the field. After a strong start, Troy Wells (Clif Bar) quickly fell back through the field after suffering a mechanical. Wells found that running the difficult off camber was no easy task losing his footing several times. Todd Wells (GT) hit out in hot pursuit of Jacques-Maynes, followed by Steve Tilford.
Catching Jacques-Maynes at the base of Mt. Krumpit, Todd Wells put his Olympic mountain biking skills to use ascending the long muddy climb rapidly, creating a small lead that he increased with a strong descent down Mt. Krumpit's steep southern face. Jacques-Maynes hung close for several laps but could not close the gap.
Todd Wells took the win coming in solo. With a strong second place performance on the previous day, Wells was declared the overall champion for the 2008 Jingle Cross Rock.
Jacques-Maynes slid in for second place, while Tilford continued to show his exceptional bike handling skills staying in a comfortable third place position throughout the race where he would eventually finish. Troy Wells suffered more technical issues in the early laps but had an impressive charge late in the race and finished 4th.
Elite Women
On the women's side, Amanda Miller (Mesa Cycles) took the early lead and plowed her way down the steep ice and snow covered Mt. Krumpit mud bog. Her blistering pace through the many tricky, technical areas quickly separated her from the rest of the field. Miller took the win by a comfortable margin.
Josie Jacques-Maynes took a tumble down Mt. Krumpit once or twice throughout the days racing. Jacques-Maynes was able to stay upright when it mattered to claim second place over Sydney Brown (Midwest Cycling Community) who finished a strong 3rd.
Full Results:
2008 Carousel Volkswagen Jingle Cross Rock 2
Results 11/30/08
UCI Elite Men
Place
First Name
Last Name
Club
City
State
Time_Back
1
Todd
Wells
GT Cycles
Durango
CO
56:11:00
2
Andy
Jacques-Maynes
California Giant Cycling
CAPITOLA
CA
@1:22
3
Stephen
Tilford
TOPEKA
KS
@2:59
4
Troy
Wells
DURANGO
CO
@4:13
5
Mark
LaLonde
MADISON
WI
@5:35
6
Brian
Matter
TEAM GEARGRINDER
SHEBOYGAN
WI
@6:22
7
Nathan
Rice
Big Shark Racing
ST. LOUIS
MO
@7:17
8
Brian
Eppen
Iowa City Cycling Club
IOWA CITY
IA
@7:47
9
Sam
Krieg
Logan Race Club
POCATELLO
ID
@8:16
10
Colin
Cares
BOULDER
CO
@8:32
11
William
Stolte
Heartland Road Racing Club
TOPEKA
KS
@9:14
12
Ben
Popper
Rock Lobster
CHICAGO
IL
@10:05
13
Mitchell
Hoke
EVERGREEN
CO
@10:44
14
Scott
McLaughlin
Giant Squid All-Stars
CHICAGO
IL
@11:04
15
Jesse
Rients
LAKEFIELD
MN
-1 lap
16
Shadd
Smith
Heartland Road Racing Club
OVERLAND PARK
KS
-1 lap
17
Dave
Hackworthy
Ridley Factory Team
HUDSON
WI
-1 lap
18
Brian
Conant
The Pony Shop
DEKALB
IL
-1 lap
19
Mike
Sherer
KCV Cycling Club
BLOOMINGTON
IN
-1 lap
20
Jeff
Winkler
KCCX/Verge
BLUE SPRINGS
MO
-1 lap
21
Mathew
Allen
Grumpys/LGR
MINNEAPOLIS
MN
– 1 lap
22
Pat
Lemieux
St Paul Bicycle Racing Club
MANKATO
MN
-1 lap
23
Kyle
Jacobson
Nova Cycle Sports Foundation Inc.
WEST BEND
WI
-2 laps
24
William
Street
TEAM GEARGRINDER
SHEBOYGAN
WI
-2 laps
25
Spencer
Haugh
Grumpys/LGR
MINNEAPOLIS
MN
-2 laps
26
Braden
Kappius
Clif Bar Development Cross Team
LITTLETON
CO
-2 laps
DNF
Joseph
Schmalz
Heartland Road Racing Club
LAWRENCE
KS
DNF
DNF
Bill
Marshall Jr
KCCX/Verge
OVERLAND PARK
KS
DNF
DNF
John
Meehan
Athletic Mentors Cycling Club
MERCER ISLAND
WA
DNF
DNF
John
Olney
Iowa City Cycling Club
IOWA CITY
IA
DNF
DNF
Lyle
Hanson
Great Dane Velo Club (GDVC)
MADISON
WI
DNF
DNF
Ryan
Knapp
KCV Cycling Club
COLUMBUS
IN
DNF
DNF
Lance
Niles
River Valley Cycling Club- RVCC
ONALASKA
WI
DNF
DNF
Duane
Dickey
Iowa City Cycling Club
COKATO
MN
DNF
DNF
Isaac
Neff
KCV Cycling Club
BLOOMINGTON
IN
DNF
DNF
Adam
Mills
KCCX/Verge
LAWRENCE
KS
DNF
DNF
Brian
Jensen
Lawrence
KS
DNF
DNF
Shawn
Harshman
PM Racing Team
BOULDER
CO
DNF
DNF
Bjorn
Selander
Ridley Factory Team
HUDSON
WI
DNF
DNF
Joshua
Johnson
Big Shark Racing
COLUMBIA
MO
DNF
UCI Elite Women
Place
First Name
Last Name
Club
City
State
Time_Back
1
Amanda
Miller
Mesa Cycles Racing Team
FORT COLLINS
CO
34:28:00
2
Josie
Jacques-Maynes
California Giant Cycling
CAPITOLA
CA
@0:41
3
Sydney
Brown
Midwest Cycling Community
LINCOLN
NE
@1:00
4
AnnaJean
Dallaire
LOUISVILLE
KY
@1:44
5
Devon
Haskell
The Pony Shop
CHICAGO
IL
@2:05
6
Lisa
Strong
Vitamin Cottage Cycling Team
ARVADA
CO
@2:10
7
Kaitlin
Antonneau
Nova Cycle Sports Foundation Inc.
RACINE
WI
@2:17
8
Linda
Sone
Ridley Factory Team
NORTHFIELD
MN
@2:33
9
Corey
Coogan
Ridley Factory Team
MINNEAPOLIS
MN
@3:30
10
Samantha
Schneider
WEST ALLIS
WI
@4:35
11
Kristin
Wentworth
Team Kenda Tire
MADISON
WI
@5:20
12
Robin
Williams
Iowa City Cycling Club
IOWA CITY
IA
@5:44
13
Maria
Stewart
Velo Bella-Kona
SAINT PAUL
MN
@6:26
14
Anna
Young
America's Dairyland
MADISON
WI
@6:57
15
Holly
Klug
CHICAGO
IL
@9;10
16
Marne
Smiley
ANN ARBOR
MI
@10:09
DNF
Catherine
Walberg
TOPEKA
KS
DNF
DNS
Linda
Cooper
Great Plains Cycling Club
FARGO
ND
DNS
DNS
Jennifer
Herrell
SKC Racing
KANSAS CITY
MO
DNS
Junior Men
Place
First Name
Last Name
Club
City
State
1
David
Block
Gear West
PLYMOUTH
MN
2
Sean
Hyser
Normal
IL
3
Thomson
Remo
Baraboo Sharks
FOND DU LAC
WI
4
Jordan
Cullen
Planet Bike
HUDSON
WI
5
Ian
Haupt
Planet Bike
WHITEFISH BAY
WI
6
Vance
Fletcher
Des Moines Cycle Club
CHARITON
IA
7
Tyler
Rushing
Johnston
IA
8
Drew
Cooper
Bikes To You
KELLOGG
IA
9
Tim
Fleagle
Coralville
IA
10
Samuel
Huang
Unattached
KENOSHA
WI
11
Andrew
Romisch
GP Velotek
SHAWNEE MISSION
KS
12
Paul
Dahlen
Unattached
ZUMBROTA
MN
13
Salem
Snoop
Unattached
MARION
IA
Junior Women
Place
First Name
Last Name
Club
City
State
1
Sarah
Huang
Kenosha Velosport Inc
KENOSHA
WI
Masters 35+
Place
First Name
Last Name
Club
City
State
1
James
Cochran
Atlas Cycling Team
IOWA CITY
IA
2
Kevin
Klug
Chicago
IL
3
Tige
Lamb
Cow Town Cycling Team
LENEXA
KS
4
Peter
Maxwell
Crossniacs
MINNEAPOLIS
MN
5
Jared
Roy
Crossniacs
ST LOUIS PARK
MN
6
Steven
Bullerman
Bike Tech Racing Club
WATERLOO
IA
7
John
Struchynski
Great Plains Cycling Club
FARGO
ND
8
Louis
Kuhn
The Pony Shop
EVANSTON
IL
9
Dominic
Moraniec
Atlas Cycling Team
BURLINGTON
IA
10
Shawn
Meinke
Team Fond Du Lac/Oshkosh Cyclery
NEENAH
WI
11
Paul
Schoening
Ridley Factory Team
PLYMOUTH
MN
12
Brian
Koeneman
GrandStay Hotels
ST. PETER
MN
13
David
Greenblatt
Brazen Dropouts
MADISON
WI
14
Mark
Feary
The Pony Shop
EVANSTON
IL
15
Bruce
Grell
Double I Cycling Experience (DICE)
BETTENDORF
IA
16
Mike
Heenan
Unattached
MILWAUKEE
WI
17
Wade
Loberger
Team Wheel & Sprocket
OSHKOSH
WI
18
Stephen
Gaffield
Unattached
MADISON
WI
19
Joe
Schlechter
Ridley Factory Team
WATERTOWN
MN
20
Craig
Harding
Free State Racing
LEES SUMMIT
MO
21
Rick
Laliberte
Great Plains Cycling Club
FARGO
ND
22
Larry
Kintner
Harlan
IA
23
Jon
Yetley
Unattached
CORALVILLE
IA
24
Matthew
Lysne
Unattached
FALCON HEIGHTS
MN
25
Britt
Marcussen
IA
26
Jeff
Dullard
Unattached
CEDAR RAPIDS
IA
27
David
Romisch
GP Velotek
OVERLAND PARK
KS
28
Brian
Farrell
MBWC
W DES MOINES
IA
29
Scott
Sumpter
MBWC
ANKENY
IA
30
Mike
Clark
World of Bikes
IOWA CITY
IA
31
Jesse
Gerlits
Des Moines Cycle Club
DES MOINES
IA
Masters 45+
Place
First Name
Last Name
Club
City
State
1
Cully
Todd
North Liberty
IA
2
Andy
Lucas
360 Racing
KANSAS CITY
MO
3
Paul
McKinney
Gopher Wheelmen
MINNEAPOLIS
MN
4
John
Meehan
Athletic Mentors Cycling Club
MERCER ISLAND
WA
5
John
Thompson
Unattached
SHOREVIEW
MN
6
Darrell
Bratton
Team Mack Racing Assoc. LTD
QUINCY
IL
7
James
Hopson
Iowa City Cycling Club
IOWA CITY
IA
8
Steve
Fleagle
Coralville
IA
9
Phillip
Curran
Double I Cycling Experience (DICE)
DAVENPORT
IA
10
Dan
Hansen
Unattached
BRANDON
SD
11
David
Neidhart
Brazen Dropouts
VERONA
WI
12
Jeffry
Farrell
MBWC
URBANDALE
IA
13
David
Sieloff
Brazen Dropouts
MADISON
WI
14
Jeff
Barnes
Iowa City Cycling Club
IOWA CITY
IA
15
Scott
Duffus
Bike Tech Racing Club
CEDARFALLS
IA
16
Randy
Catron
Des Moines Cycle Club
URBANDALE
IA
17
Paul
Buchanan
Bike Tech Racing Club
WATERLOO
IA
Masters 55+
Place
First Name
Last Name
Club
City
State
1
Dan
Meyer
Loon State Cyclists
LAKE ELMO
MN
2
Landon
Beachy
Bike Tech Racing Club
KALONA
IA
3
Gordon
Paulson
Planet Bike
COTTAGE GROVE
WI
4
John
Adamson
Bike Tech Racing Club
CEDAR FALLS
IA
5
Richard
Gilmore
Bike Tech Racing Club
WASHINGTON
IA
6
Michael
Rummelhart
WI
Men Cat. 2/3
Place
First Name
Last Name
Club
City
State
1
Tony
Nichols
Rasmussen Death Squad 5000
URBANDALE
IA
2
Chris
Wallace
KCCX/Verge
SHAWNEE
KS
3
Jake
Helmbrecht
Grumpys/LGR
SAINT PAUL
MN
4
Thomas
Price
Midwest Wheelmaster
OVERLAND PARK
KS
5
Nate
Woodman
Lincoln
NE
6
Troy
Krause
Midwest Wheelmaster
LINCOLN
NE
7
Kevin
McConnell
Iowa City Cycling Club
IOWA CITY
IA
8
Joshua
Roeser
Flat City Cycling Club Inc.
MONTROSE
MN
9
Michael
Hemme
Unattached
CHICAGO
IL
10
Matthew
Gilhousen
Lawrence
KS
11
Jesse
Petersen
Lincoln
NE
12
Tracy
Anderson
Unattached
KETCHUM
ID
13
Lance
Niles
River Valley Cycling Club- RVCC
ONALASKA
WI
14
Ron
Bridal
ABD Cycle Club
QUINCY
IL
15
Rich
Bergstrom
Gopher Wheelmen
MINNEAPOLIS
MN
16
Sean
Walker
Bikes To You
IOWA CITY
IA
17
Aspen
Gorry
The Pony Shop
CHICAGO
IL
18
Alex
Edwards
Mesa Cycles Racing Team
PARKVILLE
MO
19
Daniel
Wheeler
Gopher Wheelmen
ST. PAUL
MN
20
Michael
Gaherty
SKC Racing
BLUE SPRINGS
MO
21
Greg
Aronson
Double I Cycling Experience (DICE)
BETTENDORF
IA
22
Chris
Maharry
Des Moines
IA
23
David
Stroot
Team Mack Racing Assoc. LTD
QUINCY
IL
24
Cale
Wenthur
Milwaukee
WI
25
Kolyn
Kirkham
Unattached
MINNETONKA
MN
26
Steven
Robinson
All9Yards.com Cycling Team
DES MOINES
IA
27
Peter
Schweich
Grumpys/LGR
MINNEAPOLIS
MN
28
Tim
Yuska
Get a Grip Off Road Racing Team
CHICAGO
IL
29
Matt
Gumm
All9Yards.com Cycling Team
ANKENY
IA
30
Geoff
Perrill
Iowa City Cycling Club
IOWA CITY
IA
31
Carl
Buchanan
Rasmussen Death Squad 5000
WATERLOO
IA
32
Brian
Abbott
Iowa City Cycling Club
IOWA CITY
IA
33
Michael
Hills
Unattached
SPRINGFIELD
IL
34
Jon
Suyko
Amgen Cycling Club
ROCKFORD
IL
35
Thomson
Remo
Baraboo Sharks
FOND DU LAC
WI
36
Teodoro
Ramos
Get a Grip Off Road Racing Team
BERWYN
IL
37
Kyle
Williams
Iowa City Cycling Club
IOWA CITY
IA
38
Matt
Klemish
Double I Cycling Experience (DICE)
BETTENDORF
IA
39
Adam
Price
Iowa City Cycling Club
DURANT
IA
40
Christopher
Reed
Hawkeye Bicycle Assoc
CENTER POINT
IA
41
Brendan
Kealey
Iowa City Cycling Club
IOWA CITY
IA
42
Michael
Wakeley
Blue Competition Cycles
OTTAWA
IL
43
Francis
Hamre
Mesa Cycles Racing Team
WICHITA FALLS
TX
b
Place
First Name
Last Name
Club
City
State
1
Ross
Cerniglia
Unattached
MILWAUKEE
WI
2
Michael
Morrison
Unattached
URBANDALE
IA
3
John
Lionberger
Unattached
EVANSTON
IL
4
Christopher
Sweet
Bloomington
IL
5
Adam
Blake
Iowa City
IA
6
Gabriel
Masiulis
Gopher Wheelmen
SAINT PAUL
MN
7
Stephen
Gaffield
Unattached
MADISON
WI
8
Matt
Rockne
Zumbrota
MN
9
Tyler
Schumacher
KCOI Boulevard
KANSAS CITY
MO
10
Brad
Bach
Ankeny
IA
11
Jeffery
Corcoran
Team Skin
DES MOINES
IA
12
Joe
Lazio
Iowa City
IA
13
Kevin
Murray
Yankee Hill Veterinary Hospital/Team FIRE
LINCOLN
NE
14
Keith
Snoop
Unattached
MARION
IA
15
Brandon
Scheiner
Team Pegasus
CHICAGO
IL
16
John
LaRue
Unattached
WASHINGTON
DC
17
Rich
Anderson
Elkhorn Valley Cycling Club
BELLEVUE
NE
18
Britt
Marcussen
Unattached
CORALVILLE
IA
19
Timothy
Campbell
Pista Elite
WEST LIBERTY
IA
20
Elliot
Weiss
IA
21
Michael
Strickley
Peoria Bicycle Club
BLOOMINGTON
IL
22
Colm
Flannery
Unattached
CHILLICOTHE
IL
23
Daniel
Boyles
Unattached
RAMSEY
MN
24
Christopher
Jensen
Unattached
CHICAGO
IL
25
Thomas
Kenny
Team Extreme
ORLAND PARK
IL
25
James
Zimmerman
26
Stephen
Brown
West Des Moines
IA
27
Nate
Van Der Weide
Unattached
28
Chris
Cornelison
West Des Moines
IA
29
Jason
Amoriell
Hawkeye Bicycle Assoc
CEDAR RAPIDS
IA
30
Adam
Perkins
IA
31
Ryan
Baker
Iowa City
IA
32
Darin
Bartachek
West Des Moines
IA
33
Nick
Sobocinski
Iowa City
IA
34
Russell
Udowitz
Chicago Heights
IL
36
Kurt
Ackerson
IA
37
Reggie
Hastings
IA
38
Robert Moural
IA
39
Kale
Halder
Des Moines Cycle Club
WESTDESMOINES
IA
40
Kurt
Benson
IA
41
Jack
Carlson
Iowa City
IA
Single Speed
Place
First Name
Last Name
Club
City
State
1
David
Meyer
Minneapolis
MN
2
Kyle
Sedore
Des Moines
IA
3
Jay
Henderson
Silver Cycling
MINNEAPOLIS
MN
4
Lee
Venteicher
Bikes To You
WAUKON
IA
5
Steven
Robinson
All9Yards.com Cycling Team
DES MOINES
IA
6
Tracy
Thompson
Bikes To You
W BURLINGTON
IA
7
Dennis
Grelk
Badger Cycles
DONNELLSON
IA
8
Lewis
Perna
Velo Project LLC
DENVER
CO
9
Taylor
Webb
Des Moines
IA
10
Keith
Walberg
360 Racing
TOPEKA
KS
11
Scott
Robinson
All9Yards.com Cycling Team
DES MOINES
IA
12
Daniel
Boyles
Unattached
RAMSEY
MN
13
Timothy
Strege
Half Acre Cycling
RACINE
WI
14
Jack
Piper
Iowa City
IA
15
William
Greenwood
Bikes To You
DAVENPORT
IA
Women Cat. 2/3
Place
First Name
Last Name
Club
City
State
1
Kim
Eppen
Iowa City Cycling Club
IOWA CITY
IA
2
Sarah
Huang
Kenosha Velosport Inc
KENOSHA
WI
3
Michelle
Jensen
Free State
LAWRENCE
KS
4
Jessica
Wittwer
Gopher Wheelmen
SAINT PAUL
MN
5
Patricia
Kaufmann
Planet Bike
WHITEFISH BAY
WI
6
Brittany
McConnell
Unattached
Iowa City
IA
7
Heather
Curnutt
Capitol Velo Club
MADISON
WI
8
Gina
Kenny
ABD Cycle Club
ORLAND PARK
IL
Women Cat. 4
Place
First Name
Last Name
Club
City
State
1
Cara
Hamann
Unattached
IOWA CITY
IA
2
Amy
Campbell
Silver Cycling
MINNEAPOLIS
MN
3
Kristy
Henderson
Silver Cycling
MINNEAPOLIS
MN
4
Desta
Meyer
Unattached
INVER GROVE
MN
5
Kathryn
Mueller
KCOI/Boulevard
LEES SUMMIT
MO
6
Dana
Buddenbaum
Silver Cycling
BLOOMINGTON
MN
7
Haley
Wood
Central Plains Cycling
BROOKINGS
SD
8
Kristen
Boyer
Des Moines Cycle Club
DALLAS CENTER
IA
Women Masters 35+
Place
First Name
Last Name
Club
City
State
1
Linda
Cooper
Great Plains Cycling Club
FARGO
ND
2
Jennifer
Herrell
SKC Racing
KANSAS CITY
MO
3
Jean
Gilpin
Team Skin
CORALVILLE
IA
4
Diane
Ostenso
Planet Bike
COTTAGE GROVE
WI
5
Heather
Curnutt
Capitol Velo Club
MADISON
WI
6
Kathleen
Porter
Bike Tech Racing Club
CEDAR FALLS
IA
7
Gina
Kenny
ABD Cycle Club
ORLAND PARK
IL
8
Melissa
Putzer
Team Wheel & Sprocket
OSHKOSH
WI