At Press Camp 2015, we took a closer look at Smith Optic's Overtake helmet with MIPS technology. Interlocked into the upper shell of the helmet sat a black frame version of Smith's Pivlock Arena Max sunglasses, a design that Smith has used for a number of its helmets that we have been seeing for the last few years.
The folks at Smith Optics gave us a set of their Pivlock Arena Max performance glasses and a casual model they call the Clark. In the last two weeks, rarely has a day or a ride gone by without one of the two pairs donning my face, or in the case of the Pivlock, comfortably nestled on the Overtake helmet.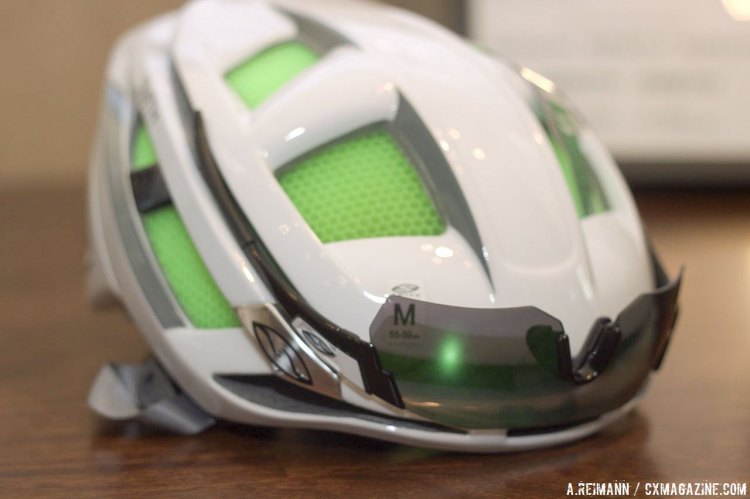 Smith Optics Overtake at Press Camp 2015. © A. Reimann / Cyclocross Magazine
Smith Optics Pivlock Arena Max
You might wonder what separates the Pivlock Arena Max from the standard Arena. The Max model is designed slightly larger, providing larger faces with a lens that has fuller coverage. If you even have to wonder which of the two is right for your face, I'd opt with the Max version. I have a narrower face that I recently learned looks completely swallowed up when I try on a cowboy hat, yet the larger Pivlock Arena Max looks and fits well on my face. In part, this has to do with Smith Optics' base curve design, with the Pivlock designed with a 9 base curve designed to wrap around your face instead of offer a flat relationship to a face.
While our Chief Cowbell Ringer, Andrew Yee, enjoyed a "nearly perfect but pricey" set of the Rudy Project Firebolt performance sunglasses, I have never been completely sold on photochromic lenses. I will fully admit part of that is a style choice, but I also have found consistent lenses more predictable, or in other words, I suddenly recognize that the photochromic sunglasses are on my face during racing, just when I only want to think about what line I'm going to take.
For those like me whose brains are hard-wired to prefer a same lens in a given situation, but want the ability to change the lens for night riding, bright sunlight or overcast conditions, the Pivlock has an elegant solution with its Interlock system. Swapping out the lenses never feels like you will be ready to break a lens, and as far as I have tested, the Smith Optics model is the only pair of sunglasses I would be confident swapping out its lens with only a few minutes before a race. (Yes, it's that fast, and we've included a video by Smith Optics in the slider at the bottom showing off the details of the technology.)
I also inadvertently found extra benefits to the technology during testing. During my last day at Press Camp, I was riding on a narrow single track that had a two-way flow when a rider going the other way at pretty darn high speeds collided with me. The first point of impact? The top of his helmet into my sunglasses.
It's rare that we ever get to fully test the limits of items like helmets (thankfully), and I'm glad the lenses were able to take the beating. The adjustable nose pads, the TR-90 bridge, and the right side of the Pivlock temple all split apart at impact, taking the brunt away from both cracking the Carbonic TLT lenses and my face. Sure, I walked away with an eventual black eye and a collection of eye-wear pieces that took around 30 seconds to reassemble, but it could have been loads worse. The Green Sol-X Mirror exterior of the lens now has a small blemish at the point of impact, which is incredible all things considered.
Like the Rudy Project Fireball, as well as models from Uvex and Oakley, the Pivlock Arena Max is a little on the price side with $159, but for riders who want a durable set of glasses that offer a great interchange system, the money could be well spent.
Use the slider below for more images of the Pivlock Arena Max, the more casual Clark sunglasses, and a video on the interlock system. More Info: smithoptics.com.