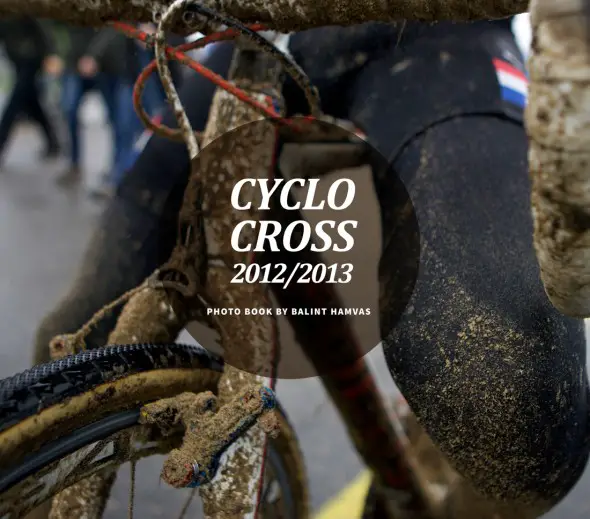 After wrapping up another spectacular cyclocross season, cycling photographer Balint Hamvas is gathering all his best pictures of the 2012/2013 cyclocross season in a new book. The most beautiful, interesting, fetching and eye-catching shots of the biggest races of the season will be brought together on 220 pages, with full-color pictures on high quality paper in a hard-cover edition.
The book will feature all eight legs of the World Cup as well as all Superprestige and GVA trophy races, plus Scheldecross, Druivencross and the historical World Championships in the United States, in Louisville, Kentucky.
From Hamvas:
Though I've only stumbled upon cyclocross in 2008, I fell in love with the sport straight away; I loved the brevity and the intensity of the sport. It was love at first sight. The 2012/2013 'cross season was my third full season, and I decided to publish a book again, and chronicle of the best moments of over thirty 'cross races in Europe and of that phenomenal day in February in Louisville, Kentucky.
The book will be packed with the usual action shots, but this year I've made a lot of effort to shoot a lot of photos that help to show the atmosphere of the races, the little, funny or poignant details.
To make the book interesting for more than just the eyes, I have managed to convince a few great personalities of the sport to contribute a longer story to the book. Simon Burney talks about the 'cross scene in the 80s and the Swiss dominance of those years, while Stef Wyman's tells about women's racing: the inequality, the difficulties, etc. Velonews' Dan Seaton writes about the amateur Belgian 'cross scene, and there will be a passionate essay on the state of the sport in the US by the talented Mateo Montesano. The special focus chapter is be about the day I spent with Jeremy Powers, who turned out to be a lovely chap.
I also wanted to give something special for those who are kind enough to pre-order the book: I have put together a 50 strong gallery of my best images from the season. Those who order the book before the 21st of April will be allowed to download three photos in full resolution for personal use.