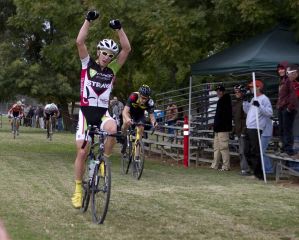 By Tim Westmore
Today saw two very similar races for the top category women and men. Tense and exciting racing involved lead groups of four or five racers off the front for much of each race without any obvious outcome until the last laps. The course at Lembi Park had some power-sucking wet grass as well as several off-camber stretches to challenge even the most skilled racer. A sand pit not only changed throughout the day but also within individual races as lines disappeared and the sand "grew" deeper. Thanks to race sponsor Team Revolutions, spectators were able to enjoy some exciting racing as well as capes, Mardi gras beads, Jester's caps for crowns, and podium kisses from podium boys and girls.
In Women's Category A, third place Jen Jordan (Sycomp Racing/Team Affinity) said of her race "it was really fun. It was fast. A lot of the times with the women's field things get pretty spread out but we stuck together. Then there are a little bit more tactics involved. You're not just in your own head but thinking about the other racers." Marja-Liisa Magnuson (Kinetic Cycles) took second by passing Jordan on the last lap, "I managed to go a little bit harder and turned around and [Jordan] wasn't there", said Magnuson, "the race was super fun, a good mix of grass and off-camber sections, and really good Women's A crowd. [You had to] stay weighted right, not hit so much brake, and keep your head on your shoulders to avoid sliding out [on the off-camber sections]."
Sarah Maile (Ventana Mountain Bikes) won her second top Women's race of the series after taking the season opener. Always in the lead group and always looking strong, Maile's push for the win was postponed by one lap to pass other category racers. Nevertheless, on the penultimate lap, Maile came around with significant gap that became next to unchallengeable on the last. "We had a group of four off the front," said Maile, "I tried to keep the pace up, punch it when I could, pull, and then those girls would attack me on the pavement so I would have to go again. I picked the pace up on the second to last lap and then punched it on the last lap."
In amongst the lead-group mix during the race was fourth place finisher Kelly Chang (SyCip). Stace Cooper (The Bicycle Business) came home fifth to keep the series lead and a good points-gap over Jordan and Magnuson, tied for second.
In the Category A Men's race, leading from the front for almost the entire race, Keith Hillier (Marco Pro-Strava) scored a terrific win racing without a rear brake. The competition in the lead group was strong with MASH SF racers Rainier Schaefer and Daniel Velasco, Robert Braun (Alta Alpina Racing), and second-year cyclocross racer Rand Miller (Sterling Sports). "I just had to stay in front so they weren't able to out-brake me and I could control what was happening," said Hillier, "I was a little bit smoother over the barriers and I was able to fend them off."
The race started at tremendous pace with the lead group forming very early. This held at five racers before dropping Braun into fifth place with four laps to go. The finish line spectators waited expecting a four-way sprint for the finish and wondering had Hillier anything left to win the race, after doing most of the work. Instead, Hillier rounded the final corner with Velasco in close tow; Velasco was unable to overcome the Marco Pro-Strava racer and came in second less than one-half second back. Schaefer finished third. Miller suffered last-lap mechanical problem with his chain, after a mishap in the sand pit, and finished fourth.
Photo Gallery