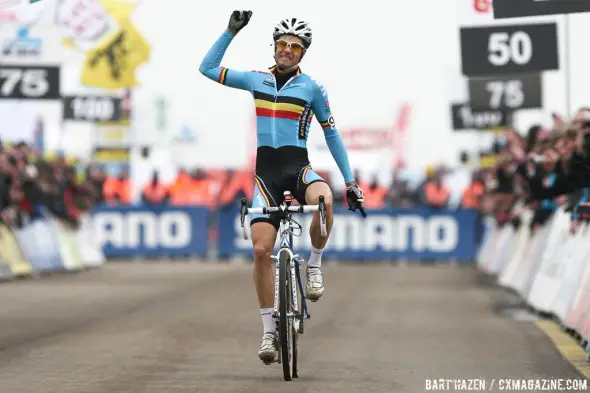 by Evan Schmitt
Believe it or not, even though the World Championships have come and gone, the cyclocross season is not over yet. The GVA Trofee Series continues on this Saturday, February 4, in Lille, Belgium. In 2011, the race was won by Kevin Pauwels (Sunweb-Revor) and Sanne Cant (BKCP-Powerplus).
The men's race will be the first chance for riders to redeem themselves from last week's World Championship in Koksijde, which Niels Albert (BKCP-Powerplus) won commandingly (check out our story on his race-winning bike). Albert will be the top favorite in Lille and he will face challenges from fellow countryman Pauwels, who won the World Cup overall this season and was third last week in Koksijde. One rider coming off a strong podium ride at Worlds will be silver medalist Rob Peeters (Fidea) so look for him to confirm his result from last week. Sven Nys (Landbouwkrediet) will no doubt be gunning for a win to make up for his disappointing ride in Koksijde last week.
On the women's side, Marianne Vos (Rabobank-Giant) looked unstoppable as she scored her victory in Koksijde last week. She will face her fellow countrywoman Daphny van den Brand (AA-drink) leads the series and is looking strong after her silver medal performance in Koksijde. Cant will be a challenger as she scored the bronze in Koksijde, earning Belgium's first medal at Worlds in the women's race.
[youtube Mm2OL7a8-Bs 480 360]