Williams Cycling, based in California, has set the goal of getting high quality cycling components into the hands of enthusiasts at a low cost. The System 25 wheelset is an example of that with a 1735g (1686g claimed) alloy clincher disc wheelset for $549. We reviewed the wheels in Issue 30 of our print magazine for the tubeless wheel roundup, and have elaborated and have expanded on our findings for today's product spotlight.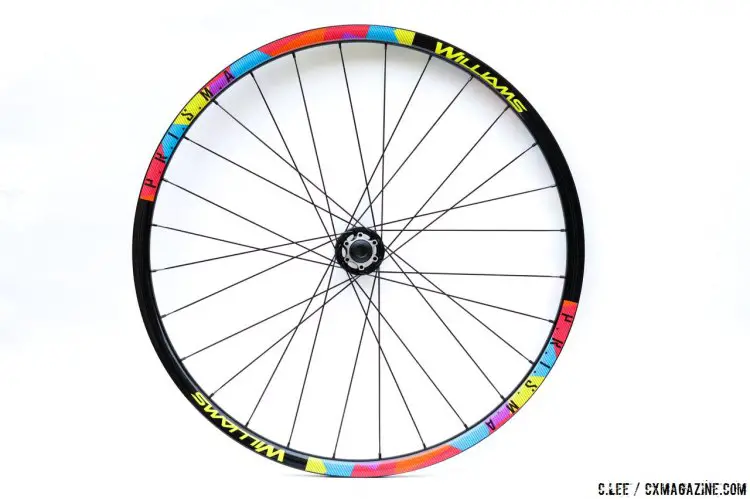 The Williams System 25 Prisma Tubeless Disc wheel. © Clifford Lee / Cyclocross Magazine
The 25mm deep alloy rims are 24mm wide (with a 21mm inside width) and laced 3X with 28 Sapim CX Ray spokes for both the front and rear. With that build, you should expect durability. The hubs are Williams branded models 6/60 with a IS 6 bolt rotor mount and Shimano/SRAM compatible alloy freehub body. Another unique feature is that you can order the rim with your choice of color themed decals: summer, winter or autumn.
The System 25 disc clincher wheelset comes set up for standard quick releases, but comes compatible for 15mm thru-axle for the front with a simple press-in end cap swap. The rear can come specified for a 142 x 12mm thru axle upon request for a small upcharge. The front wheel with the 15mm thru-axle end caps weighed 820 grams, and the rear quick release wheel came in at 915 grams, both a bit more than the advertised weight. Both were weighed as they came with the tubeless tape installed and no valve stems or quick release skewers.
The System 25 wheels are tubeless ready, meaning they have a rim design that is conducive to mount a tubeless-ready tire and come with a tight, stretchy a rim strip that looks like it could be for tubeless use, but the rim strip is for a standard tube setup. Don't make the mistake I made, and think you can use them for a tubeless setup (the good news is it actually worked as a tubeless strip on one wheel). Add some tubeless sealing tape like Stan's yellow tape, valve stems (or a Stan's CX rim strip) and the right tire and then you're theoretically ready to go tubeless with the System 25 wheels.
We easily mounted both a Vittoria TNT XL 33 tire, a Hutchinson Toro, and a Bontrager CX0 non-tubeless 34 tire as a conversion. The conversion required a compressor to seat the tire and while it is unfair to do a conversion on a wheel that was not advertised to do have this capability, my ability to mount a non-tubeless tire shows the real compatibility of the rim for tubeless.
The William System 25 wheelset came round and true out of the box, the end caps for the front wheel to convert from QR to15mm thru-axle pressed in and popped out easily, almost too easily. One of the 15mm end caps kept falling out when the wheel is out of the frame, a minor inconvenience that we've seen with other wheels such as the NoTubes Grail.Once clamped into the wheel, the loose end cap seems to cause no problem.
Spoke tension is tight and even, and so far the wheels stayed like new despite the layers of dirt and dust. Our test courses include long trails with rocks and roots, as well as short fast courses with sand, gravel, pavement and curb. There was no spoke settling pings on the initial ride and a couple of mistimed sharp hits did not result in any rim dent, despite burping the converted Bontrager CX0 non-tubeless tire. The tire was not advertised to be tubeless convertible or compatible, so we expected the potential for a burp. Over time, the seal improved and even with sharp hits, the converted tire has not burped again. It is still not recommended however.
It's nice to have some color on the wheelset. Our review samples came with a bright summer scheme with a rainbow of colors, and dramatically changed the look of any test bike they were put onto, and certainly made a mundane black carbon bike a looker, and when spinning it adds another dimension of flash. They look liked they'd be right at home on our latest custom-painted Squid rattle can cyclocross bike.
The Williams System 25 is not the lightest wheelset, but still can save over a half a pound over many stock OEM disc wheelsets. It's generally on par with its competition wide-rim tubeless ready disc clinchers such as the Zipp 30 Course and American Classic Hurricane wheelsets: about a 100 to 150 grams heavier for the pair with a similar bullet shaped 25mm rim depth, bladed spokes, reliable tubeless performance with proper tubeless tires and with a choice of color scheme. Add proper rim sealing tape and a valve stem and you're ready to rock for a pittance.
Use the slider below for more pictures and the full spec list. More info: williamscycling.com