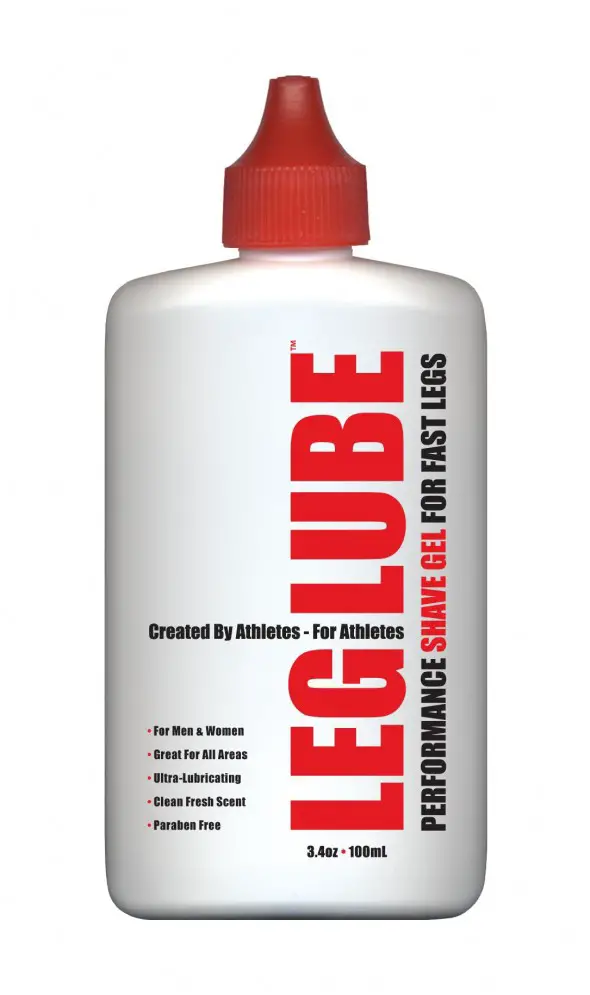 by Molly Hurford
When LEG LUBE® sent us their shave gel to review, I was a little skeptical. For one thing, I've never heard of a shave gel designed for athletes. Most of the men I know almost seem to get a kick out of rocking the women's razors and shaving cream when attempting to see who can have the smoothest legs for any given race. I have particularly sensitive skin and shy away from most shaving creams/lotions/gels as a rule, but I figured I'd give this one the benefit of the doubt. After all, their motto is "performance shave gel for fast legs." And if there's one thing I need, it's fast legs. So I gave it a try.
"Created by athletes – for athletes" is their description, and like any good aero-equipment, it's designed to "reduce drag." But unlike some aero equipment that fails to deliver real results, I found myself really liking the LEG LUBE® gel. Even for someone with extremely sensitive (and weather-beaten, thanks to a refusal to wear leg warmers most of the time) skin, it made the shaving process easier, and my legs silkier afterwards.
They also claim that the "ultra-lubricating formula" reduces drag, nicks, in-grown hairs, razor burn and dry skin. I don't know about the dry skin just yet, since I haven't been using it daily, but everything else definitely stood up to scrutiny. I often hear men complaining about the leg shaving process and the dreaded "chicken skin" issues thanks to ingrown hairs and shaving ineptitude, so if you're one of those men, this might be worth picking up. Especially if you're one of the ones who tends to get embarrassed about shopping in the women's shaving section for your shaving goods.
Normally, shaving cream seems like it's more trouble than it's worth: all the mess, trying to get it just right, having most of it wash off anyway … but with LEG LUBE®, I was pleasantly surprised to find the clear gel not messy, and it didn't clog my razor like some gels tend to do. The only downside of its lack of mess was the fact that it was hard to spot: you can't see it, since it's clear, so you have to apply and hope you hit all the important parts.
The other bonus is that it's designed for use in and out of the shower, so if you're one of those people who prefers a dry shave, it still works. It's got two more convenient details: the scent is designed to be "unisex," and it's packaged in TSA Approved packaging, so if you travel a lot for racing, it might be the most convenient option to avoid having to buy new shaving cream at every stop. The cost is $8.95, more than average shaving cream, but considering how little of it you use for each time you shave, a bottle can last a long time, so the cost is justified.
I can only guess that it's similar to men's aftershave in this aspect, but with eucalyptus oil as an ingredient, after shaving, you're left with a tingly feeling that is actually quite pleasant (though maybe wouldn't be if you're shaving and then applying embrocation!) In addition to eucalyptus, there's aloe in the blend, which aids with the soothing factor I mentioned.
In all, I can't promise that it's made my legs any faster, but it's definitely worth testing out if you've been looking for a way to make shaving your legs easier. After all, there's nothing that says "cyclocross" more than perfectly shaved legs, glowing orange with embrocation. (Need embro to go along with it? Check out our Embrocation Review section.)
PRODUCT DETAILS:
MSRP: $8.95 each
Size: 3.4oz / 100mL