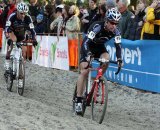 by Kat Statman
After a slow last week, things have certainly picked up in the world of Pro Cyclocross racing. The third round of the World Cup will be contested in Koksijde, Belgium, this Saturday, where a strong American contingent will be in attendance. Zdenek Stybar continues to have problems with his knee – can he hold the World Cup leader's jersey? Tom Meeusen and Rob Peeters are finally selected by Rudy de Bie, Belgian national team coach, to contest this round of the World Cup. And Dieter Vantourenhout and his father voice their frustrations about the selection. It has been confirmed that not only is Stybar leaving Telenet-Fidea, but so is Kevin Pauwels. However Bart Wellens will stay with Danny de Bie's squad.
In Team Transfer News
Arguably the biggest team transfer news has already been out there for a few days now; if you don't know what I'm talking about, check out the article on Stybar's move to Quick Step here. But there are two other big names from Telenet-Fidea that have made their decisions for the upcoming season(s). It has been confirmed that Kevin Pauwels, winner of the GVA trofee race in Hasselt and second place to Sven Nys in Asper-Gavere, will be racing for the Sunweb-Revor team next year, hoping to take charge and produce the results that the team's looking for.
Stybar's and Pauwel's contracts were not the only ones up for negotiations this year – so was Bart Wellens'. Wellens opted to stay with the Telenet-Fidea powerhouse as, what is becoming increasingly clear, the sole team leader. He will have a number of strong young riders with him, such as Meeusen.
Koksijde World Cup News
Stybar's Tendonitis is Still a Problem
Though Stybar has been able to consistently ride at the front, though not in the dominating fashion that we saw at the beginning of this season, he has told the press that he is far from healed from his overtraining injuries. Stybar has noted that his training has not been ideal, and that he is using cold techniques multiple times a day to deal with his knee swelling. He is also having serious problems walking and has said that to go to the bathroom requires a lot of forethought, as it takes a long time. Will Stybar be able to suffer through the pain enough to hold onto his World Cup leader's jersey (or his urine)? After seeing the results of both Hasselt and Asper-Gavere, as long as there isn't too much running, expect to see him bite the bullet and fight for a top 3 and those extremely important World Cup points and UCI points.
Strong American Contingent Has Gone Back Across the Pond
Looking over the start lists for Koksijde, the Americans, especially U23s, are making a solid showing this weekend. For the Elite men, both Tim Johnson and Jonathon Page will be there to show the strength of American Elite racing as it progressively gets stronger. Both Page and Johnson had solid rides at Hasselt and Asper-Gavere and hopefully they can turn those top-20 performances into top 10s on the always difficult Belgian course.
The U23 men's list has the likes of Danny Summerhill, Jerome Townsend and Jeremy Ferguson. All three of them have had strong seasons here in the US already and will be looking to gain critical experience and points leading up to the second half of the season and the World Championships. Last we heard, Summerhill's injured shoulder was ready to go, and with all of the time on the trainer he has had the past few weeks, expect his form to be top notch. Also expect him to be ready to prove to the world that he is one of the best.
For the women, Katie Compton and Christine Vardaros will be representing the US. Compton has been having one of her best seasons ever and is continuing to build her form towards the one goal she has this year, Worlds. Expect her at the front battling for a win and the necessary points for a front row start position at Worlds. Christine, in her own right, has been having a great season during her first year racing for Baboco; watch for her to continue to make her mark on the women's field (see her recent Asper-Gavere race report here).
Vantourenhouts Are Snubbed by de Bie
For every World Cup, with only so many spots for each country, the Belgians always have the hardest time picking their seven-man team. The Belgians are the biggest national powerhouse, and the fact that they have to leave off top 10 contenders is a sign of this. Rob Peeters and Tom Meeusen have finally been selected by de Bie at the expense of Dieter and Sven Vantourenhout. Both Meeusen and Peeters have been having exceptional seasons so far and clearly have earned their spots on the team this weekend. But Dieter's father clearly does not think so. He has alleged that Rudy de Bie has chosen Peeters and Meeusen because they race for Telenet-Fidea, the team managed by his brother Danny de Bie. Though the Vantourenhouts have admitted that Dieter was sick the past few weeks, making top performances difficult to come by, his top 10 in Hasselt was a clear sign of his form. But should de Bie risk a solid performance from Meeusen and Peeters who have been consistently strong and active members at the front of the races for a rider who has been sick and whose form is suspect? When there are so many good riders in one country, drama always ensues. Continue to watch for more to unfold as the season progresses and more World Cups come.