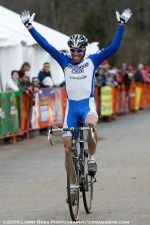 Cyclocross Magazine is in Kansas City bringing you live coverage of the national championship races along with daily reports and photo galleries, while trying to do a bit of racing ourselves. Day 3's report is below. Also see our live coverage archive, Day 1 and Day 2 reports,  along with our Collegiate and Singlespeed, Men and Women's reports from Day 4 of the 2008 Cyclocross National Championships from Kansas City.
by USA Cycling, photos by Larry Rosa

Six more national titles were awarded on the third day of competition at the USA Cycling Cyclocross National Championships. After Nick Weighall (Millcreek, Wash./Rad Racing) secured his nomination to the U23 world championship squad, high winds dried out the climbing course at Tiffany Springs Park, making for some fast and furious masters racing.
With one of the most powerful young cyclocross fields ever assembled, the U23 men's race featured some heavy weights squaring off in a contest showcasing the future of American cyclocross racing. Soon after Nicholas Keough (Sandwich, Mass./Jittery Joe's-Sonic Cyclocross) grabbed the front of the 53-rider field out of the gate, a group of three joined him to lead the race through the first pair of laps. Weighall, Keough, Alex Howes (Boulder, Colo./Clif Bar) and Will Dugan (Burlington, Vt./RGM Watches), who blew up from the fourth row, set the pace until Weighall broke the group apart with about three laps to go.
"I heard the guys bobbling a bit on the climb and at the top so I just tried to take off," explained Weighall.
With former junior world championship silver medalist Danny Summerhill (Englewood, Colo.) and his Clif Bar teammate Howe in hot pursuit, Keough was able to track down Weighall with two laps remaining. Shortly before the final bell Weighall, who won the 2008 U.S.G.P. series overall U23 title, made his break. He was able to stretch his lead to nearly 10 seconds before Keough poured it on. The 19-year-old Keough however couldn't close the gap on the pre-race favorite and Weighall brought home his first national title. With too much time to make up, Summerhill and Howe grabbed third and fourth, more than a minute later, while last year's champion Bjorn Selander (Hudson, Wis./Ridley Factory Team) finished in fifth. With his win in the U23 men's race, Weighall secured his nomination to the five-man squad USA Cycling will send to the Netherlands to contest the UCI U23 Junior Cyclocross World Championships in late January.
"He's a really good sprinter, so I didn't want it to come down to that," said Weighall of Keough. "I didn't want Summerhill back up at us either."
The early morning U23 women's race was all Amy Dombroski (Boulder, Colo./Velo Bella-Kona) as the former ski racer completed back-to-back-to-back U23 national titles on the bike. Dombrowski went hard out of the gate and never looked back, lapping much of the field and winning the gold by nearly five minutes over her closest competition. Lees-McRae College's Ally Stacher (Banner Elk, N.C.) finished second while 18-year-old Ashley James (Delafield, Wis./IScorp) grabbed the bronze.
"I treated it like every other race, going out hard and trying to maintain as you never know what can happen," said Dombroski. "It was definitely a goal to defend the title, but tomorrow's elite race is where the real challenge will be."
The master men's 30-34 contest was also dominated by a solo rider. Multi-time collegiate national champion, Andy Jacques-Maynes (Watson, Calif./Specialized-Giant Berry Farms) easily defended his national championship riding comfortably out front and taking the Stars-and-Stripes by just under one minute. The real battle was between Weston Schempf (Sinking Spring, Pa./C3-Sollay.com) and Ali Goulet (Salt Lake City, Utah/Ridley) who fought it out throughout the entire 45 minute race, before Goulet was able to win the sprint to the finish and take silver. After Sam Kreig (Pocatello, Idaho/Kreigcycling-Sienna-ICE) crossed the line in fourth, Justin Robinson (Santa Cruz, Calif./Giant Berry Farms) won a mass sprint to take the final podium spot.
After winning last year's event on a last minute bobble by the leader, Brandon Dwight (Boulder, Colo./Boulder Cycle Sport) was out to prove he deserved the Stars-and-Stripes and he did just that. Amongst one of the largest fields of the year and probably the fastest race of the day, the men's 35-39 contest played out much like a dirt criterium. A trio including Dwight, Matthew Kraus (Pleasantville, N.Y./Richard Sachs – RGM Watches) and Eric Sheagley (Highlands Ranch, Colo./Veloce-Felt) broke free in the early going with a chase group quickly forming. Nearly halfway through the race things began to break apart up front with Dwight turning on the gas and bringing home the national title.
"Last year it was so snowy that it was a little bit of luck and a little bit of skill, but this year it was whoever gets up that hill the fastest," said Dwight.
After starting in the back half of the nearly 100-rider field Roger Aspholm (Haworth, N.J./Westwood Velo) fought his way to the front to win the 40-44 men's national title. Aspholm dueled with former master time trial world champion, Richard Feldman (Ketchum, Idaho/Durance Cycleworks) for the majority of the race which proved to be one of the most exciting of the day. After pushing the pace, Feldman fell to the silver spot and Michael Wissink (Walled, Mich./Specialized) surged to grab the bronze.
Mark Kutney (Charlottesville, Va./Van Dessel Factory Team) and Henry Kramer (Menlo Park, Calif./California Giant Berry Farms) made things interesting, attacking and even taking early leads in the men's 50-54 competition. Ultimately however hall of famer Ned Overend (Durango, Colo.) took control and brought home yet another national title.
The 2008 USA Cycling Cyclocross National Championships will conclude with Sunday afternoon's featured events as the elite men and women will vie for a nomination to the world championship team. The collegiate men and women will also square off after the single-speed race begins the early morning action.
Saturday's National Champions:
U23 Women: Amy Dombroski (Boulder, Colo./Velo Bella-Kona)
U23 Men: Nick Weighall (Millcreek, Wash./Rad Racing)
Master Men 30-34: Andy Jacques-Maynes (Capitola, Calif./Specialized-Giant Berry Farms/p.b. KMC)
Master Men 35-39: Brandon Dwight (Boulder, Colo./Boulder Cycle Sport)
Master Men 40-44: Roger Aspholm (Haworth, N.J./Westwood Velo)
Master Men 50-54: Ned Overend (Durango, Colo./Specialized)
Photo Gallery:
Full Results:
Men
U23
Place
Bib
Name
Team
Time
1
301
Nicholas Weighall
Radracing NorthWest
48:12.0
2
303
Nicholas Keough
Jittery Joes/Sonic Cyclocross
48:20.0
3
304
Daniel Summerhill
TEAM CLIF BAR
49:37.0
4
307
Alex Howes
CLIF BAR Development Cyclo-Cro
49:46.0
5
300
Bjorn Selander
Ridley Factory Team
49:52.0
6
302
Adam McGrath
Maxxis/Litespeed
50:09.0
7
330
William Dugan
RGM WATCHES – RICHARD SACHS –
50:15.0
8
310
Eric Thompson
lees mcrae college
51:15.0
9
326
Mitchell Hoke
CLIF BAR Development Cyclo-Cro
51:15.0
10
336
Steve Fisher
Western Washington University
51:53.0
11
309
Colin Cares
CLIF BAR Development Cyclo-Cro
51:53.0
12
328
Kevin Mullervy
CLIF BAR Development Cyclo-Cro
52:11.0
13
339
Dave Hackworthy
Ridley Factory Team
52:21.0
14
306
Braden Kappius
TEAM CLIF BAR
52:31.0
15
343
Gian Dalle Angelini
Redline
52:39.0
16
342
Nathan Bannerman
Bicycle Centres/ Collision 1
52:39.0
17
324
Jeremy Ferguson
California Giant Berry Farms/S
52:54.0
18
335
Joseph Schmalz
HRRC Trek Stores
53:14.0
19
344
Clayton Omer
Calistoga Racing Team
53:28.0
20
345
Mitchell Peterson
University of Utah
53:28.0
21
327
Conor Mullervy
CLIF BAR Development Cyclo-Cro
53:28.0
22
2237
Kip Spaude
I Scorp
53:51.0
23
355
Pat Lemieux
Texas Roadhouse
54:27.0
24
308
Oscar Clark
Georgia State University
54:37.0
25
349
Christopher Dale
Raleigh All Stars/Lees-McRae C
54:43.0
26
322
Andrew Llewellyn
Calistoga Racing Team
55:02.0
27
351
Jack Hinkens
fccc
55:02.0
28
313
Zach Adams
Slippery Rock University
55:53.0
29
337
Matthew Brandt
mesa cycles
57:05.0
30
325
Joshua Berry
Team BODE
57:27.0
31
321
Brent Steinberg
Mesa State College
1 Lap Down
32
311
Logan VonBokel
Mesa Cycles Racing Team
1 Lap Down
33
352
Bradford Perley
Lees-McRae College
1 Lap Down
34
305
Chance Noble
California Giant Berry Farms/S
1 Lap Down
35
348
Gregory Vigneaux
Gear Works/Spin Arts Cycling T
1 Lap Down
36
354
Christopher Bogedin
Lees-McRae College
2 Laps Down
37
334
Zachary Edwards
DRT RACING
2 Laps Down
38
318
Jake Davidson
Dickinsen College
2 Laps Down
39
2241
alex grman
The Hub Cycling Team
2 Laps Down
40
320
Bryen Graver
Oboy Oberto/Redline
2 Laps Down
41
350
Austin Roberts
CRRC
2 Laps Down
42
341
Peter Krause
Cycle City Racing
2 Laps Down
43
353
Will Curry
Brick Oven/CB Builders
3 Laps Down
44
316
Martin Lang
Mesa Cycles Racing Team
3 Laps Down
45
315
Erik Wilburn
USMA Cycling
3 Laps Down
DNS
319
Jerome Townsend
Fitness Together/IF pb Lionett
DNS
331
Matthew Rotroff
North Carolina State Universit
DNS
332
Adam Lang
Mesa Cycles
DNS
338
Alex Ryan
Kobold Watch Company/CANNONDAL
DNS
340
Greg Payne
GP Velotek
DNF
312
John-Paul Russo
colavita
DNF
314
Benjamin Fishman
University of Northern Colorad
DNF
317
Andrew Slater
University of Kansas
DNF
323
Michael Koballa
Appalachain State
DNF
333
Morgan Whiterabbit
Augsburg College
DNF
346
Patrick Bradley
Rutgers University-New Brunswi
DNF
347
Andy Glaser
Rutgers University-New Brunswi
Men – Master – 30-34
Place
Bib
Name
Team
Time
1
500
Andy Jacques-Maynes
Specialized/KMC pb Cal Giant
41:58.0
2
507
Ali Goulet
Ridley Factory Team
42:38.0
3
502
Weston Schempf
C3-Sollay.com
42:38.0
4
509
Sam Krieg
kriegcycling /Sienna/ICE
43:32.0
5
504
Justin ROBINSON
California Giant Berry Farms/S
44:15.0
6
523
Nathaniel Ward
BikeReg.com / Joe's Garage
44:15.0
7
510
Nathan Rice
Michelob Ultra-Big Shark
44:15.0
8
524
Gary Douville
Platinum Racing Team
45:51.0
9
2232
Adam MILLS
HRRC/ Trek Stores
46:00.0
10
501
Grant Berry
Rocky Mtn Chocolate Factory
46:05.0
11
563
Mathew Ankney
Mercy Cycling
46:31.0
12
558
Ryan Barthel
Rocky Mtn Chocolate Factory
46:41.0
13
512
Eric Rasmussen
Porcupine/Specialized
46:47.0
14
564
Joshua Johnson
Big Shark Racing
47:03.0
15
557
Andrew Crooks
NYC Velo
47:18.0
16
522
Jeremy Gardner
Spokepost
47:30.0
17
536
Jay Strothman
NA
47:55.0
18
514
Aaron Elwell
47:55.0
19
544
Jake Helmbrecht
Grumpy's/LGR
47:55.0
20
545
Sean Walker
Bikes to You
48:20.0
21
520
Ron Bridal
Dogfish Racing
48:26.0
22
546
Frederick Bottger
Vitamix/Sixtufit
48:33.0
23
526
Darian Founds
unattached
48:58.0
24
585
Matt Tillinghast
Midwest Cycling Community
49:06.0
25
551
Michael Hemme
Killjoy
49:27.0
26
549
Jason Knight
University of Kansas
49:34.0
27
579
Joshua Roeser
Flat City Cycling Club Inc.
49:34.0
28
561
Kent Throlson
Loon State Cyclists
49:34.0
29
529
David Labarr
Kona FSA
50:01.0
30
574
Matthew Edmonds
Bicycles of Tulsa
50:25.0
31
578
Matt LaBerta
Dogfish
1 Lap Down
32
582
Adam Clark
ChicagoCuttinCrew
1 Lap Down
33
580
David Sheek
OutsideAllDay.com
1 Lap Down
34
543
Matt Gumm
All9Yards.com
1 Lap Down
35
534
Chris Behrmann
Sledgehammer Charlie's Racing
1 Lap Down
36
542
Joseph Hu
SKC Racing
1 Lap Down
37
555
Keith Reynolds
NEBC/Cycle Loft/Devonshire Den
2 Laps Down
38
2249
Matthew Hennessy
Team BBC
2 Laps Down
39
515
Kyle Smith
Ridley Factory Team
2 Laps Down
40
519
Ryan Bosio
Memphis Velo / Smith & Nephew
2 Laps Down
41
562
Patrick Angell
SKC Racing
2 Laps Down
42
566
Kyle Williams
University of Iowa
2 Laps Down
43
569
Chris Johns
Rad Racing / Hagens Berman
2 Laps Down
44
586
Ryan Lindsay
zephyr wheel sports
2 Laps Down
45
571
Nathaniel Swanberg
Crossniacs
3 Laps Down
46
547
Robert Schultz
SKC
3 Laps Down
47
587
Matthew Reynolds
the bicycle store
3 Laps Down
48
581
Josh Jewell
CRRC
3 Laps Down
49
572
Todd Crooks
Unattached
3 Laps Down
50
538
Scott Hammack
Acqua Al 2/SDBC
3 Laps Down
51
518
Keith Snoop
HBA Racing
3 Laps Down
52
531
David Neis
Bike Surgeon
3 Laps Down
53
513
Tyler Schumacher
KCOI/Boulevard
3 Laps Down
54
532
Adam Jones
Georgia Cross – Cannondale
3 Laps Down
55
550
Justin Howe
NEBC
3 Laps Down
DNS
508
Zachary Daab
Hup United
DNS
516
James Blake
Team Kaos/Nebraska Medical Cen
DNS
517
Peter Ozolins
Thompkins Courtland Community
DNS
525
Brian Eppen
Mercy-Specialized
DNS
527
Russell Griffin
Marx and Bensdorf Cycling Team
DNS
530
Kelly Irwin
Lincoln Industries/Highgear
DNS
533
Mike Sharkey
Ridley
DNS
535
Ryan Galdes
boulder cyclesport
DNS
541
James Schneider
Sonic Cyclocross/Jittery Joes
DNS
548
Jarret Kinder
NA
DNS
552
Roberto BARRIOS
Mack
DNS
553
Chris Sallen
Hup United
DNS
554
Joel Budacki
NA
DNS
556
Michael Seek
Tri-Cities Road Club
DNS
559
Damien Fraser
Mafia Racing
DNS
560
Raymond Hall
Trek/VW Regional Team
DNS
565
Kervin Quinones
NA
DNS
568
Jeremy Nagoshiner
Gran Fondo-Bianchi
DNS
573
Jay Kocks
Mafia Racing
DNS
575
Michael Kennedy
Barbasol
DNS
576
Robert Kelly
NCVC/Inova Health Systems
DNS
577
Matthew Even
Hub Racing
DNS
584
Daniel Miller
Bigshark Racing
DNF
511
Jason Lowetz
Team Bearclaw
DNF
521
Ross Cerniglia
My Wife Inc.
DNF
528
Oscar Jimenez
NEBC/Cycleloft/DevonshireDenta
DNF
537
Alec Riendeau
Big Ring Cycles
DNF
539
Paul Hernandez
Bicycle John's Serious Cycling
DNF
540
Damian Schmitt
sunnyside sports
DNF
567
Daniel Fuhrmann
ROUTE 66 CHODE SQUAD
DNF
570
Jesse Bell
Sisu Cycles
DNF
583
Michael Benedek
NA
Men – Master – 35-39
(not ranked, not ranked)
Place
Bib
Name
Team
Time
1
1132
Brandon Dwight
Boulder Cycle Sport
42:53.0
2
1092
Matthew Kraus
RGM WATCHES – RICHARD SACHS –
43:50.0
3
1003
Eric Sheagley
Veloce/Felt
44:14.0
4
1142
Kevin Hulick
Gentle Lovers
45:17.0
5
1026
John Bailey
Bailey Bikes
45:31.0
6
1014
Curtis Boivin
Refunds Now
45:40.0
7
1001
Mark McCormack
Team FUJI/Clif Bar
45:56.0
8
1015
Kristopher Auer
C3-Sollay.Com
45:56.0
9
1018
John Behrens
Bailey Bikes
45:56.0
10
1004
Ryan O'Connor
Legal Sea Foods – Metlife – un
46:07.0
11
1116
Scott McLaughlin
SRAM
46:07.0
12
1144
Mark Wisner
Boulder Cycle Sport
46:20.0
13
1139
Aaron Bouplon
Rocky Mounts / Izze
46:33.0
14
1037
Dave Weaver
Alan N. America Cyclocross Tea
46:42.0
15
1121
Gary Yates
Naples Cyclery
46:50.0
16
1112
William Gault
KCCX/Verge
46:50.0
17
1149
William Stolte
HRRC/Trek/Shimano
47:03.0
18
1024
Ernesto Marenchin
ASYLUM CYCLES
47:13.0
19
1017
Shadd Smith
TREK KC
47:20.0
20
1022
Andrew Gorski
Speedgoat/SPK/Salsa
47:31.0
21
1145
Scott Frederick
Aflac/Headway/Spin Cycle
47:31.0
22
1147
Mario Martinez
Nob Hill Velo
47:50.0
23
1036
Ward Baker
RockyMounts/Izze racing
47:55.0
24
1027
Craig Virr
Team SIX
47:55.0
25
1044
Ned Dowling
BioWheels/Deltec
47:55.0
26
1023
Jerry Long
HTFU/GT Bicycles
48:24.0
27
1046
Paul Bonds
OKC Velo Club
48:37.0
28
1066
Craig Faulkner
Crossniacs
48:51.0
29
1140
Andrew Messer
DRT Racing
48:51.0
30
1025
Michael Gaherty
SKC Racing
49:02.0
31
1106
Brian Staby
Team Norcal Bike Sport
49:11.0
32
1110
K McCuiston
New Belgium Brewing
49:11.0
33
1088
Matt Jordan
HRS/Rock Lobster
49:11.0
34
1063
Brant Hornberger
BikeReg.com
49:22.0
35
1030
Matthew Baugher
Epic Cycling Team
49:29.0
36
1053
Kyle Bush
SlimenundGrossen
49:35.0
37
1010
Damon Pettinger
Hagens Berman LLP Cycling Team
49:35.0
38
1057
Matias Mendigochea
Kahala-La Grange
49:56.0
39
1137
Chris Samuel
Pro Pedals
50:05.0
40
1131
Jon Freckleton
Aspire Performance
50:14.0
41
1073
Dan Farrell
Blue Sky Velo
50:18.0
42
1021
Scott Dunsmuir
Slimenundgrossen
50:18.0
43
1041
Gregory Keller
Boulder Cycle Sport
50:28.0
44
1039
Ryan Myers
NA
50:28.0
45
1009
Sean Yeager
Altius Cycling Team
50:28.0
46
1123
Lewis Perna
Schwab/Torelli
50:44.0
47
1141
Steven Bullerman
Bike Tech Racing Club
50:44.0
48
1101
Daniel Studley
Spokane Rocket Velo
51:02.0
49
1013
Jeff Campbell
ICON ONE RACING/JOE'S PRO BIKE
51:15.0
50
1054
Tyler Henson
localcycling.com
51:15.0
51
1120
Dennis Koscielski
Dogfish Racing Team
51:15.0
52
1148
James Heuck
Red Rocks Velo
51:15.0
53
1082
Tige Lamb
Cow Town Cycling
51:33.0
54
2200
Shey Lindner
Sobe/Cannondale/Conte's
52:38.0
55
1008
Vincent Davis
Vincent Davis
1 Lap Down
56
1040
Josh Taylor
360 Racing
1 Lap Down
57
1045
Judd Milne
Squadra Coppi/IM Saab
1 Lap Down
58
1020
Carl Ring
NewHampshire Cycling Club/ Tea
1 Lap Down
59
1114
Jeff Yielding
Dog Fish Racing
1 Lap Down
60
1067
Scott Brooks
NEBC
1 Lap Down
61
1086
Chad Berg
Redline Bicycles
1 Lap Down
62
1127
Steven Robinson
All9Yards.com Cycling team
1 Lap Down
63
1130
Louis DeWild
Rasmussen Death Squad 5000
2 Laps Down
64
1135
Chris Ragusa
CCB/Volkswagen
2 Laps Down
65
1089
Matthew Opperman
Pro Peloton Racing
2 Laps Down
Men – Master – 40-44
Place
Bib
Name
Team
Time
1
1210
Roger Aspholm
westwood velo
44:06.0
2
1157
Richard Feldman
Durance Cycleworks – Lehman Br
44:06.0
3
1212
Michael Wissink
Specialized
44:35.0
4
1159
Jonathan Bold
CORNER CYCLE
45:09.0
5
1226
Richard McClung
Hagens-Berman LLP Cycling
45:17.0
6
2245
Brent Prenzlow
Team Coastal Cycling
45:17.0
7
1152
Todd Hoefer
Cal Giant/Specialized
45:32.0
8
1154
Douglas Reid
Veloce Velo.Com
46:10.0
9
1160
Gerald Pflug
Speedgoat/SPK/Salsa
46:15.0
10
1151
Jeff Weinert
Giant
46:23.0
11
1158
Andrew Applegate
Kobold Watches / Cannondale
46:38.0
12
1162
Robert Foshag
Saturn Of Toledo
46:38.0
13
1219
matthew hill
NA
46:50.0
14
1170
Greg Ferguson
Penn State Hershey Cancer Inst./GPOA
47:04.0
15
1184
Tim Butler
River City Bicycles
47:25.0
16
1156
Jon Cariveau
MOOTS
47:30.0
17
1225
Jon Gallagher
Cole Sport
47:40.0
18
1168
Michael McShane
Calistoga Racing Team
47:40.0
19
1150
Gannon Myall
Cal Giant/Specialized
47:40.0
20
1207
Jeffrey Wardell
Excel Sports/Xybix Sys.
47:40.0
21
1206
Darron Cheek
copper mtnhigh country racing
47:40.0
22
1264
Arthur O'Connor
MonaVie/Cannondale
43:20.0
23
1180
Brian Conant
Pony Shop
43:20.0
24
1203
Mark Studnicki
localcycling.com
48:36.0
25
1178
Jeff Winkler
KCCX/Verge
48:36.0
26
1257
Philip Webb
Barbisol
48:36.0
27
1246
Doug KARET
NA
49:22.0
28
1208
Tim Boundy
verdigris cycling
49:32.0
29
1179
Jared Roy
Crossniacs
49:32.0
30
1185
Patrick Morrissey
NM Team Cross
49:32.0
31
1204
John Ericsson
Brazen Dropouts
49:43.0
32
1175
harold stephenson
HSDC
49:52.0
33
1214
Tim Kelley
Fitzgeralds Bicycles
49:52.0
34
1222
Bryan Harwood
NA
49:52.0
35
1235
Blaine Heppner
Bike Clicks/Team Louisville
49:52.0
36
1161
Jared Shuttleworth
Red Rocks Velo
50:08.0
37
1186
Tim Faia
Independent Fabrication
50:08.0
38
1191
John Struchynski
Great Plains Cycling Club
50:08.0
39
1221
David Kerr
Nob Hill Velo
50:33.0
40
1278
Timothy Hopkin
North Carolina Cyclocross
50:33.0
41
1280
Michael Robson
MIchael Robson
51:03.0
42
1288
Brett Batchelder
KCOI/Boulevard
51:03.0
43
1273
Michael Phillips
Birchwood/Gis
51:20.0
44
1251
Paul Roltgen
Brazen Dropouts
51:20.0
45
1165
Robert Kuhn
HUP United
51:20.0
46
1201
Michael Scholtz
NCCX
51:48.0
47
1268
Robert Sonora
DWC
51:48.0
48
1260
David Hejduk
Team X Cycling
51:48.0
49
1195
Erik Zimmer
Maciel Velo – Z Mobile
51:48.0
50
1189
Bruce Grell
DICE
51:48.0
51
1202
Scott Fliegelman
FastForward Sports
52:27.0
52
1173
Bill Teasdale
Blue Sky Velo
52:27.0
53
1163
Greg Gorrell
Feedback Sports
1 Lap Down
54
1220
Bob Prieto
Blue Sky Velo
52:27.0
55
1253
Robert Kramer
Ridley Factory Team
52:53.0
56
1286
Lawrence Smith
Slimen und Grossen
53:03.0
57
1285
Barry Wahner
DrWahner.com
53:03.0
58
1274
Carl Schipfmann
KCOI/Boulevard
53:10.0
59
1272
Vincent Johnson
NA
1 Lap Down
60
1276
David Hagen
Fort Lewis College
1 Lap Down
61
1181
James Smart
Atomic Race Team
1 Lap Down
62
1261
Brendon Jenks
1 Lap Down
63
1275
Brian Moran
Louisville Cyclery Velo Club
1 Lap Down
64
1216
Timothy Simanski
Roaring Mouse Cycles
1 Lap Down
65
1267
Chris SHOTWELL
NA
1 Lap Down
66
1240
Todd McKean
Trek China Racing
1 Lap Down
67
1218
Wade Hess
Cape Atlantic Racing/Team Beacon
1 Lap Down
68
1266
Douglas Hudson
Feedback Sports
1 Lap Down
69
1213
Scott Mares
SIBEX
1 Lap Down
70
1197
David Bell
NA
1 Lap Down
71
1256
Rick Laliberte
Great Plains Cycling
1 Lap Down
72
1194
Jeff Hane
Roaring Mouse
1 Lap Down
73
1209
David Burns
mountain pedaler/squirt lube
2 Laps Down
74
1238
Craig Sparks
NA
2 Laps Down
75
1237
Travis Oliger
NA
2 Laps Down
76
1229
Brent Hankins
SKC
2 Laps Down
77
1217
Paul Schoening
Ridley Factory Team
2 Laps Down
78
1247
Craig Schmidt
LINCOLN INDUSTRIES/HIGHGEAR
2 Laps Down
79
1230
David Romisch
GP Velotek
2 Laps Down
80
1231
Steven Capstick
Blue Sky Velo
2 Laps Down
81
1259
Kent Baker
Bicycle Shack
2 Laps Down
83
1232
Chris Locke
Cow Town Cycling
2 Laps Down
84
1263
Brian Milnick
green mountain sports velo
2 Laps Down
85
1169
Jay Downs
WVU Healthcare
2 Laps Down
86
1183
Joseph Houston
BRBC
3 Laps Down
87
1270
Kevin Anderberg
MOB Cyclery/RMCEF
3 Laps Down
88
1192
Ronnie Bratcher
Aarons/L5Flyers
3 Laps Down
89
1265
Isaac Rodriguez
Blue Competition Cycles
3 Laps Down
90
1255
Eric Struckhoff
Free State Racing
3 Laps Down
91
1244
James Cullen
Loon State Cyclists
3 Laps Down
92
1236
Darren Sherkat
Team MACK Racing
3 Laps Down
Men – Master – 50-54
Place
Bib
Name
Team
Time
1
800
Edmund (Ned) Overend
Unattached
46:01.0
2
849
Henry Kramer
CalGiant Strawberry/Specialize
46:38.0
3
801
Mark Kutney
Van Dessel Factory Team
47:18.0
4
807
Wayne Simon
Verdigris Cycling
00:47:41:00
5
844
Bobby Langin
Platinum Performance
47:51.0
6
821
Randy Shields
Carolina Masters
47:51.0
7
804
Robert Downs
PlanetBike
00:48:16:00
8
836
Randall Root
Evolution Cycling
48:21.0
9
802
Norman Kreiss
Cal Giant Strawberry/ Speciali
48:21.0
10
863
Karl Kiester
49:27.0
11
867
David Belknap
Bicycle Link/MBRC
49:47.0
12
806
Dag Selander
Ridley Factory Team
49:55.0
13
809
Kris Tilford
Wheatland Cycling Team
49:56.0
14
829
Jeffrey Craft
Lake Effect Cycling Team
50:10.0
15
871
Mark McGeen
Team MACK Reaing
50:19.0
16
816
Mark Wolowiec
Flying Rhino Cycling Club
50:20.0
17
815
Bruce Tanner
OKC Velo
50:30.0
18
817
John Bliss
Rocky Mounts – Izze Racing
50:30.0
19
865
R Brook Watts
Cody Racing
50:41.0
20
813
Russell Thorstrom
ICO
50:45.0
21
820
Randy Iddings
Redline
51:24.0
22
850
Jon Dellios
nobhill velo
51:35.0
23
866
Shawn Downing
King Pawn/CW
51:43.0
24
803
Timothy Groesbeck
CCB/Volkswagen
51:58.0
25
839
Robert Pugh
Sledgehammer Charlies
52:02.0
26
868
Alan Braff
nonstop ciclismo
52:17.0
27
862
Timothy Shea
BOB/Shift-Stonyfield Farm-Ariz
52:35.0
28
851
Rudy Sroka
Lake Effect Cycling Team
52:44.0
29
853
Curt Shelman
Wheel Cycling
52:57.0
30
856
William Stevens
Gear Works/Spin Arts Cycling T
53:02.0
31
845
Kevin Callahan
Bicycle Link/MBRC
53:31.0
32
812
Mathew Baroli
Team Giant
53:56.0
33
857
William Kuster
Loon State Cyclists
54:12.0
34
846
Pete Watson
Team E Mortgage Strategy
54:34.0
35
838
John Grenier
BOB/Stony Field Farms
1 Lap Down
36
810
Erik Salander
Peninsula Velo/Kondra Systems
1 Lap Down
37
832
Steve Lamont
DCCX
1 Lap Down
38
827
Andrew Ammon
CAROLINA MASTERS
1 Lap Down
39
840
Thomas Bowmaster
Liberty Cycle
1 Lap Down
40
819
Thomas Prehn
Rocky Mounts
1 Lap Down
41
2296
Phillip Curran
DICE
1 Lap Down
42
833
Gary Calton
gp velotek
1 Lap Down
43
842
Paul Fancher
Localcycling.com
1 Lap Down
44
835
Richard Toler
Team Kreitler Rollers
1 Lap Down
45
873
Tim Bergman
Localcycling.com
1 Lap Down
46
828
Larry Grossman
SQUIRT Lube
1 Lap Down
47
875
Jay Mongillo
CCC/Keltic Construction/Zanes
1 Lap Down
48
874
Chris Clausen
Big Shark Racing
2 Laps Down
49
843
Oliver Bond
Violet Crown Sports Assoc
2 Laps Down
50
877
Martin Soetaert
Marty Soetaert
2 Laps Down
51
824
John Reimbold
Bike Surgeon
2 Laps Down
52
876
Randall Silva
NOB HILL VELO
2 Laps Down
53
831
James Thiele
Unattached
2 Laps Down
54
870
David Conrad
Free State Racing
2 Laps Down
55
864
Mark Thomas
2 Laps Down
56
861
Doug Hamilton
BioWheels Racing/Reese-Campbel
2 Laps Down
57
878
Dale Sargent
Ozark Clcying Club
2 Laps Down
58
855
Kevin Ryan
Acme Racing
2 Laps Down
DNS
805
Jim Gentes
Family Cycling Center
DNS
808
Dirk Cowley
FFKR/SBO p/b Tour of Utah
DNS
811
Bruce Bell
GMBC/Catamount
DNS
814
David Leedberg
GearWorks / SpinArts
DNS
825
John Thompson
unattached
DNS
826
Richard Squires
rocky mounts/izze
DNS
830
Mark Abele
Rivendell
DNS
837
Colin Kernan
Missing Link Bicycle Club
DNS
841
David Holmer
NMBRA
DNS
847
Jeffrey Cordisco
C3-Sollay.com
DNS
848
Douglas Squires
Rocky Mounts
DNS
852
George Smith
Webcor/Alto Velo
DNS
854
Charles Morris
Celo Pacific
DNS
859
Mike Stabler
GTC
DNS
860
Glenn Stephens
Potomac Velo Club
DNS
869
James White
ICE/Rocky Mountain Surgery Cen
DNS
872
Dan Ramsey
7 Hills/Mercy Healthplex
DNF
818
Michael Keough
Corner Cycle Cycling Club
DNF
822
Tim McAllister
Ghisallo
DNF
823
Robert Walker
Bountiful Mazda
DNF
834
Raymond Fortner
myvelocoach.com
DNF
858
Douglas Owen
Hammer Nutrition
DNF
879
Todd Trembley
NA
DNF
2231
Murray Wilmerding
Acid Zapper
DNF
2297
David Griesse
Accelerade Cycling Team
DNF
2298
Dan Griesse
Accelerade Cycling Team
Women – U23
Place
Bib
Name
Team
Time
1
400
Amy Dombroski
Velo Bella – Kona
40:42.0
2
2243
Ally Stacher
Lees-McRae College
45:14.0
3
409
Ashley James
ISCorp
46:44.0
4
402
Samantha Schneider
IS CORP
48:17.0
5
407
Sarah Lukas
Gear Grinder/Hyundai
49:06.0
6
406
Danielle Haulman
University of California-Davis
50:48.0
7
412
Nicole Hilaire
US Military Academy
1 Lap Down
8
408
Emily Benson
DRT Racing
1 Lap Down
9
401
Whitney Kroll
Purdue University
1 Lap Down
10
411
Kathryn Smith
Lees-McRae College
1 Lap Down
11
413
Allison Forkner
ASU
1 Lap Down
12
404
Ariel Leath
Appalachian State University
1 Lap Down
DNS
403
Stephanie Thompson
University of Minnesota-Twin C
DNS
405
Mary Pat Jones
Blue Competition Cycles
DNS
410
Emily Schapker
Renaissance Cycyling